Welcome to Read this Book, a newsletter where I recommend one book that needs to jump onto your TBR pile! I adore middle grade novels, and have two whole bookshelves of them. They are what we might call my pride and joy (aside from my Corgis, of course). This week, I have to tell you about my newest favorite middle grade series, Spirit Hunters!
Interested in fascinating stories, informed takes, useful advice, and more from experts in the world of books and reading? Check out our newest newsletter, The Deep Dive, to get exclusive content delivered to your inbox! Choose your membership level today at bookriot.substack.com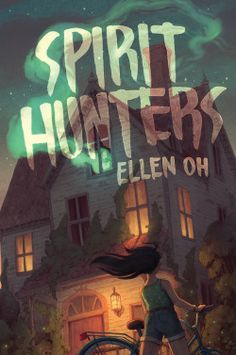 I cannot even describe how much I love this series. I listened to all three books in one day! I love Harper and her supernatural goings on. Plus, she makes a fabulous new best friend. Ellen Oh's storytelling is top notch, always keeps readers guessing what on earth could happen next. And for a middle grade novel, this book is so creepy, but in the best way.
Harper is not enthusiastic that her family has moved from New York City to Washington D.C. She's left all her friends, and D.C. is SO HOT, especially with their broken air conditioning. What's worse, right before they moved, Harper had a serious accident which gave her amnesia. Soon after they move in, Harper's little brother, Michael, discovers a new imaginary friend. At first his friend seems harmless enough, but then weird things start happening around her little brother's room. Is there a ghost? But ghosts aren't real, right?
Harper comes from a biracial family. Her mom is Korean American and her dad is white. Harper's Korean grandmother is estranged from the family, and none of the kids in the family know why. A lot of the plot line revolves around the different family dynamics and Harper's relationships with different members of her family. A lot of Harper's motivation comes from wanting to take care of the people who she loves most.
For audiobook fans, Amielynn Abellera does such an excellent job performing all three books in the series. I found myself hanging on every word, and I couldn't wait for the next book. Abellera's narration possesses the perfect balance of suspense and heartwarming moments. There are ghosts, malevolent creatures from another dimension, spirit guides, and witches. Abellera can do it all.
Do you need help finding your next great read? Subscribe to Tailored Book Recommendations for really great reads year-round.
---
That's it for this week! You can find me over on my substack Winchester Ave or over on Instagram @kdwinchester. As always, feel free to drop me a line at kendra.d.winchester@gmail.com. For even MORE bookish content, you can find my articles over on Book Riot.
Happy reading, Friends!
~ Kendra