Hi Book Friends!
Greetings from New Orleans. I know I've been talking it up, but I'm finally here. I just got here early today — so far I've eaten ramen and watched Cocaine Bear. So a very exciting visit so far. Oh, but I did finish reading two books on the plane trip, so that was delightful. Anyway, I hope your week has been going well. Here's what's going on with books.
Interested in fascinating stories, informed takes, useful advice, and more from experts in the world of books and reading? Check out our newest newsletter, The Deep Dive, to get exclusive content delivered to your inbox! Choose your membership level today at bookriot.substack.com
Book Deals and Reveals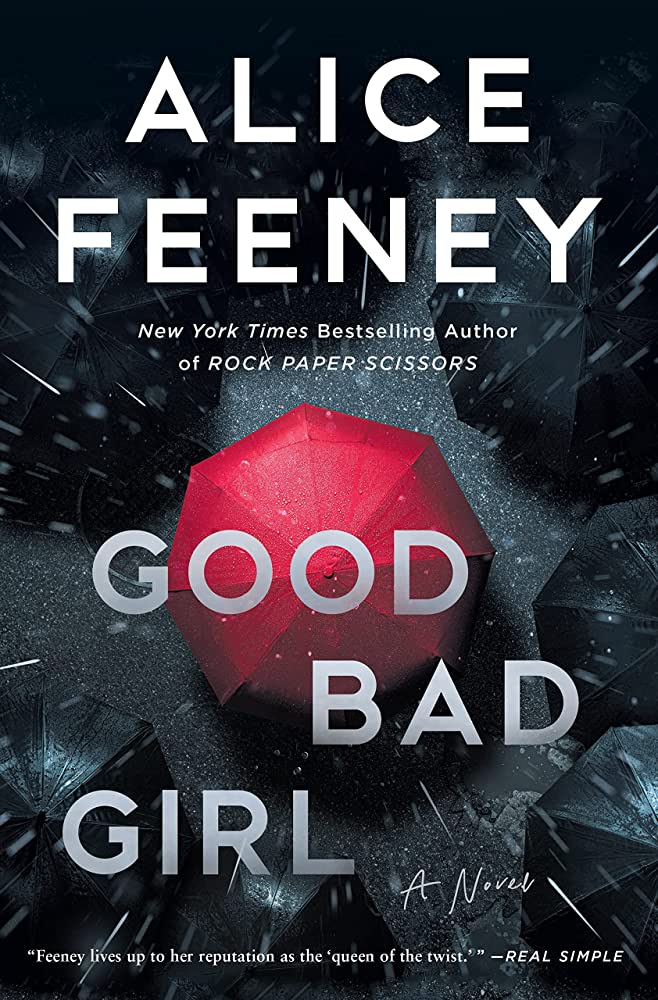 Alice Feeney took to Instagram to share the cover of her sixth novel Good Bad Girl. The book is out from Flatiron Books on August 3.
Tor.com has revealed the book cover for The Jinn-Bot of Shatiport, the latest from international bestselling novelist Samit Basu. This one's out October 3rd from Tordotcom Publishing.
And here's a cover reveal for the fake dating romance lovers: Caught in a Bad Fauxmance by Elle Gonzales Rose is out on December 5!
Novel Notions has the exclusive cover reveal of Fonda Lee's Jade Shards. This book is a collection of prequel short stories taking place in The Green Bone Saga world.
Bestselling author and songwriter Alice Randall sold the world rights to her book My Black Country to Simon & Schuster's Black Privilege Publishing imprint. S&S calls the book a "hybrid work of research and personal history" that explores "the Black roots of country music."
HarperVia took world rights to Philippa Gregory's Normal Women. The book is set for a February 2024 release.
Here's the cover reveal for The Death I Gave Him by Em X. Liu, "a queer sci-fi retelling of Shakespeare's Hamlet as a locked-room thriller." It's out September 12 from Solaris Books.
The upcoming Pokémon anime series is also getting a manga adaptation, and here's a first look at the highly-anticipated manga.
Netflix is adapting Josie Silver's best-selling romance novel One Day in December into a series, and Lucy Boynton is attached to lead.
According to a Forbes Advisor analysis, bookstores are projected to be the most recession-proof type of U.S. business in 2023.
Book Riot Recommends
Hi, welcome to everyone's favorite segment of Book Radar called Book Riot Recommends. This is where I'll talk to you about all the books I'm reading, the books I'm loving, and the books I can't wait to read and love in the near future. I think you're going to love them too!
Can't Wait for This One!
The Reformatory by Tananarive Due (Saga, June 27)
American Book Award, NAACP Image Award, and British Fantasy Award-winning author Tananarive Due is back with a new novel this year for the first time in eight years. For that reason alone, before even reading the synopsis of this one, you should add it to your TBR list and your library holds. But if you need even more to get excited for this June release, here's the deal.
This chilling horror novel is set in Gracetown, Florida, in the summer of 1950. Robert Stephen Jones Jr. is sent to Gracetown School for Boys after kicking a white boy's leg. Robert thinks he's just being sent to a reform school, but Gracetown is something much more than that. The school is a segregated school that is haunted from the boys who have died there.
The Reformatory is more than just a scary story. It's a deeply personal story rooted in real history. Tananarive Due says this novel is inspired by her great-uncle's incarceration in the Dozier School for Boys in the Florida panhandle. There, Due went missing and was likely killed.
Do you need help finding your next great read? Subscribe to Tailored Book Recommendations for really great reads year-round.
Words of Literary Wisdom
"How segmented life is. It splits so easily into friendships and addresses and life phases that feel endless but never, never last."
— Wrong Place Wrong Time by Gillian McAllister
And Here's A Cat Picture!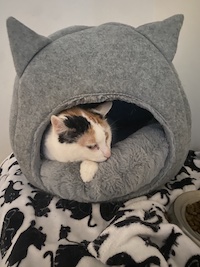 The kitties are at home, but they're still in my heart. And I know exactly where Cersei is at this very moment. She's in this little cat bed that Ben got for her. She loves it, and she pretty much never leaves it now. Doesn't she look cozy?
Well, I've been up since 2 a.m., so I'm calling it a night. I will see you next week! Happy reading this weekend <3