Hello mystery fans! And happy half-off candy day! Since I will watch anything with ghosts, I of course had to start the new series Not Dead Yet (ABC / Hulu), but I currently remain obsessed with Ginny & Georgia (Netflix) — so help me if it doesn't get renewed for a third season.
New Releases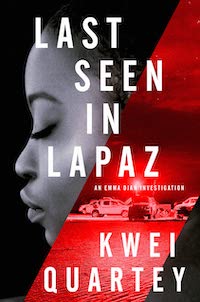 Last Seen in Lapaz (Emma Djan Investigation #3) by Kwei Quartey
For armchair travelers and PI fans! Emma Djan works for a PI firm in Accra, Ghana. Her current case is a bit tricky since it comes from a friend of her boss: his daughter recently graduated from high school and disappeared from her home one night. The parents blame the boyfriend she suddenly was spending all her time with. But it's not long into Emma's investigation that she finds the boyfriend murdered, discovering he was a sex trafficker. Now she needs to find her missing woman and figure out who murdered her boyfriend…
If you want to start at the beginning, pick up The Missing American. And if you want a completed procedural series, pick up Quartey's Wife of the Gods.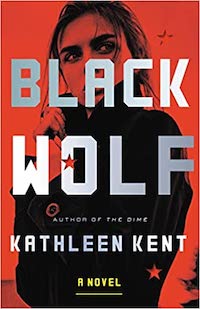 For fans of CIA agents, historical fic ('90s!), and inserted chapters from the killers point of view. Melvina Donleavy is able to recognize anyone she's ever seen because her brain will put together things people don't notice like the shape of the back of their head. This is why the CIA thinks she's an asset. And why they send her on her first mission to Soviet Belarus. She's undercover and with a team, but even her own team doesn't know why she's really there. And complicating things is that women have been disappearing, and being murdered, in Minsk. Because some of the victims have been sex workers, no one seems concerned to look for the possible serial killer. But Melvina wants to know and starts to ask a few questions, leading to a woman who spoke to her to be murdered. Melvina is already in enough danger with her assignment, and now she's added to that and potentially placed the entire team in even more danger…
I chose the audiobook format, which I enjoyed, narrated by Eva Kaminsky. I liked the balance between character focus and intensity and could see this being adapted into a limited series.
If you want a procedural trilogy pick up Kent's The Dime.
(TW sexual assault/ mentions terminal cancer diagnosis/ mentions suicidal plan/ mentions past child abuse/ faked suicide, brief detail/ brief mention animal cruelty)
For a more comprehensive list, check out our New Books newsletter.
Riot Recommendations
I'm a huge fan of adaptations. I think it gives the book the chance at a new, larger audience, and I love the idea of a story getting to be told in different formats. With that in mind, here are two books I think would be great adapted into TV series and film.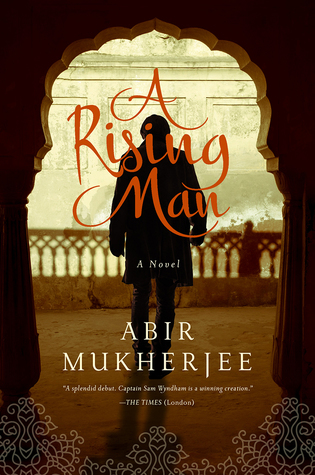 A Rising Man (Sam Wyndham, #1) by Abir Mukherjee
I love watching well-done historical period pieces like The Empress on Netflix. Taking a time period with political upheaval and throwing in characters with personal drama just makes good TV. Now throw in murders and I think we have gold, which is why Abir Mukherjee's series would be perfect as a streaming series. It follows a former Scotland Yard detective, Captain Sam Wyndham, now working in British-ruled Calcutta in 1919. He's partnered with one of the only Indians in the CID, Sergeant Banerjee. The characters, their personal lives, their relationships, the mysteries, and the time period offer so much story to be explored.
(TW addiction)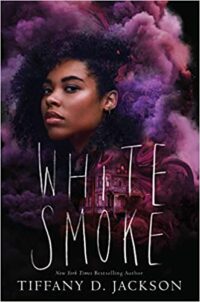 Anything that has the premise of "is the house haunted or is it something else" filmed well will be a huge hit and I'd love to see Jackson's White Smoke turned into one of those dark and moody feeling films. I also think the exploration of the teen daughter's personal life and blended family, with the social thriller backdrop, could be amazing and has the potential for teen and adult audiences along with a real edge-of-your-seat feel.
(TW addiction/ past overdose mentions, not graphic/ obsessive thoughts/ past child murder mentioned, not graphic or detailed)
News and Roundups
Write Your Legislators About Banned Books Right Now With This Template
8 Action-Packed Novels About Art Heists
Discover the Biggest Mystery and Thriller Trends of 2023 with 84 New Books
'Gone Girl' author Gillian Flynn recommends 4 love stories
'You' Star Penn Badgley Requested 'Zero' Intimacy Scenes for Joe in Season 4: 'I Don't Want to Do That'
$55,000 in Antiquarian Books Were Stolen From Family Bookstore
(TW sexual assault) CRIME WRITER TURNED VICTIM AND SURVIVOR: When the system fails, you rewrite the rules