Hi mystery fans! I had no idea the show Ginny & Georgia (Netflix) was a crime show, so I quickly corrected the fact that I had yet to watch it. I totally see the comps to Gilmore Girls, if mama Gilmore was a criminal. But it's a more modern show, with a fish-out-of-water feeling for the teen daughter. I'm excited to see all the twists surely coming.
And in the world of my other job: if you're looking for a tailored bookish gift for Valentine's day for someone, or yourself, (or for any other time of the year) gift Tailored Book Recommendations!
Bookish Goods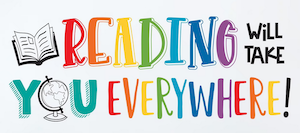 This bright, colorful, wall decal is perfect for book lovers and works from a room where you keep your books all the way to classrooms and libraries. ($15+)
New Releases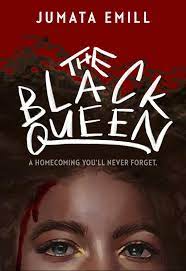 A great read for fans of YA with high school settings, multiple POV, a twisty mystery, the murder victim's best friend trying to solve the mystery, and social mysteries (which hits #3 on this year's Read Harder challenge)! Nova Albright would be celebrating being the first Black homecoming queen in Lovett High's history, but she's been murdered. Her best friend Duchess Simmons has absolutely no doubt who the murderer is: Tinsley McArthur, the girl who thinks the crown is rightfully hers because all the women in her family were homecoming queen before her. It was her turn and she was not quiet about her distaste over Nova getting the crown. But Duchess can't get anyone to actually do something about her certainty, including her father who is a police officer, so she'll just have to investigate herself. But Tinsley isn't going down that easily and she swears she's innocent…
I got fully sucked into these character's lives and enjoyed the way the story was put together and then unraveled. Will definitely pick up whatever Jumata Emill writes next.
For audiobook fans you get two great narrators — Angel Pean and Erin Spencer — plus, really effective atmospheric sounds. I have not been in school in a very long time and yet I swear I thought I was late to class a few times during this audiobook and almost started hustling when the school bell sounded.
(TW past parent death from cancer/ mentions past suicide/ mentions past date rape, not graphic/ mentions past child molestation, not graphic/ statutory)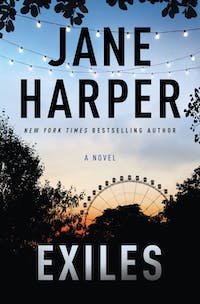 Exiles (Aaron Falk #3) by Jane Harper
New Jane Harper! For fans of Australian crime novels, small towns, past unsolved mystery, and childhood friends who are now adults.
First, you can read this as a standalone and won't be lost in any way. I love the whole series though and do recommend all three books.
Harper created a character with Falk that I have been rooting for to find his place in the world. He's basically a workaholic as a financial crimes detective and doesn't have a personal life. He just focuses on work. Finally he takes some time off to go visit friends for the baptism of their child, who he is the godfather to. So Falk is now in a small town in Australian wine country where a year before he was one of the last people to see Kim Gillespie while visiting a yearly festival. Kim has been missing since, leaving behind her husband, teen daughter, and toddler. Falk is staying with the family who grew up with Kim, related to her ex-husband, and getting to know her teenage daughter as the town tries to use this year's festival to remind everyone of her disappearance, hoping to finally get enough clues to find out what happened to Kim.
Falk isn't there as a detective, but he can't help getting involved and following the threads presented to him and asking questions. As he battles himself for what he needs — human connections beyond work — he also finds himself unable to work on solving what happened to Kim…
I've been shouting my love for Jane Harper's work since her first Aaron Falk book, and will continue to. If you've yet to pick up Harper, I highly recommend tucking yourself in with her entire catalog for a wonderful balance of character exploration, small town life, and twisty mysteries.
(TW talk of postpartum depression/ recounts attempted date rape)
Looking for more new releases? Check out our New Books newsletter!