Hi mystery fans! Recently I've been doing the majority of my reading via audiobooks and there are so many fantastic productions that my list is just an endless scroll basically. Yay books!
Bookish Goods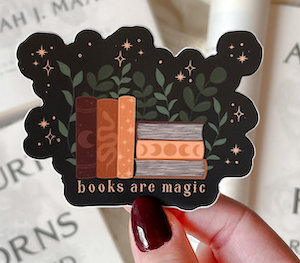 For sticker collectors and book lovers! ($3.50)
New Releases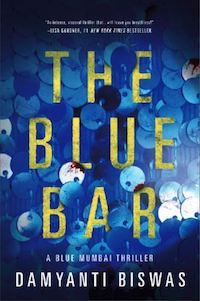 For fans of procedurals, missing persons cases, past and present, and fictional serial killers. Inspector Arnav Singh Rajput's lover, Tara Mondal, disappeared over a decade ago in Mumbai wearing a blue-sequined saree. Now, mutilated women's bodies are found in graves with scatterings of blue sequins. There's a serial killer on the loose, and someone doesn't want Rajput on this case…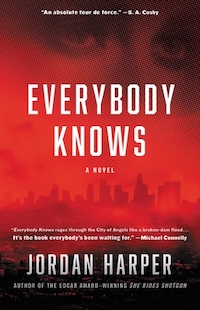 Everybody Knows by Jordan Harper
I have been waiting for a new Jordan Harper novel since the second I finished She Rides Shotgun, which is one of my favorite crime novels and one of my favorite child characters. I mention this because that's the high bar I had when I dropped everything last year to inhale a galley of this book and it immediately became one of my favorites of 2023. It's an L.A. crime novel that follows the kind of people that are the behind-the-scenes puppet masters no one really knows about. But bad puppet masters. Mae Pruett works for a firm that basically cleans up celebrity and wealthy people's messes. Sometimes Mae is tasked with dealing with a once child star and other times she's helping bad, cruel people just get away with anything. She's always been okay with her job, she's good at it, until a coworker who had something to tell her is murdered. It's ruled a car jacking gone wrong, but Mae isn't letting it go. Instead she ends up partnering with Chris, an ex who was once in law enforcement and has since gone private after being forced out. He's also on the not right side of the law or ethics in his field of work. And like Mae, he's willing to start risking the life he has to figure out what is really happening behind a murder. The further they dig, and the more they put their lives in danger, the more Chris and Mae are going to have to question who they currently are and whether they're okay with that…
And just like that I'm back to awaiting for Harper's next novel!
Looking for more new releases? Check out our New Books newsletter!
Riot Recommendations
Here are two backlist true crime books that focus on one case, while taking a look at a broader issue.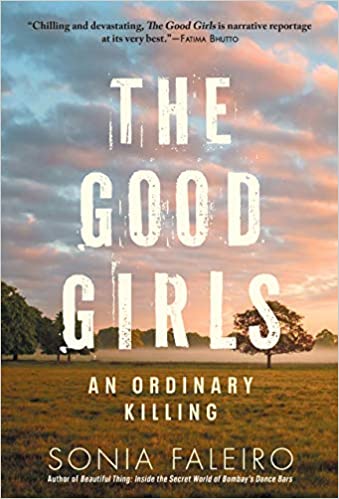 Sonia Faleiro takes readers into the 2014 death of Padma and Lalli, two teen girls who grew up in a village in western Uttar Pradesh. The case was mishandled from the girls being reported missing through their bodies being found and after. Faleiro brings Padma and Lalli to life, takes readers into their town, the legal system in India, the caste systems, the pressures of being a girl/woman in India, and how the case was reported and discussed around the world.
The audiobook is read by the author which was the format I chose because I always like to hear authors read their own work.
(TW mentions gang rape case, details/ case is debated murder or suicide, detail/ brief discussion of infanticide/ <— those are the ones I made notes on, there was discussions about violent cases and histories.)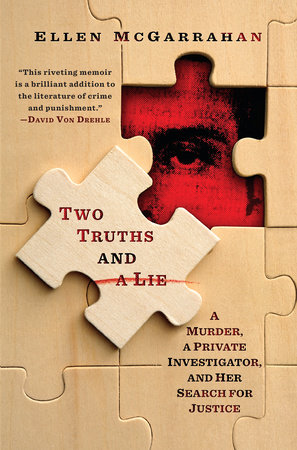 I picked this up because I found it really interesting that McGarrahan went from being a journalist in Miami to being a PI. As a young reporter at the Miami Herald, McGarrahan takes the assignment of going to witness Jesse Tafero's execution. The execution goes awry and Tafero is essentially tortured to death. It's something that traumatizes McGarrahan for decades, so much that she becomes obsessed with needing to find out if he was in fact guilty of killing two police officers — it had been a car with three adults and two children, including the central figure in the later-made play and film The Exonerated. It was interesting to watch McGarrahan work as a PI — and make some really questionable decisions — and also heartbreaking to watch how her trauma, essentially her trying to deal with the death penalty, instead morphed into what she thought she could control — solving once and for all if Tafero had been the shooter or not.
I enjoyed Cassandra Campbell's narration on the audiobook.
(TW mentions of past child abuse, domestic abuse/ recounts sexual assault case, court transcript/ briefly recounts child assaulted by other children, not graphic)
News and Roundups
Listen to: Liberty and Vanessa chat new releases including Everybody Knows by Jordan Harper and Liar, Dreamer, Thief by Maria Dong on the latest All the Books!
Rian Johnson Talks Agatha Christie Inspiration, 'Knives Out 3′ Plans and Screenwriting Success
17 TV Shows That Are Full of Bananapants Plot Twists
How a Hollywood setback fueled Jordan Harper's L.A. crime novel 'Everybody Knows'