Happy New Year, Book Friends!
I feel like 2023 hasn't fully started for me yet because I still have family in town, and so I'm still sorta in holiday mode. But I am really to get the ball rolling on this year for sure. I hope it's going well for you so far. In the spirit of being productive and focused in the new year, let's get right to the new book news.
Book Deals and Reveals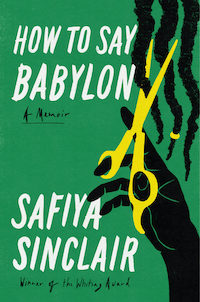 New year, new cover reveals. Here's the cover for Safiya Sinclair's memoir How to Say Babylon, "the story of the author's struggle to break free of her rigid Rastafarian upbringing." This one's out from Simon & Schuster this summer.
Author/illustrator Phoebe Wahl reactivated her Twitter account so that she could share the cover reveal for her upcoming YA book Phoebe's Dairy, an "illustrated journal of a teenage girl careening through the turmoil and ecstasy of adolescence amid school plays, art projects, favorite bands, blossoming friendships, and new love."
Here's the cover for E. M. Roy's debut novel Let The Woods Keep Our Bodies, which is being pitched as My Best Friend's Exorcism meets Twin Peaks. The novel, which will be out from independent published Ghoulish Books on October 10, is available for preorder now.
Read Riordan has an exclusive cover reveal of the upcoming second novel in J. C. Cervantes' Aztec-inspired Shadow Bruja duology. Dawn of the Jaguar will be released on October 10.
In a look-back end-of-year video posted on Instagram, Leslie Grace gave fans a look at the Batgirl costume that could have been in the canceled HBO Max Batgirl movie.
Despite recent rumors that new Marvel Studios projects Agatha: Coven of Chaos and Echo might be delayed, a new promo from Marvel confirms both are still slated for 2023 releases.
In 2023, Jenna Bush Hager is inviting you to develop a reading habit with Streaking with Jenna. The goal is simple: read every day, no matter how little or how much.
On Sunday, January 8, Anderson Cooper will be interviewing Prince Harry on 60 Minutes on CBS. This will be Harry's first television interview discussing his upcoming memoir Spare, which will be out on January 10.
Here are the ten worst book-to-movie adaptations ever made, according to Rotten Tomatoes ratings, from a 44% approval rating to a measly 13%.
New year, new you, new books! Check out your January 2023 horoscope for a look at the month ahead and a new book perfect for your sign.
Goodreads has gathered up the 2023 new horror releases already getting the most buzz. Get your preorders in now!
Trying to find the perfect bookish new year's resolution to spice up your reading life? This quiz can help you find it!
Book Riot Recommends
I'm a Contributing Editor at Book Riot, I write the Today in Books newsletter, and I'm a Bibliologist for Book Riot's Tailored Book Recommendations subscription service. I also have a PhD in English, so I'm basically a doctor of books. Books are my life, in other words, so in this section of the newsletter, let me share with you some upcoming books I'm super excited about. And I think you will be too!
Can't Wait for This One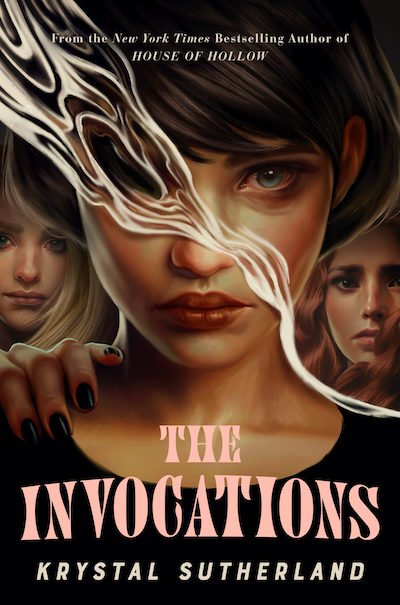 The Invocations by Krystal Sutherland (Nancy Paulsen Books, June 27)
Give me a witchy thriller any time of the year. Why wait for the fall? Summer can be just as witchy, am I right? That's why I'm so excited for Krystal Sutherland's YA novel The Invocations, which will be hitting shelves in late June, for all us summer witchy people.
Zara Jones hates feeling powerless. When her sister is murdered by a serial killer, Zara refuses to believe there's nothing she can do to change it. And so she decides she will do whatever it takes to bring her sister back, even if it means dabbling in the occult. Meanwhile, Jude Wolf is the daughter of a billionaire, but she still has problems of her own. After a deal with a demon goes terribly wrong (as they oft do), Jude is left with a soul that is slowly going necrotic. It's clear to Jude that if she doesn't do something to reverse the curse soon, she will surely die.
That's where daughter of a witch Emer Byrne comes in. Emer has been making a living selling spells to women in desperate situations. But as her clients start getting killed off one-by-one, she knows what it means. Her dark past has finally tracked her down. Now Emer, Jude, and Zara will have to team up to catch this killer, before they become the next targets.
Want to read books from this newsletter? You can, for free! Get three free audiobooks with a trial to Audiobooks.com. Claim your 3 free audiobooks now!
Words of Literary Wisdom
"The way to turn an ex-lover into a friend is to never stop loving them, to know that when one phase of a relationship ends it can transform into something else. It is to acknowledge that love is both a constant and a variable at the same time."
— Tomorrow, and Tomorrow, and Tomorrow by Gabrielle Zevin
What's Up in the Book Community?
My iPhone is constantly telling me I spend too much time staring at my screen, which is honestly so rude. But this means I spend a lot of time scrolling around the online book community: BookTube, Bookstagram, BookTok, BookLinkedIn (JK. That's not a thing…I don't think). You get the idea. Don't have the time, energy, or the will to do all of that yourself? No problem. I got you. In this weekly section of Book Radar, we'll take a look at something cool, interesting, and/or newsy that's going on in the book community.
I'm so obsessed with Tirzah Price's Reading Log. I use it every year, and I'm so excited she shares it with Book Riot. If you want to use it, all you have to do is click "file" and "make a copy" so that you can have your own that you can edit and fill out. Are you curious about mine? Okay, I'm going to share it with you. Enjoy.
And Here's A Cat Picture!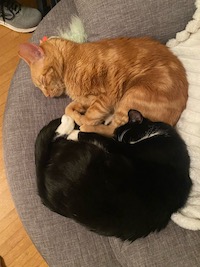 As Remy gets older (he's a whole year old now!), he is getting much cuddlier, and Murray, being the sweet boy that he is, is so welcoming of the cuddles. We truly love to see it. What's better than two cats cuddling? Yes, three cats cuddling. But let's take what we can get.
And that's the end of the first Book Radar newsletter of 2023! I hope it was as fun for you as it was for me. Talk soon!