Welcome to Read This Book, a newsletter where I recommend one book that should absolutely be put at the top of your TBR pile. Recommended books will vary across genre and age category and include shiny new books, older books you may have missed, and some classics I suggest finally getting around to.
Before I get to today's book, I want to mention that Book Riot's Read Harder Challenge is in its ninth year, with a set of 24 tasks that invite readers to expand their worldview through books. Read one book per task, or do some multi-tasking by counting one book for multiple tasks. It's all fine! The point of the challenge is to push yourself to expand your horizons. Thank you to Thriftbooks for sponsoring Read Harder 2023.
To find the tasks and subscribe to our newsletter for tips and recommendations, visit Read Harder 2023.
Today's pick is a timely and heartfelt read where every single character shines.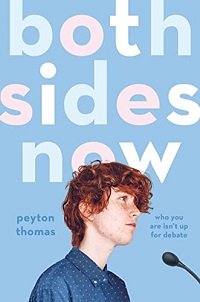 Finch Kelly is a transgender teen in Olympia, Washington and he is obsessed with getting into Georgetown University so that he could be in Washington, D.C. and become the first transgender congressman. Finch's parents are trying to convince him to stay in Washington state because there is no way they can afford to send him to Georgetown. Finch's dad doesn't work and his mom makes very little money as a journalist for a local paper that always seems on the brink of going under.
Finch is shoving the money part out of his mind and is focusing on getting into Georgetown in the first place. He and his friend Jonah are the stars of their high school debate team and Finch sees this as his ticket into the school. He figures if they win the state championship and then the nationals, there's no way that Georgetown can turn him down.
Finch is also going through a bit of a crisis interpersonally. He isn't really out as trans to most people. His family knows, his best friend/ex-girlfriend knows, and Jonah, his debate partner, knows. Jonah is cisgender and gay and in the "perfect" relationship with Bailey. Bailey is the star of the school's theatre department and desperately wants to go to Juilliard. In fact, Bailey got to pick this year's musical that he is starring in, Perfectly Modern Millie which he's gender-flipped to be Perfectly Modern Billie.
As I mentioned, Finch is in a bit of a crisis because he's starting to have squishy feelings for Jonah but at the same time he is very adamant about not being gay himself. So he figures that these feelings must be anxiety and he shoves them down repeatedly. Anyway, he has the national debate championship to worry about. The topic for the national debate championship is: "This House would allow transgender students in public schools to use the bathroom facilities of their choice."
Just in case you don't know how high school debate works, in competition, you have to take turns arguing each side. For and against. So, in order to have his best shot at getting into his dream school and dream life, Finch is going to have to argue against his own humanity.
This book was really anxiety-inducing but also cute, funny, and lovely and I highly recommend it.
Want to read books from this newsletter? You can, for free! Get three free audiobooks with a trial to Audiobooks.com. Claim your 3 free audiobooks now!
---
That's it for now, book-lovers!
Patricia
Find me on Book Riot, the All the Books podcast, Twitter, and Instagram.
Find more books by subscribing to Book Riot Newsletters.