Welcome to Check Your Shelf, where I'm doing everything I can to ward off the wave of illnesses sweeping through my coworkers and their families. Masking…it's not just for COVID!
Libraries & Librarians
Worth Reading
Christmas trees don't belong in libraries.
Genrify your catalog, not your collection.
How to make the most of in-person conferences.
Book Adaptations in the News
Guillermo del Toro still wants to make an adaptation of Lovecraft's At the Mountains of Madness.
David Baldacci's Atlee Pine series is being adapted as a series for Amazon.
New streaming service ITVX is adapting The Confessions of Frannie Langton as a series.
Brett Goldstein wants to make Muppets Pride & Prejudice, with him as Mr. Darcy. I would watch this.
Kevin Wilson's short story "Grand Stand-In" is being adapted as a TV series.
Take a look at the poster for Knock at the Cabin, which is based on the Paul Tremblay novel The Cabin at the End of the World.
Here's a first look at the adaptation of Daisy Jones and the Six.
Banned & Challenged Books
The culture war designation is journalistic negligence.
Frisco ISD (TX) board votes to permanently remove five books from library shelves.
Llano County (TX) has paid an attorney more than $25,000 for representation in its pending censorship lawsuit.
Louisiana Attorney General Jeff Landry has set up an online tip line for parents to report librarians, teachers, and administrators for providing graphic sexual content to minors.
Bow High School (NH) says that Gender Queer is appropriate for the school library. What I find noteworthy is that the principal initially saw how parents could have a concern, but then read the book himself, and realized that the images were appropriate when taken in the context of the whole story.
Darien (CT) school board says that Julian is a Mermaid is appropriate for use in the second grade curriculum.
Donegal School District (PA) librarian quits over guidelines limiting student access to library books.
After 10 months of debate, the Hempfield Area School Board (PA) decides that the best use of their time is to enact stricter book procurement policies, because it's "a harder standard to challenge and remove a book than it is to stop the book from coming in in the first place."
The Gettysburg Area School District (PA) is considering enacting a similar policy to the nearby Littlestown Area School District, where students are required to obtain parental approval before checking out books on the American Library Association (ALA) top 100 most challenged list. That is…not the purpose of that list.
Warwick (PA) Parents for Change criticized the school district's definition of gender and inappropriate library books. One of the attendees at a recent meeting said, "I'm trying to advocate for reality, and if reality comports with Christianity, then, yeah, you can say that I am advocating for a Christian worldview," and then said Christian principles were being replaced with "wokeanity." I can't make this up.
Akron (PA) residents are angered over proposed cuts to the Ephrata Public Library.
Pittsburgh School District unanimously passes a resolution against a bill barring Critical Race Theory.
Loudoun County School Board (VA) recently adopted a new policy that requires advance parental notification of any classroom materials that are deemed to have sexually explicit content.
Pickens School Board (SC) ignored recommendations from two review committees and voted to restrict access to Dear Martin.
A Michigan businessman and his wife donated $100,000 to the Patmos Library to help it stay open, even though they had no ties to the community and had never visited the library before.
Waseca-Le Sueur Library System (MN) has had a challenge to It's Perfectly Normal.
Marathon County Public Library (WI) voted unanimously to retain two challenged books in the juvenile nonfiction section.
Here's a recap of a recent library board meeting in Lincolnwood, IL. Lincolnwood declined to remove LGBTQ books from the children's section.
And here's a YouTube video of a recent Glenbard Township High School Board (IL) meeting, where a number of people spoke out against "pornography" in the school libraries. This is my husband's alma mater.
An official in Illinois' DuPage County GOP and the leader of Illinois Parents Involved in Education has a history of racist social media posts and ties to extremist hate groups. Shocking.
The Dallas Center-Grimes School Board is considering a new plan to handle book ban requests from community members; specifically, they're looking to revoke the voting rights of the students serving on the reconsideration committee. Naturally, the students are ticked.
How it only took one parent to get all of the graphic novels removed from an Oklahoma school library.
Natrona County School District elects to keep Gender Queer and Trans Bodies, Trans Selves in the library, but they will require a parent's permission for a student to check them out.
These are the 22 books removed from the Alpine School District (UT).
How expanded parental access to learning materials is impacting Arizona schools and libraries.
A parent's effort to recall three Salem-Keizer School Board (OR) has failed due to a lack of signatures.
The Proud Boys keep showing up at LGBTQ events.
Books & Authors in the News
After a debut author took to Twitter to describe her lackluster debut book signing, big-name authors like Neil Gaiman, Stephen King, and Margaret Atwood responded with reassurance and commiseration.
Numbers & Trends
The best-selling books of the week.
Award News
LeVar Burton is receiving a Lifetime Achievement Award at the inaugural Children's & Family Emmys.
The Story of Art Without Men by Katy Hessel is the Waterstones Book of the Year.
Pop Cultured
Bob McGrath, the longtime star of Sesame Street, has died at 90.
And Christine McVie of Fleetwood Mac fame has died at 79. This one hurts…I liked her music even more than Stevie Nicks's.
Bookish Curiosities & Miscellaneous
"Goblin mode" is the Oxford Word of the Year.
On the Riot
Places to look for library lessons.
The controversy of The Rabbits' Wedding by Garth Williams.
Meet your heroes: a case for reading author biographies.
How cataloging their books taught this Rioter to slow down.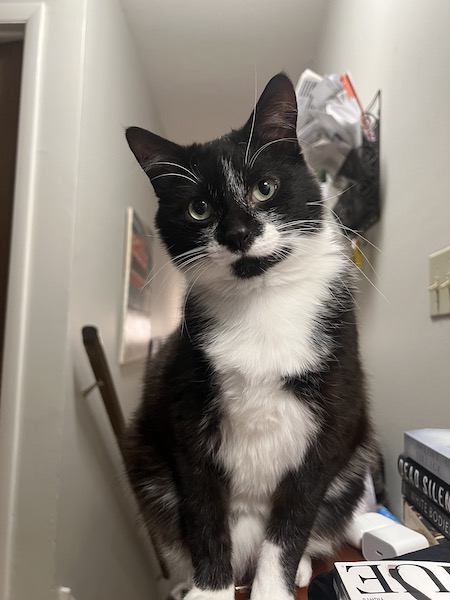 Here's Dini. While I was at work, he apparently wanted to inform me I still have a lot of mail on the wall to go through. I'LL GET TO IT LATER, DINI.
All right, that's it for this week. I'll see you on Tuesday.
—Katie McLain Horner, @kt_librarylady on Twitter. Currently listening to Hidden Pictures by Jason Rekulak.