Welcome to Check Your Shelf. This newsletter, like this week, is a little shorter than usual due to the holidays, but that's okay with me! (Sadly the book banning news is not shorter than usual, though.) I hope everyone had a relaxing and rejuvenating holiday with good people and minimal contentious arguments.
---
Libraries & Librarians
News Updates
Librarians worry that eBook pricing might affect people's ability to borrow books.
A record $52 million will be going to public school libraries in Wisconsin next year.
Cool Library Updates
Nashville Public Library unveils a limited edition library card featuring Dolly Parton's Imagination Library! I want one!!
Worth Reading
Meet the longtime librarian being honored at the National Book Awards.
Book Adaptations in the News
Kristen Stewart is making her directorial debut with the adaptation of Lidia Yuknavitch's memoir The Chronology of Water.
Big Little Lies, Season 3 will not be moving forward in the wake of director and executive producer Jean-Marc Vallée's death.
Here's the trailer for the new Netflix animated adaptation of A Christmas Carol.
Want to read books from this newsletter? You can, for free! Get three free audiobooks with a trial to Audiobooks.com. Claim your 3 free audiobooks now!
Banned & Challenged Books
No, books should not have content ratings.
Kelly Jensen's book Body Talk: 37 Voices Explore Our Radical Anatomy, is one of over 300 books that have been banned in Missouri since August. PEN America has issued a statement rejecting this alarming development.
Freedom to Read advocates warn of the proposed "book rating" bill in Texas and rising book bans in Missouri.
The New York Times wrote about school librarian Amanda Jones's ongoing struggle against censorship.
Frisco ISD (TX) has released a list of books banned or restricted in school libraries, including Game of Thrones and several books written by Neil Gaiman.
Huntsville (TX) residents are concerned about potential censorship at the library, especially after one patron witnessed a police officer behind the circulation desk telling a staff member "that when the rest of the books they put on reserve come in, he's going to come back pick them all up and then someone is going to make a decision about whether they can remain in circulation or not."
An update on the ongoing lawsuit against Llano County (TX) Library System.
In Concord, New Hampshire, a crowd gathers to say "All Are Welcome" to counter a scheduled protest against Drag Queen Story Hour.
The controversial book conversation heats up again at Old Rochester Regional schools in Massachusetts.
The Cheshire (CT) Board of Education heard concerns from parents about certain books being used in the middle school to discuss social justice, including Ghost Boys and Boy21.
The Enfield Congregational, United Church of Christ (CT) held a giveaway of LGBTQ books after a school board member asked the curriculum committee to consider marking these books as "obscene."
A teacher in Hollidaysburg School District (PA) is being called out for having Gender Queer visible on her desk. Not part of her classroom library. Not being handed out to a student. It was just visible on her desk. Apparently this is considered indoctrination as well.
Chesterfield County (VA) School Board heard from a number of angry parents over allegedly inappropriate materials used in the classrooms.
Sumner County (TN) Commission passed a resolution that says the books A Place Inside of Me and Dragonwings violate state law and should be removed from all libraries in the county. The school board voted to retain A Place Inside of Me, but have not yet scheduled a hearing about Dragonwings.
Onslow County (NC) board members and parents grapple with the school district's "graphic books" policy.
Notes from a school board takeover — this is what's happening to the Berkeley County School Board in South Carolina.
South Carolina lawmakers are suing schools over allegations of teaching critical race theory.
Beaufort County (SC) committees will start reviewing 97 challenged books that have been pulled from shelves.
Residents of Greenville County, South Carolina, have formed a coalition to fight ongoing book bans and challenges.
Horry County (SC) parents and teachers sound off about the new increased scrutiny over library books.
Rochester (MN) Public Library takes a stand on the freedom to read.
Angry parents crowd the Hamtramck (MI) school board meeting with complaints over books, many of which the school board says aren't even being made available to students in the first place.
Ottawa County (MI) resident John Mast said "We'll pay for this library completely, but we're not going to pay for it as long as they got them kind of books in there," in response to the Patmos Library being defunded over LGBTQ books.
St. Joseph Public Schools (MI) elect to keep all 13 formally challenged books in the high school media center.
Dearborn (MI) School District is keeping some of the formally challenged books, but they've elected to remove Push and Red, White, and Royal Blue.
Daughters of Smoke and Bone has been moved from Western Middle School (IN) to the high school following a formal complaint.
A Bartholomew County (IN) church congregation is pressuring the public library to remove multiple titles that initially caused a 19 year-old member of their congregation "discomfort." But of course it's not related to LGBTQ-issues or banning books, because it never is.
Amidst death threats and ongoing harassment, a University of Chicago professor reschedules her course titled "The Problem of Whiteness."
Nearly two-thirds of Madison County (IL) voters said that the library shouldn't advertise drag queen events to minors, in response to two exceptionally popular drag-themed events at the library. However, this measure doesn't represent any sort of legal standard that the library has to follow.
A Marathon County (WI) budget hearing turned heated after some residents spoke in favor of cutting the public libraries budgets, saying that they're concerned that their children have been exposed to harmful materials at the library.
Missouri is seeking feedback for their proposed rule, which would require libraries to put policies in place to keep "non-age appropriate books and materials" out of the hands of students, or lose funding.
The St. Mary's City Commission (KS) is debating whether to renew the Pottawatomie Wabaunsee Regional Library's lease after the library refused to accept a clause asking it to remove socially, racially or sexually divisive material, including all LGBTQ content.
Natrona County (WY) School District is possibly moving towards a wide-ranging ban on any books with "sexually explicit" imagery.
Cody (WY) School Board voted unanimously to uphold an earlier decision to retain If I Was Your Girl by Meredith Russo in the high school library.
Owasso (ID) Public Schools' Board of Education voted in favor of a new requirement that will require every graphic novel to be reviewed by at least three faculty members for "sexually graphic content and extreme vulgarity" before it's allowed on the shelves. Yet another example of time and resources being wasted on a non-existent problem.
Meridian Public Library (ID) faces backlash for their book collection. The director, in a refreshingly honest response, said, "Shouting out that these things you disagree with are obscene, is patently false. You have the right to object to an item. You have the right to recommend a reconsideration of an item you don't like. You do not have the right to ban books or segregate access to books you don't like."
The conservative book ban movement roils the Millard County (UT) School District.
A Utah mom is upset that 23 "pornographic" books have been returned to Washington County (UT) School District libraries. The article also mentions that all 23 books are featured on the Rated Books website, without mentioning that this website is created directly by Moms for Liberty.
The Homer Library (AK) Advisory Board seeks public input regarding LGBTQ-themed children's books.
Books & Authors in the News
Award-winning children's author Marcus Sedgwick has passed away unexpectedly at 54.
A list of 100 Canadian citizens, including Margaret Atwood, have been banned from Russia, in retaliation for Prime Minister Trudeau's new and ongoing sanctions.
Barnes & Noble has pulled the controversial book Hebrews to Negroes: Wake Up Black America from its shelves.
Numbers & Trends
The best-selling books of the week.
Award News
The 2022 National Book Award winners have been announced!
Dolly Parton receives a whopping $100 million award for The Bezos Award for Courage and Civility. She said, "I try to put my money where my heart is. I will do my best to do good things with this money."
Katherine Rundell wins the 2022 Baillie Gifford Prize for Nonfiction for Super-Infinite: The Transformations of John Donne.
The 2023 Grammy nominations have been announced.
The shortlist for the 2022 First Novel Prize has been announced.
Bookish Curiosities & Miscellaneous
500 new words are officially allowed in Scrabble, including Jedi, spork, hangry, and fauxhawk.
On the Riot
After 125 years, this is the most-borrowed book from the Brooklyn Public Library.
A rundown of this Rioter's first library conference.
Pulling back the curtain: reading the journals of someone you admire.
The worst books written by celebrities.
Reading is this Rioter's coping mechanism at family gatherings.
How do visual readers read nonfiction?
---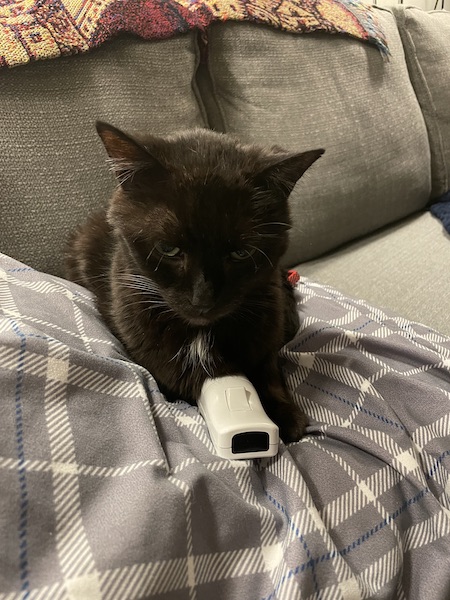 About a month ago, I dug out my old Wii U (yes, I still have my Wii U, don't judge), and last night, Gilbert decided he wanted in on the fun! My husband is away at the moment, and when I sent him this photo, he said, "Oh no. I have to come back home right now, because y'all are clearly having too much fun."
Okay, friends. I'll pop into your inboxes again on Tuesday. Enjoy your weekend!
—Katie McLain Horner, @kt_librarylady on Twitter.