Hi Book Friends,
Well, I hope all my Taylor Swift fans were able to get tickets this week. I am sitting here trying to get tickets as I type this, but I hope by the time you read this, I will have tickets. I'm putting that out there into the universe, at the very least. And for all you Radar-ites who don't care about Taylor Swift, lucky you. My anxiety levels are at an all-time high because of this dang concert. And is any of it worth it? I guess we'll have to wait and see. Anyway, rant over. Let's talk about books.
Book Deals and Reveals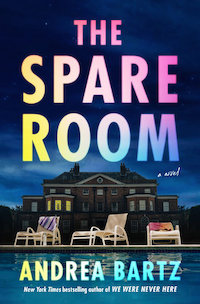 Andrea Bartz has shared the cover of her upcoming thriller novel The Spare Room. This one comes out in June 2023.
Here's the cover reveal of Maureen Goo's Throwback, a young adult novel that promises "time travel, romance, and mother-daughter issues." It's scheduled for release April 11, 2023.
Dutton Books has revealed the cover of Riley Sager's upcoming Gothic horror novel The Only One Left, which will be out in June 2023.
Netflix's animated adaptation of Charles Dickens's A Christmas Carol has a new trailer and a release date.
Amazon Prime Video has released the official trailer for their upcoming holiday film Something from Tiffany's, based on Melissa Hill's novel of the same name. Something from Tiffany's arrives on Prime Video on December 9th.
Marvel's upcoming animated series Moon Girl and Devil Dinosaur has released a brand new music video, featuring the extended version of the main title song, "Moon Girl Magic."
Ballast Books, Aaron Carter's book publisher, has delayed the release of the late pop star's memoir following backlash from his management and ex-girlfriend Hilary Duff.
Sandra Oh, Kieu Chinh, and Nguyen Cao Ky Duyen are joining HBO's The Sympathizer, a series based on the Pulitzer Prize-winning novel by Viet Thanh Nguyen.
Judy Blume's iconic 1975 young adult novel Forever is set to become a Netflix series. The streaming platform has given a series order to the project, which comes from writer and showrunner Mara Brock Akil.
Universal Pictures has acquired the movie adaptation rights to The Bangles co-founder Susanna Hoffs's debut novel This Bird Has Flown.
HarperCollins union workers have gone on indefinite strike over low wages and diversity.
Here are Amazon Book Editors' top 10 books of the year, as well as trends they've noticed in publishing in 2022.
And this is the best book of the year, according to Barnes & Noble booksellers.
Book Riot Recommends
I'm a Contributing Editor at Book Riot, I write the Today in Books newsletter, and I'm a Bibliologist for Book Riot's Tailored Book Recommendations subscription service. I also have a PhD in English, so I'm basically a doctor of books. Books are my life, in other words, so in this section of the newsletter, let me share with you some upcoming books I'm super excited about. And I think you will be too!
Can't Wait for This One!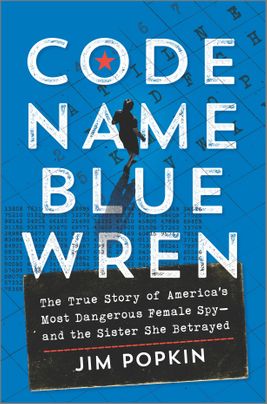 Code Name Blue Wren by Jim Popkin (Hanover Square Press, June 3)
Nonfiction November continues. And have I got one for you, fans of spy thrillers and espionage. Investigative journalist Jim Popkin's Code Name Blue Wren is the story of Ana Montes, one of the most damaging spies in U.S. history. As a former American senior analyst at the Defense Intelligence Agency in the U.S., Montes spied for the Cuban government for 17 years until she was arrested in 2001.
For 17 years, Montes worked as one of the U.S. government's top Cuba experts, but by night she worked for Fidel Castro, passing along U.S. secrets and slipping into Havana wearing a disguise. Montes betrayed her country by passing along top secret, classified U.S. documents. But her betrayal was also personal. Her brother and sister-in-law were FBI agents. And her sister worked for the Bureau specifically to help them identify and remove Cuban spies from the United States.
Montes will be freed from federal prison in January 2023, around the same time this book will be released. This is her story of espionage and betrayal, but it's also the story of her relationship with her sister, who chose a very different path.
Want to read books from this newsletter? You can, for free! Get three free audiobooks with a trial to Audiobooks.com. Claim your 3 free audiobooks now!
Words of Literary Wisdom
"I also kept thinking of every man I had ever known. The ones from high school who were now in jail or had DUIs or posted pictures on social media of their assault rifles. The men I would see at campus parties where at least two women would discreetly point to them and say, 'Watch your drink when he's around.' The men who would walk too close behind me when I was going home alone at night, who made me grip my keys in my hand, made me reach in my purse and pretend I had a canister of pepper spray in my palm. None of them had to sacrifice their privacy like this."
— The Women Could Fly by Megan Giddings
What's Up in the Book Community?
My iPhone is constantly telling me I spend too much time staring at my screen, which is honestly so rude. But this means I spend a lot of time scrolling around the online book community: BookTube, Bookstagram, BookTok, BookLinkedIn (JK. That's not a thing…I don't think). You get the idea. Don't have the time, energy, or the will to do all of that yourself? No problem. I got you. In this weekly section of Book Radar, we'll take a look at something cool, interesting, and/or newsy that's going on in the book community.
Somehow, friends, it's already that time of the year where we start to see "Best of the Year" lists. And while most of these lists are put together by journalists and book critics, the Goodreads Best of the Year is chosen by you, the people.
Okay, yeah, The Goodreads Choice Awards is still a bit of a popularity contest. But there are always a few surprises. And every year, you have a say! So go ahead and vote in the opening round, and let's see how this shakes out.
And Here's A Cat Picture!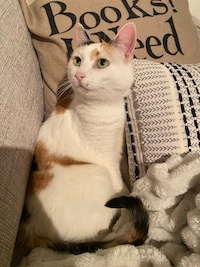 Cute girl alert! Cersei and I were chilling on the couch and watching the new season of The Crown this morning. She loves any TV shows about royalty because she is herself a royal. Obviously.
And that is all for today, friends. I hope you have a good weekend, and I am so looking forward to talking to you next week, when I will hopefully be on the other side of this Taylor Swift anxiety spiral.
See you soon!