Welcome to Check Your Shelf. Y'all, it's been a WEEK, and it's only Wednesday as I write this letter. This week has tested the limits of my abilities as interim director, and I've been dealing with a random bout of insomnia to boot, so my mental faculties are really drained at exactly the worst time. Send positive thoughts and some sleepy time vibes.
Libraries & Librarians
News Updates
Senator Jack Reed (RI) and Arizona Representative Raul Grijalva (AZ) introduced the Right to Read Act, which would ensure all U.S. students have access to a school library staffed by a certified school librarian.
Cool Library Updates
Dolly Parton's Imagination Library has expanded to California!
Book Adaptations in the News
Devil in the White City loses its director and Keanu Reeves in the same week.
A Myron Bolitar series is in the works at Netflix.
People We Meet on Vacation gets a film adaptation.
Stephen King's latest novel, Fairy Tale, will be adapted for film.
John Waters will direct the adaptation of his novel, Liarmouth.
Jessica Simpson's memoir Open Book has gotten a pilot order for Freevee.
Kindred gets a December 13th release date on Hulu.
The Summer I Turned Pretty has been renewed for a second season.
Here's a first look at The People We Hate At the Wedding.
Banned & Challenged Books
Book banners insist they don't ban books.
Katy ISD (TX) trustees voted to remove students from a book removal committee charged with determining whether challenged books should remain in school libraries. Great, remove the perspective of the people most deeply affected by removing school library books.
Manufactured controversy over a Banned Books Display in Kerr County, Texas.
Perry High School (TX) elects to keep The Hate U Give in the school library.
Book bans take center stage in the Leander ISD (TX) school board race.
How a Christian cellphone company became a rising force in Texas politics.
100+ (!!!) questionable books have been placed in a restricted section while awaiting review in Escambia County (FL) public schools.
Book ban disputes roiled these Oklahoma communities. Here's what happened.
RSU1 (ME) debates about whether or not to retain Beyond Magenta: Trans Teens Speak Out.
Medomak Valley High School (ME) senior circulates a petition to keep Gender Queer on the library shelf.
Abington (MA) school officials pulled This Book is Gay from the Middle/High School library while the book is reviewed.
Westport (CT) Board of Education trustees refused to publicly discuss a banned books display during a recent meeting.
Westfield (NJ) Library takes a stance against book bans by passing a new resolution.
The Pennridge School District (PA) tells teachers to remove LGBTQ pride flags, crosses, and other "advocacy materials" as part of a new policy.
The Pennsylvania ACLU files a federal complaint against the Central Bucks School District after LGBTQ students reported being "severely" harassed.
Bedford County (VA) parents are upset over new policy for challenging books in the school library, which is technically a five step process, but also allows the library media specialist or school principal to permanently remove a book at step one if they deem necessary.
Madison County (VA) school board proposes banning library books as part of a new state policy.
Wilkes County (NC) superintendent has been given temporary authority to immediately remove any challenged books or other educational materials that he deems inappropriate.
Pickens County (SC) School Board votes to ban Stamped: Racism, Antiracism and You and The Perks of Being a Wallflower.
Carroll (IA) Community School District trustees discuss three books that parents want removed from the high school library.
The ACLU of Illinois has written letters to the homophobic and transphobic group Awake Illinois, which sent letters to two IL residents, threatening them with defamation lawsuits after they spoke out against a Congressional candidate with ties to Awake Illinois.
Drag Story Hour events bring joy — and protests — to St. Paul libraries.
A look at the formal challenges filed at the Kent District Library (MI) to remove 13 different titles.
Michigan GOP gubernatorial candidate Tudor Dixon has called for "pornographic" books to be removed from schools and libraries, as well as legislation to prevent "grooming," but not surprisingly, has been short on details about what this would actually look like.
Sumner County (TN) school board member has filed an official challenge against the picture book A Place Inside of Me: A Poem to Heal the Heart because it references the Black Lives Matter movement.
Kirwood and Webster school districts (MO) each remove multiple library books in response to the new state law that restricts "explicit sexual material" in schools.
A measure to defund the Jonesboro (AR) Library is likely to be on the November ballot.
A Bryan County (GA) substitute teacher says she was fired after objecting to the book All Are Welcome being read during a library read-aloud program.
The surplus books that were previously slated to be destroyed in the Rapid City Area Schools District (SD) are now being sold…which doesn't really solve anything except a storage problem, because they're still not available for students to use.
Cherry Creek School District (CO) removed Let's Talk About It from school libraries after receiving a parental complaint.
Academy District 20 superintendent in Colorado Springs resigns, which comes just a few months after a Colorado Springs school board president urged parents to search school libraries for "objectionable materials."
Once again, another article that centers the parents who are trying to have books removed. This time in Utah.
Natrona County (WY) School District elects to keep Gender Queer and Trans Bodies, Trans Selves in school libraries.
Fifteen months later, the library battle rages on in Campbell County, Wyoming.
Several parents expressed outrage over the book This Book is Gay at a Walla Walla Public School District (WA) board meeting, except it doesn't sound like the school library even owns a copy of the book…
The South Central Regional Library in Manitoba decides to keep three sex ed books on library shelves.
Rapidly accelerating book bans are a part of a coordinated assault on public education.
Want to read books from this newsletter? You can, for free! Get three free audiobooks with a trial to Audiobooks.com. Claim your 3 free audiobooks now!
Books & Authors in the News
Renowned country star and author Loretta Lynn has passed away at 90.
Peter Robinson, author of the Inspector Banks novels, has died at 72.
Numbers & Trends
The bestselling books of the week.
Let's get rid of the blobby book cover.
The most expensive Jane Austen novel has sold for £375,000.
Award News
French writer Annie Ernaux has been awarded the 2022 Nobel Prize in Literature. Here's a reading guide for Ernaux's work.
The longlists for the 2023 Andrew Carnegie Medals have been announced.
15 books getting major awards buzz.
Pop Cultured
Angela Lansbury, who played Jessica Fletcher on Murder, She Wrote, has died at 96.
On the Riot
Why animals belong in the library.
An argument for watching the movie first.
The scientific benefits of reading to children.
Coming to terms with reading less.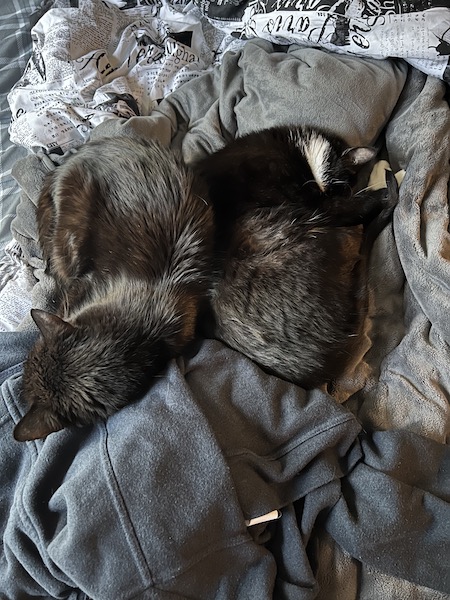 My boys were caught snuggling! I feel a little like the principal from Mean Girls: "Rumor has it that Gilbert and Houdini like each other. The two were seen canoodling on the bed two weeks ago, and have been inseparable ever since."
All right, I'm off to bed to see if there's any sleep in store for me. I hope everyone has some restful nights, and a restful weekend!
—Katie McLain Horner, @kt_librarylady on Twitter.