Happy Friday, shipmates! Wow, where did this week go? It's Alex, and I've got a couple more new releases for you, and a detective theme! I am now thankfully fully recovered, post-booster, and enjoying the autumn weather. The aspen trees in Colorado have all gone golden and there are pumpkins at the grocery store. It's the best time of year! Stay safe out there, space pirates, and I'll see you on Tuesday.
Let's make the world a better place, together. Here's somewhere to start: NDN Collective and Jane's Due Process.
Bookish Goods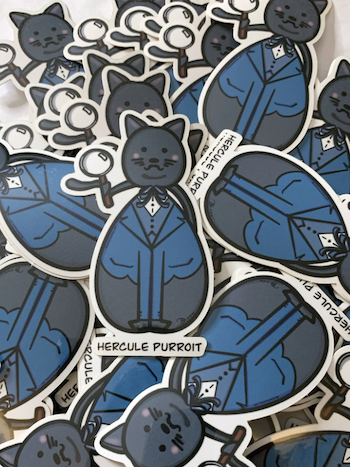 Since there's a bit of a detective theme to this newsletter, I found these adorable stickers — a cat version of literary detective Hercule Poirot. There are a bunch more cute and similarly punny cat detectives in the store, including Nancy Mew! $3
New Releases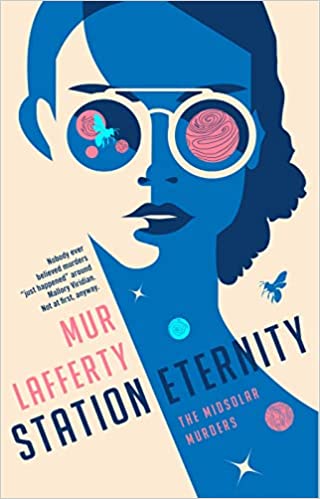 Mallory Viridian is an amateur detective, which means she ends up surrounded by death all the time, and that's made her a social pariah and a perennial suspect for the murders she investigates. When she's given the opportunity to hide out and rethink her life on an alien space station, she takes it in the hope that she'll have some murder-free quiet. Instead, not long after her arrival, humans and aliens begin to mysteriously die… and she'd better solve this mystery before the whole station perishes.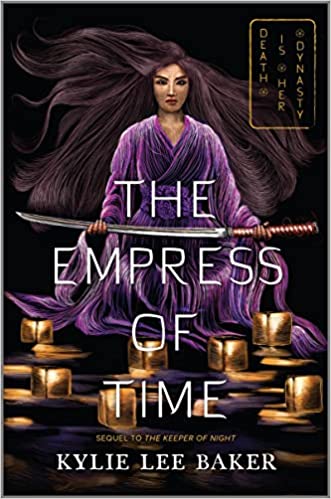 After being chased out of England, Ren has undergone some changes — she's now the Goddess of Death and the ruler of Japan's underworld. She doesn't have long before Ivy, Britain's Goddess of Death, will come calling and looking for revenge, though. Her only hope is help from the god of storms and seas, and he has a price: a sword lost a thousand years ago. Teamed up with the moon god Tsukuyomi, Ren journeys to find the sword — and save Japan in the process.
For a more comprehensive list of new releases, check out our New Books newsletter.
Riot Recommendations
Mur's new book has inspired me to throw in a couple more sci-fi murder mysteries!
A colony ship named Ragtime docks in the Lagos system after ferrying a thousand people in cold sleep to the colony world Bloodroot. But some of these sleepers will never wake again, and first mate Michelle Campion is the first to discover this terrifying fact. Her distress call brings in Rasheed Fin to investigate these deaths, and he soon concludes that it was no accident.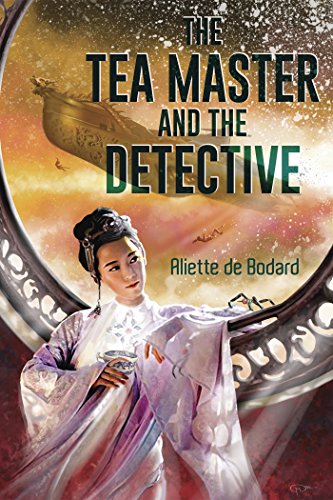 Imagine Holmes and Watson, except Watson is a sentient mindship called with post-combat PTSD called The Shadow's Child who makes her living mixing "interesting" (read: mind-altering) tea blends, and Holmes is an abrasive and eccentric human scholar named Long Chau in search of a corpse for scientific study. When it turns out the corpse is the victim of murder, the two investigate this mystery together.
See you, space pirates. If you'd like to know more about my secret plans to dominate the seas and skies, you can catch me over at my personal site.