Dear Book People,
It's that time of the week again where we check in with each other, talk about all the books, and talk about all the hot book gossip. Oh, and we'll probably talk cats or something. Btw, if you have any cat pictures, please send them to me. I have been having a really busy work week and I need to look at cats to calm down. Because cats make everything better. Anyway, here is the deal with books.
Book Deals and Reveals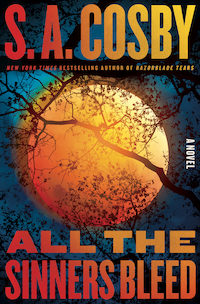 S.A. Cosby recently did an interview with Crime Reads and revealed the cover of his upcoming Southern noir thriller All the Sinners Bleed. The novel is out from Flatiron Books in June 2023.
Tordotcom Publishing has revealed the cover of Emma Mieko Candon's The Archive Undying. The publisher describes the book as a "bold entry into the world of mecha fiction."
Can't wait to read Rebekah Weatherspoon's upcoming YA romance novel Her Good Side? You don't have to! Penguin Teen has an excerpt from the novel that you can read right now (and a cover reveal)!
And if you need more cute romances in your life, check out the cover of Melissa See's Love Letters for Joy, out from Scholastic in June 2023.
Showtime's upcoming series Let the Right One In is a reimagining inspired by John Ajvide Lindqvist's original 2004 novel, and the first trailer has been released.
A limited edition single volume of the manga One Piece has been released, and it's being billed as the longest book in existence at 21,450 pages.
Brandon Taylor, the Booker Prize-shortlisted author behind Real Life and Filthy Animals, has moved to Jonathan Cape from Daunt Books for his new novel The Late Americans.
Yoshihiro Togashi's Hunter x Hunter manga is finally returning in November. The Shonen Jump Twitter announced that Volume 37 would come out on November 4th in Japan.
Jenny Saint, author of the retellings Ariadne and Elektra, has a new novel coming out soon entitle Atalanta, and Paste has an exclusive cover reveal and author Q&A.
Former company president of Canada's Indigo Books & Music, Peter Ruis has been named CEO in place of Heather Reisman who will now assume the role of executive chairman.
Amazon's Prime Video has given the green light to Blade Runner 2099, a limited series sequel to the iconic sci-fi film franchise, based on the novel Do Androids Dream of Electric Sheep by Philip K. Dick.
Spotify has launched its long-awaited audiobooks feature. The company is also looking to create new business models with audiobooks.
Book Riot Recommends
I'm a Contributing Editor at Book Riot, I write the Today in Books newsletter, and I'm a Bibliologist for Book Riot's Tailored Book Recommendations subscription service. I also have a PhD in English, so I'm basically a doctor of books. Books are my life, in other words, so in this section of the newsletter, let me share with you some upcoming books I'm super excited about. And I think you will be too!
Can't Wait for This One!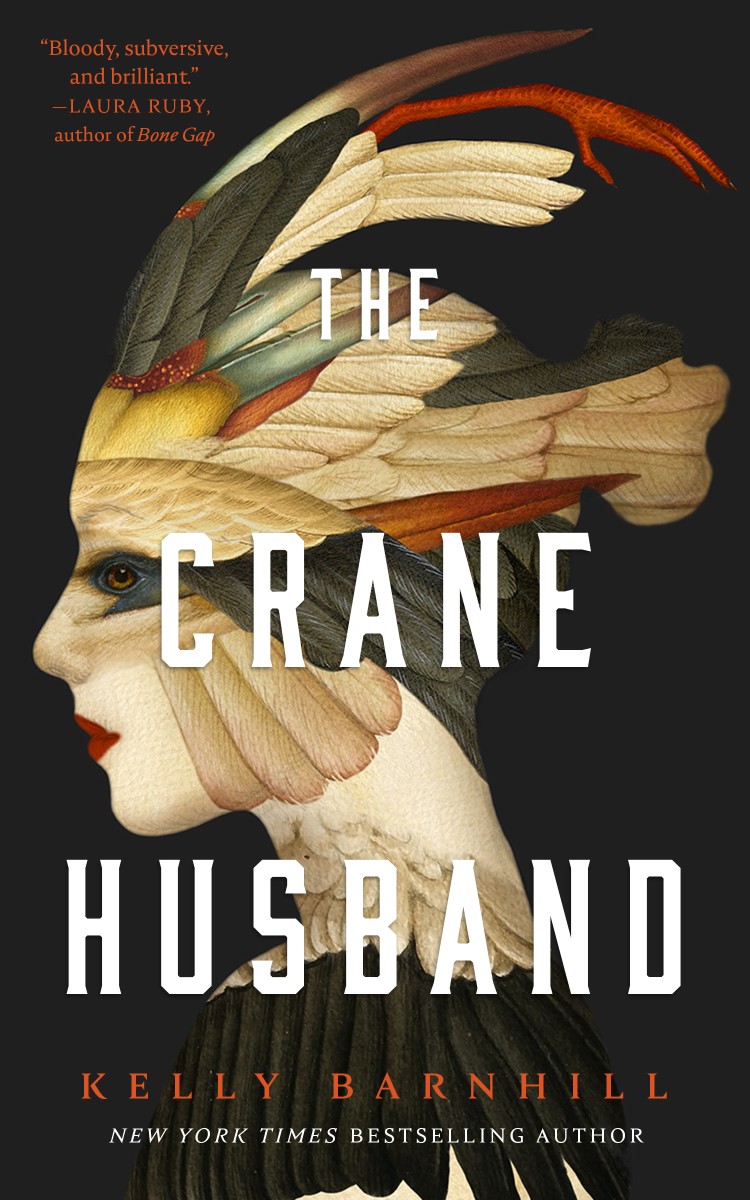 The Crane Husband by Kelly Barnhill (Tordotcom, February 28, 2023)
Kelly Barnhill's When Women Were Dragons was one of the most exciting new fantasy novels of 2022. So when I found out she has a novella coming out in 2023? And that it's a retelling of the Japanese folktale "The Crane Wife?" Yeah, I got pretty excited to get my hands on this one. Also, just check out this incredibly stunning cover. I mean!
The Crane Husband is centered around the story of a small Mid-western family. The fifteen year-old daughter is responsible for raising her brother while her artist mother struggles to provide for her family through selling her beautiful tapestries. Over the past six years, while her mother has brought guests home, none of them have ever stayed. For the most part, it's just been the three of them.
But then one day her mother brings home a strange guest, a six-foot tall crane that completely turns the family's life upside down. The mother quickly falls prey to the crane's every demand, abandoning the world around her to weave the masterpiece the crane has asked for. Now the teen girl knows she must do whatever it takes to protect her mother and save her family.
Want to read books from this newsletter? You can, for free! Get three free audiobooks with a trial to Audiobooks.com. Claim your 3 free audiobooks now!
Words of Literary Wisdom
"A mother is always giving. A mother never falls apart. A mother is a buffer between her child and the cruel world. Absorb it, the instructors say. Take it. Take it."
— The School for Good Mothers by Jessamine Chan
What's Up in the Book Community?
My iPhone is constantly telling me I spend too much time staring at my screen, which is honestly so rude. But this means I spend a lot of time scrolling around the online book community: BookTube, Bookstagram, BookTok, BookLinkedIn (JK. That's not a thing…I don't think). You get the idea. Don't have the time, energy, or the will to do all of that yourself? No problem. I got you. In this weekly section of Book Radar, we'll take a look at something cool, interesting, and/or newsy that's going on in the book community.
It's scary season, and you know what that means. It's time to prepare for some Halloween Read-A-Thons. My favorite time of year! I will be posting a longer list of Halloween Read-A-Thons next week. But for this week? I wanted to highlight the one I'm planning on participating in this year, and that's gabbyread's Weekendween: The Monster Mash. I chose this one because I love Gabby's horror/thriller read-a-thons, and I love that this one is a manageable amount of tasks over the course of one weekend. Check out the prompts for yourself, and let me know if you'll be participating too! Should I share what books I plan on reading for this?
What I'm Watching This Weekend
Anyone else a football fan here? Welp. I got NFL Sunday Ticket because I am playing in some fantasy leagues and I was hoping to keep up with all of the games. But. You know. Sunday Ticket hasn't been working. At $80/month, I feel like I need my money back. Or is this just the price I pay for being a football fan?
And Here's A Cat Picture!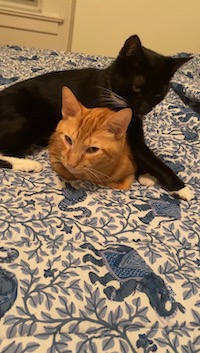 As the weather starts getting cooler, the cats just start getting cuddlier. We love to see Murray and Remy getting along so famously. And yeah, I love my elephant quilt too.
That's all for today, everyone. As I say pretty much every Thursday, I hope you have a wonderful weekend. I hope you get to pet lots of cats and read lots of good books. I hope you sleep in at least one day this weekend, if not two. And yeah, I'll see you same time same place on Monday, friends.