Hello and welcome (back) to the Kissing Books newsletter. I'm PN Hinton, your guide through the world of romance. By the time you're reading this, it will be less than 24 hours to my beach trip. *excited squeal*
I know that beach settings aren't always ideal for ereaders so I've got my paperback version of Love in the Time of Serial Killers all set to go. I also know that I might be too busy with friends to read but it's always good to have a book packed just in case.
On to the newsletter!
Bookish Goods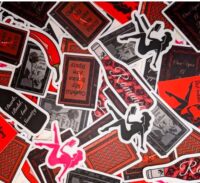 For some reason, the start of Fall always makes me think of stickers. Maybe it's because I remember my school years of getting new notebooks and binders and thinking of all the various ways to decorate them. Either way, stickers are always fun, especially when you get to proclaim your love of something with it, hence this sticker pack being my pick for today. Prices are either $12 or $24 depending on how many stickers you want.
New Releases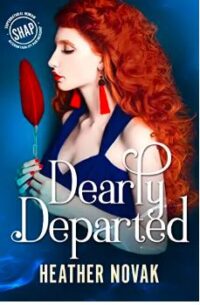 Medium and single mom Eliza is determined to do whatever it takes to make life easy for her daughter after losing her fiancé, Ben. This includes undertaking difficult tasks like working with Paris, her ex and the person who played a role in Ben's death. As the two women work together, sparks reignite but there's more than just them that's at stake here; they both know that above all else, they have to be mindful of not just their desires, but the loved ones they're both protecting.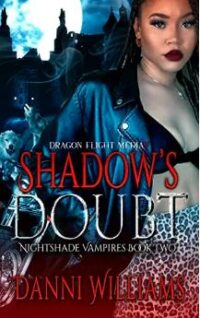 When vampire Lisa meets wolf shifter Sean, she knows that she has met her mate. Despite the obvious attraction between the two, he is less willing to admit anything is between them and give up control of his life to a vampire. During their search for a kidnapped dragon shifter, an unexpected tragedy occurs. Will Lisa claim Sean to save his life even if means losing their relationship completely?
And don't forget that for a more comprehensive list of new releases, you can always check out our New Books newsletter!
Riot Recommendations
One thing that broke and divided the Internet last weekend was the trailer from the upcoming live action version of The Little Mermaid that Disney unveiled at the D23 Expo. Now, I'm not sure if y'all remember the absolute chaos that happened a couple of years when it was announced that Halle Bailey was cast as Ariel because she was *gasp* Black.
Miss me *all* the way with that mindset.
I've said this before and I'll say it again; representation is very important. It's been accepted for far too long that the default being white, cis-gender, and heterosexual even though that's never been the case. And, frankly, those of us who don't fit those boxes are tired of being jammed into them. If someone doesn't realize why this is a wonderful thing for young Black children to see, it's because they never had to search for people who looked or were like them in all aspects of media. And that is a privilege that they need to acknowledge, accept, and unpack.
I know I went off on a tangent there but I feel very strongly about this for obvious reasons. Not every piece of media will be for everyone and that's okay because there's options. Stop trying to steal people's joy though because that is wrong. And with that in mind, today's recommendation are royal reads where the princesses would likely be considered 'unconventional' because they don't fit all the narrow-minded parameters I referenced above.
A long-lost princess, a fake marriage, and just one bed coupled with some high seas calamities? This book has it all and Cole's notable written wit. Plus that cover is just gorgeous. This has been on my TBR for a bit and I'm planning finally on reading it this year.
Olivia is a princess who actually wants to marry for love, despite the desires of her family for her to make a more political match. Villager Rosie is trying to keep her café, and by extension her dream, alive. When Olivia escapes the palace to get a break, her paths cross with Rosie and the chemistry is instant. But, is there hope for a happily ever after for the women who are from two drastically different worlds?
Take this quiz to find out your perfect Regency suitor.
Awards show fashion matched with romance covers.
Check out some of these steamy romances that feature a bet of sorts.
And that's all I have for you this week! I'll be back in your inboxes on Monday with a fresh edition. I likely won't be posting too much on Twitter this weekend but you never know! You can always give me a follow under @PScribe801. Until next week, happy reading and stay hydrated.