Heyyy book friends!
Is it starting to feel like fall where you are? It is here, which is really exciting for me, a fall baby. I sort of wish it could be fall all year round, but I also realize that part of what makes this time of year so special is we have to endure summer to get to it. But hey… is it finally fall babies' time to shine? I think so! What a perfect time of year for cozy activities like reading. What's not to love? And on that note, let's talk books.
Book Deals and Reveals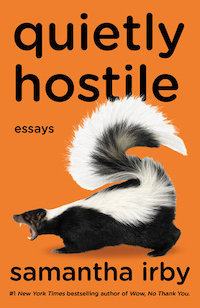 Samantha Irby has a new essay collection coming out! In an Instagram post, Irby wrote, "please say hi to my gorgeous new son." Quietly Hostile is out May 16, 2023 from Penguin Random House.
Here's a first look at the TV adaptation of Gene Luen Yang's graphic novel American Born Chinese, starring Michelle Yeoh.
Lambda Literary has a new executive director! Samiya Bashir is a prolific poet, artist, writer, performer, advocate, and an Associate Professor at Reed College in Portland, Oregon.
Here's the cover reveal of BIG, Vashti Harrison's first written and illustrated picture book. Harrison wrote on Instagram, "While Big is my first piece of fiction, it comes from a very personal place. It is an intimate story about anti-fat bias, the adultification of black girls and the journey to self love. It was a really difficult but cathartic book to write and I hope it can be a mirror or even a guide for anyone else who's on that same journey. I can't wait to share it with you!" BIG is out in May 2023.
Another great cover reveal: check out the cover of My Love Life and the Apocalypse, a YA sci-fi/love story from Melissa Welliver. Coming April 2023!
Sofia Coppola is adapting Priscilla Beaulieu Presley's 1985 bestselling memoir Elvis and Me for the big screen. The feature film, entitled Priscilla, will star Cailee Spaeny as Priscilla and Jacob Elordi as Elvis Presley.
Angela Flournoy has sold The Wounded Wilderness to Mariner's Rakia Clark in a seven-figure, two-book deal. Mariner says the novel The Wounded Wilderness follows the story of four Black women's friendship and lives over the course of 20 years, examining "how gender expectations, race, class, and the shifting dynamics of city life" affect them. The second book in the deal will be a memoir entitled When Will I See You Again? which examines the author's experiences during her first pregnancy while her mother was being diagnosed with a terminal illness.
Following the world premiere of Sanaa Lathan's On the Come Up at TIFF, the film is getting a limited theatrical release to coincide with its Friday, September 23rd Paramount+ release date.
John Green's first novel might get banned at his own school. "Please don't ban my books in my hometown," John Green concluded in his TikTok. "It's really upsetting for my mom."
Ahead of Stephen King's 75th birthday on September 21st, Entertainment Weekly is publishing their Ultimate Guide to Stephen King.
Disney+ released the first trailer for Percy Jackson and the Olympians at the D23 Expo 2022.
Paper Girls, the series produced by Amazon Studios for Amazon Prime Video, has been canceled after one season despite debuting to positive reviews.
Netflix is releasing its adaptation of Tembi Locke's best-selling memoir From Scratch on October 21st. Tembi's sister, author Attica Locke, tweeted her excitement for the upcoming series: "I can't wait for you guys to see my show, made with love with my sister @tembilocke, based on her NY Times Bestselling memoir!" Attica Locke serves as showrunner of the series, which stars Zoe Saldaña.
Want to read books from this newsletter? You can, for free! Get three free audiobooks with a trial to Audiobooks.com. Claim your 3 free audiobooks now!
Book Riot Recommends
I'm a Contributing Editor at Book Riot, I write the Today in Books newsletter, and I'm a Bibliologist for Book Riot's Tailored Book Recommendations subscription service. I also have a PhD in English, so I'm basically a doctor of books. Books are my life, in other words, so in this section of the newsletter, let me share with you some upcoming books I'm super excited about. And I think you will be too!
Can't Wait for This One!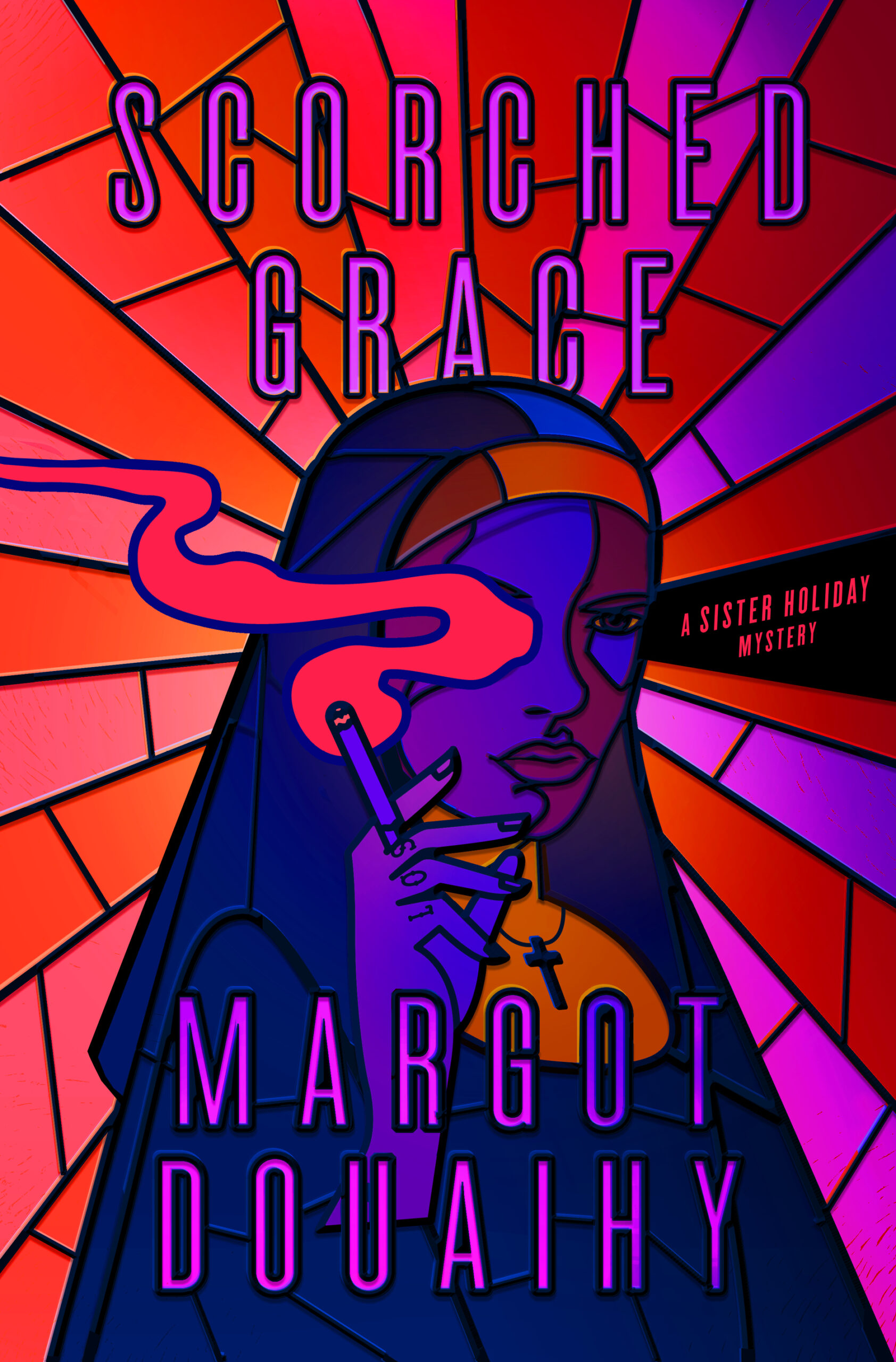 Scorched Grace by Margot Douaihy (Gillian Flynn Books, February 21st, 2023)
This is probably one of the most anticipated books for a lot of people heading into the first part of 2023. Why, you ask? Aside from this unforgettable cover design? It's the first book from Gillian Flynn's imprint with Zando, which is exciting because Gillian Flynn is the thriller author. And according to Flynn, her new imprint intends to "nurture writers who are surprising and unique, who refuse to surrender to easy literary formulas. I want to help big and new voices find their way in the world." If that intrigues you, read on.
Margot Douaihy's Scorched Grace is set in New Orleans (yesss) and follows punk-rocker turned nun Sister Holiday who works at Saint Sebastian's School. When the school becomes the target of an arson spree, sending the whole community into chaos, Sister Holiday refuses to wait for officials to make sense of the attacks and bring the culprit to justice. No, she decides to track down whoever attacked her home and sanctuary herself. But the investigation sends her down a dark path, one where she starts to suspect and distrust everyone she speaks to, teachers, students, and Sisters alike. As Sister Holiday uncovers the secrets and sins of others, she's also forced to confront the sins of her past.
You are going to be obsessed with Sister Holiday, a punk-rock, chain-smoking, tattooed, queer nun/amateur sleuth. So you'll be excited to know that this book is the first in a series. This book doesn't come out until February, but you can already get excited about more Sister Holiday adventures to come!
Words of Literary Wisdom
"The past is weird. I mean, does it really exist? It feels like it exists, but where is it? And if it did exists, but doesn't now, then where did it go?"
— A Tale for the Time Being by Ruth Ozeki
What I'm Watching this Weekend
Did I mention it's fall? That means the scary movies are coming. I'm trying to make it out to the theater to see two this weekend. Movie #1: Y'all I've heard Barbarian is wild, and I can't wait to see it for myself. Movie #2: You know I have to go see Pearl, the prequel to X. So excited.
And Here's A Cat Picture!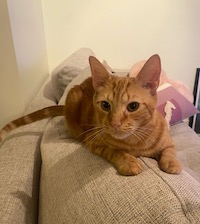 Ugggh I was in Portland over the weekend, and while I got to hang out with some other cats, I missed my cats so much! The first thing I did as soon as I got home? I took a picture of this little buddy. Look at his little face! He clearly missed me so much. I love you, Murray! I'm never leaving home again.
(I am leaving home again but shhh)
Anyway, that's Book Radar all wrapped up for this Thursday! See you soon!