Welcome to Check Your Shelf. I swear, y'all, this week is short but it's been trying my patience. As interim director, I have nowhere to pass the buck when nonsense arrives, and the universe has been gifting me with a whole bunch of nonsense.
So let's talk about library stuff.
Libraries & Librarians
News Updates
The ImagineIF Library in Montana has seen multiple resignations over safety concerns after several bullet-riddled books were returned to the library in August.
Philadelphia libraries are drastically understaffed by about 350 people, and many libraries are currently open only a few days a week for a few hours a day.
The Lakes Country Public Library (WI) is looking for donations to nearly double the library's existing space.
Cool Library Updates
The Hartford Public Library (CT) received a $14K grant toward a new program: Barriers Can't Stop Us: Building Immigrant Women's Success. The program will help 30 women who immigrated to the US complete their college degrees, and is open to both cisgender and transgender women.
Worth Reading
Libraries are losing directors over controversies.
What would a kid-friendly Internet look like?
Book Adaptations in the News
Inventing Anna ignites a defamation lawsuit against Netflix.
Meanwhile, Netflix settles its Queen's Gambit defamation suit.
Timothy Chalamet's sexy bisexual cannibal film adaptation got a 8.5 minute standing ovation at the Venice Film Festival. The book is based on Camille DeAngelis' novel, Bones and All.
The Lord of the Rings prequel is Amazon Prime's biggest premiere ever.
R.O. Kwon's The Incendiaries is being adapted as a limited series.
A look at the upcoming adaptation of The Luckiest Girl Alive, starring Mila Kunis.
Casting update for The Summer I Turned Pretty.
Want to read books from this newsletter? You can, for free! Get three free audiobooks with a trial to Audiobooks.com. Claim your 3 free audiobooks now!
Banned & Challenged Books
How a far-right Christian cell phone company "took over" four Texas school boards.
How to create a good Banned Books Week display.
The Victoria Public Library (TX) stands by two LGBTQ books that were unanimously retained by the board, but also creates a new juvenile library card with parental restrictions.
Some Texas districts are allowing parents to opt out of their students attending the Scholastic Book Fair.
One million books are being reviewed in Frisco ISD (TX).
Paywalled: 17 books are being challenged in the Corpus Christi (TX) school district.
A Belton ISD (TX) parent complains about a school's Banned Books Week display, saying "I think we can go about it in a better way than trying to celebrate controversy." Way to totally miss the point of the display.
How a book is challenged, reviewed, and potentially removed at Bryan ISD (TX).
The Huntsville (TX) Public Library closed for two hours to remove all displays after a group called for the removal of a "Read with Pride" display.
Grapevine High School (TX) students walk out over the school's new policy on critical race theory, books, and pronouns. "These rules are taking away our rights to feel safe and to express ourselves and to be honest about who we are."
A preliminary hearing injunction has been set in the Llano County (TX) Library lawsuit.
Conservative Christian groups are targeting Louisiana libraries.
Florida parents ask a federal judge to block Florida schools from carrying out the new "Don't Say Gay" law.
The leader of the County Citizens Defending Freedom has turned to law enforcement and the governor's office, after Polk County (FL) schools refuse to alter their "opt-out" policy that allows parents to to restrict their children from reading particular books in school libraries.
In this article about Volusia County Schools (FL), there's a mention of an instance where the media specialists found that a book hadn't circulated for 2.5 years and decided to pull it right then and there. That's…not how this is supposed to work, especially for books that students may only use in-house because they don't feel safe bringing the book home with them.
St. John's County (FL) school district keeps 8 challenged books, although some will have checkout restrictions on them.
Sanibel Public Library (FL) voted to keep LGBTQ books in the children's section.
The Oklahoma State Board affirms the decision to downgrade the accreditation for two school districts over violations regarding discussions of race and gender in the classroom.
The Oklahoma school teacher who gave her kids access to the Brooklyn Public Library's universal teen library card program is under scrutiny by the state Secretary of Education, who is calling on the state board to revoke her teaching license. A parent has also said that criminal charges should be brought against the teacher because the QR code provided digital access to Gender Queer.
The Morse Institute Library in Natick, Massachusetts is marketing itself as a safe haven for banned books.
Fairfax County (VA) Public Library board stands by its materials selection policy.
Shenandoah County (VA) School Board member Brandi Rutz says, "she doesn't believe in banning books, but that they should be open for review for the school libraries." That's…part of banning books.
Moms for Liberty submits 14 more books for removal in Fauquier County Public Schools (VA).
Critical race theory controversy makes Michigan teachers tiptoe around topics of slavery and racism.
The Patmos Library (MI) has raised more than $245,000 after voters rejected its millage due to LGBTQ books in the library.
The Germantown Library (WI) is reconsidering its community display case policy after a teen put up a Pride-themed display in July and residents complained.
An anonymous donor has covered the cost of Downers Grove Public Library's (IL) upcoming Drag Queen Bingo event for teens. Plus, check out the excellent statement from the director.
Johnston (IA) mothers have formed a nonprofit to get banned books into the hands of students.
And here's an overview of the book banning happening across the Des Moines area.
St. Louis-area schools remove books under a new law that is unlikely to be enforced.
The Central York School District in Pennsylvania was going to restrict teachers' reading lists, so the students fought back.
Paywalled: A New Hampshire State Senator wants to ban four books, including Gender Queer.
The Boundary County (ID) Library Director has announced her resignation effective September 10th. Her statement said, "Nothing in my background could have prepared me for the political atmosphere of extremism, militant Christian fundamentalism, intimidation tactics, and threatening behavior currently being employed in the community." This is the same library that was given a list of 400 titles that members of the community wanted to remove, even though the library didn't own any of the books. Let that sink in. The director of the library feels forced to resign over challenges to books that the LIBRARY DOESN'T EVEN OWN.
The same director said that due to armed protestors showing up at the library and at the director's home, the library's insurer decided not to renew due to "increased risk exposures." Again, all in response to books THAT THE LIBRARY DOESN'T OWN. This isn't about parental choice. This is about control and intimidation and a lack of consequences.
The Elko (NV) School District revises its book challenge policy, which hasn't been updated in over 30 years.
Protesters interrupted a Drag Queen Story Hour event in the Bay Area, although they were ultimately forced to leave the event, to the cheers of audience members.
An overview of the book banning happening in California.
Librarians in the UK indicate serious concerns over requests to censor material.
Local libraries have become a major political and cultural battleground.
A teacher writes: "I don't want to choose between job security and teaching the truth."
Books & Authors in the News
Esteemed journalist and author Barbara Ehrenreich has died at 81.
Horror author Peter Straub has died at 79.
(TW: transphobia) JK Rowling defends her latest Robert Galbraith book, which features a character who is murdered after being accused of transphobia. She claims she wrote the book before her own backlash began.
Here are the big book club picks for September.
Mary Pope Osborne celebrates 30 years of the Magic Tree House series.
Numbers & Trends
When is a best-seller not necessarily a best seller?
Award News
The Hugo Award winners have been announced!
The 2022 Booker Prize shortlist has been announced.
On the Riot
How community food pantries can support readers.
20 book-to-screen adaptations to look for this fall and winter.
Every state's favorite Stephen King movies.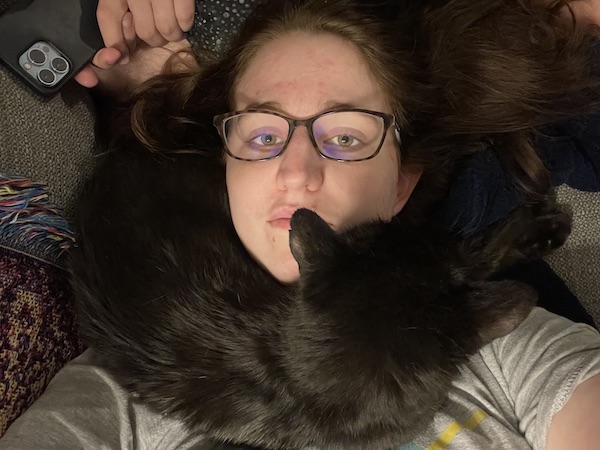 I call this work of art "Gilbert as scarf." He started out laying on my shoulder, and migrated across my collarbone. He's not as heavy as he was when he was younger, but it's still not super comfortable to have a nine-pound cat draped across your throat. But he was so comfy and so cute that I let him stay there for awhile.
No nonsense this weekend, okay? Let's keep everything nonsense free. I'll check in on Tuesday.
—Katie McLain Horner, @kt_librarylady on Twitter.