Welcome to Check Your Shelf. I am home after 2 weeks of traveling, and I can't believe how much we managed to do in those two weeks. Among other things, I visited the Biltmore Estate, hiked to a waterfall, kayaked with pelicans and dolphins, consumed my weight in cornbread, biscuits, and barbecue, went on four haunted walking tours, saw baby alligators and a bear (95% certain), climbed to the top of a lighthouse, and visited the Mercer-Williams House, made famous by Midnight in the Garden of Good and Evil. But now I'm home with my boys, and grateful to settle back in to regular life.
So, let's talk books.
Collection Development Corner
New & Upcoming Titles
Joanna Gaines announces her first solo memoir: The Stories We Tell. (Prep your holds lists now.)
Kirkus has 150 anticipated titles for Fall 2022.
The best horror novels of 2022 so far.
Summer's best debut crime novels.
Weekly book picks from Bustle, Crime Reads, The Millions, New York Times, and USA Today.
August picks from Tor.com (YA SFF) and Washington Post.
What Your Patrons Are Hearing About
As It Turns Out: Thinking About Edie and Andy – Alice Sedgwick (LA Times, New York Times, Washington Post)
This Story Will Change: After the Happily Ever After – Elizabeth Crane (New York Times, Shondaland)
Haven – Emma Donoghue (Guardian, Washington Post)
RA/Genre Resources
Washington Post predicts that as TV shows based on video games increase in popularity, novelizations based on video games will fade away.
On the Riot
What the heck is going on at Barnes & Noble?
New releases by women in translation.
The best weekly new releases to TBR.
How many times do you hear about a book before you read or buy it?
What are your thoughts re: age gaps in fantasy?
All Things Comics
The best comics to read if you love The Sandman.
On the Riot
20 genre-blending graphic novels.
12 of the best shojo manga.
Audiophilia
On the Riot
New and upcoming celebrity audiobooks narrated by the author.
Black holes for your ear holes: 10 sci-fi series by women on audio.
10 of Libro.fm's most preordered audiobooks for Fall 2022.
Book Lists, Book Lists, Book Lists
Children/Teens
Books to help you talk to your children about puberty, regardless of their age.
27 YA love stories with two or more BIPOC leads.
Adults
Books for Financial Awareness Day.
15 charming foodie romances.
50 books to read with your book club.
Long-running mystery series set in the world of antiques and collectibles.
5 brilliant examples of Australian speculative fiction.
9 novels that don't fear the reaper.
7 books about multiracial experiences by biracial Asian writers.
On the Riot
10 books you read as a kid that are worth rereading as an adult.
13 Australian children's books.
12 books for the transition to middle school.
10 YA workplace romances that will have you swooning.
Escape reality with 20+ books you won't be able to put down.
11 books with sad endings to emotionally destroy you.
15 of the best celebrity romance books.
8 essential books about the female body that dispel misconceptions.
10 magical spell books for witches old and new.
Amazing queer nonfiction you've never heard of.
9 thrillers that will take you to the beach.
10 of the best philosophy books of the last 10 years.
Level Up (Library Reads)
Do you take part in Library Reads, the monthly list of best books selected by librarians only? We've made it easy for you to find eligible diverse titles to nominate. Kelly Jensen has a guide to discovering upcoming diverse books, and Nora Rawlins of Early Word has created a database of upcoming diverse titles to nominate, as well as including information about series, vendors, and publisher buzz.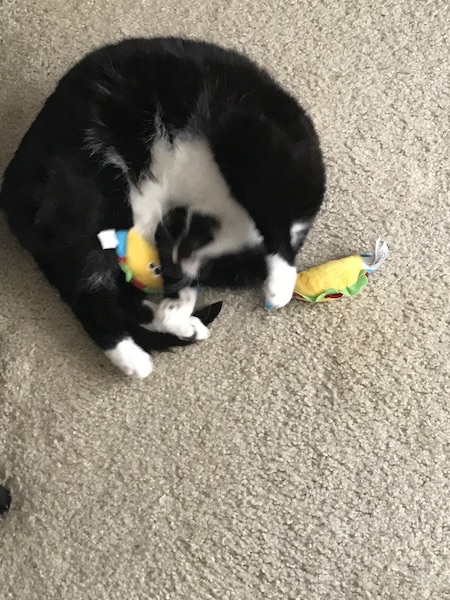 Today's cat photo is courtesy of my mother, who stopped in to visit the cats while Blaine and I were gone. And like all cat grandmas, my mom loves to spoil our babies with new toys — in this case, she gifted them with two catnip-stuffed fish tacos, which very quickly got the official Dini stamp of approval.
---
Okay cats and kittens — that's all I've got for this issue. I'll check in again on Friday — hopefully my to-do list at work won't have swallowed me whole by that point.
—Katie McLain Horner, @kt_librarylady on Twitter.