Welcome to Read This Book, a newsletter where I recommend one book that I think you absolutely must read. The books will vary across genre and age category to include new releases, backlist titles, and classics. If you're ready to explode your TBR, buckle up!
Earlier this year I finally jumped on the Taylor Jenkins Reid bandwagon and inhaled The Seven Husbands of Evelyn Hugo and Malibu Rising. I loved them a lot (Evelyn Hugo the most though) and I've been waiting for the perfect moment to listen to my audio of Daisy Jones and the Six, because with that cast it has to be listened to. I'm also really excited to get my hands on her new release, Carrie Soto Is Back, out later this month. But I also became really curious about her backlist, because they do feel a bit different, tonally, than her most recent and more popular books. I picked up a backlist title of hers at random and it was different…but I really liked it!
Don't forget you can get three free audiobooks at Audiobooks.com with a free trial!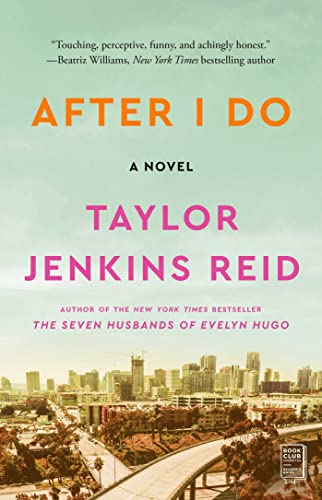 After I Do by Taylor Jenkins Reid
Lauren and Ryan are together for over a decade before their marriage reaches a breaking point. Angry and unhappy, they know they can't keep moving forward like this, but they're not willing to get divorced, either. Instead, they come up with an agreement: For one year, they'll go their own separate ways. Anything goes and anything can happen, but the one thing they agree on is that they won't contact each other before the year is up.
For Lauren, this means embarking on a new lifestyle and contending with what it's like to live life as a single person for the first time since becoming an adult. And along the way, everyone has opinions about her marriage and her break from Ryan, from her grandmother to her best work friend. But when it really comes down to it, Lauren has to decide who she wants to be, with or without Ryan.
One of my favorite pastimes is reading advice columnists about life, love, and relationships—I like the little peeks into other people's lives and relationships and how they think and what makes them tick and what their petty (and not-so-petty) dramas might be. Reading this book kind of felt like reading a really fascinating novel-length letter and response. (And there's even an advice columnist subplot, plus voyeuristic emails!) We get a view of Lauren and Ryan's marriage via snapshots from various points in their relationship leading to the disintegration and breaking point, and then we are with Lauren through the aftermath of her decision as she puts her life back together. I loved seeing all of the relationships she has, and how she pays attention to her friendships and her connections with her siblings, mom, and grandma even more after her separation. Each person has something to teach Lauren about love and life, and it was great to read about how she synthesized all of their wisdom and advice (both good and bad) to come to a few truths of her own. This isn't the most plot-heavy book, and maybe some readers will find certain aspects predictable, but I thought it was an emotionally satisfying and insightful read!
Happy reading!
Tirzah
---
Find me on Book Riot, Hey YA, All the Books, and Twitter. If someone forwarded this newsletter to you, click here to subscribe.