We did it, y'all! We made it through another week and now have the weekend to look forward to. Hopefully you made it through unscathed. I am also putting that hope out there for me since, as of the writing of this newsletter, I am dealing with what feels like severe and vey painful neck strain. Now, I can move my head from side to side, which is nice; but, I can't do it too fast otherwise the pain will be excruciating. Such is life though!
I'm still working my way through an eARC of The Very Secret Society of Irregular Witches as well as my copy of No Rings Attached and both are delightful.
Bookish Goods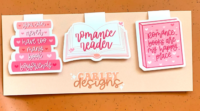 I love magnetic bookmarks since I think they help to keep your place better. I still remember that brief period of time when my then toddler son would purposefully remove the bookmarks from what I was reading. And I knew it was on purpose because he would laugh and run away when he did it.
Then there was the time I was staying with a friend and left a book in the living room and her cat waited until I was walking out, looked me dead in the eye, and then used a paw to bat at the ribbon and make me lose my place. Rude.
If you're also a fan of these types of bookmarks and love to advertise your favorite genre, then these would be a perfect addition to your collection. $6
New Releases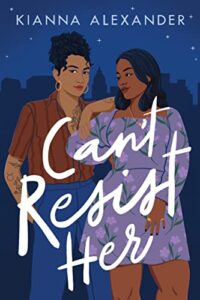 After accepting a teaching position, Summer returns home to Austin, Tx and is distressed to find that the high school her grandmother founded is slated for demolition and is determined to preserve that part of her neighborhood. Aiko, one of the architects on the project, is completely opposite and all about progress. When the two women find out that they are on opposite ends of this fight, both refuse to back down from what they believe is right for the neighborhood—even though it's apparent that the attraction that lead to a kiss at the senior dance is still very much present.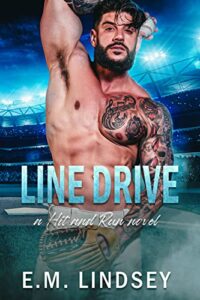 Baseball pitcher James has never been one to open up about his feelings, even to the men he dates, especially if he feels they are a risk to that aspect of his life. So, when he meets high school football coach Ridley and finds himself very attracted to him, he's apprehensive. He becomes even more so when Ridley admits he's attracted to James, and James starts thinking that maybe his approach to feelings and relationships should change.
For a more comprehensive list of new releases, check out our New Books newsletter!
Riot Recommendations
Today's recommendations include two contemporary romantic suspense novels from two very big names in the Black romance world who happen to share the same initials. Of course, one is Beverly Jenkins, keeping with the celebration of #JenkinsJuly and, if you're well-read in Black romances, you've probably guessed the other is Brenda Jackson.
What I love about these two women is not only are they both hella talented but they're also both hella classy. We all know the book world is not without drama and will try to create it if it doesn't grow on its own. So, when you have two women writing in the same field with the same initials? Most gossip hounds would froth at the mouth at the prospect of trying to stir that pot.
But these two were like "Naw…there's room at this table for both of us" and work(ed) to uplift not just one another, but also other up and coming Black voices. I love it and, even if there weren't a multitude of other reasons, they would be beyond inspirational for that one alone.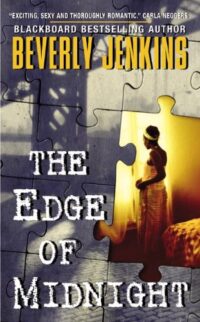 This one has it all: a diamond smuggling scheme, a woman who let herself get drawn into said plot, and the government agent she accidentally shoots when trying to get away. It's perfect for fans of this type of suspense action with a lot of banter thrown into the mix and was Jenkins' first foray into this sub-genre of romance.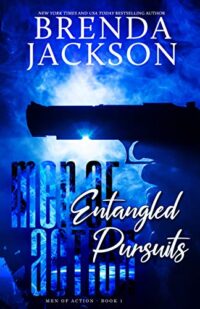 Four years after their steamy affair ended, Detectives Andrew and Antonia, aka Toni, find themselves assigned as each other's partner for a new homicide case. They try to keep the sexual tension out of their jobs but when Toni's life is in danger, Andrew can no longer ignore the fact that he's in love with her. Second chance romance with a thread of a suspense? Yes, please.
I cannot describe how much I *love* that there will be a Romance Panel at this year's SDCC.
Also happening this Friday is a discussion with Erica Ridley and Tessa Dare at The Ripped Bodice about the former's latest release, Nobody's Princess.
This list of must-read romances that have been or will be released this summer is gonna be bad for your checkbook. You've been warned and you're welcome.
Plan a wedding and find out your soul mate's Zodiac sign.
Are you interested in joining us here on Book Riot? We're looking for an Editorial Operations Associate. The position includes behind the scenes tasks such as working closely with other editors and contributors, and we are committed to building an inclusive workforce and strongly encourage applications from women, individuals with disabilities, and people of color. If that sounds up your alley, you can apply by clicking here.
That's all I have for you today and this week. I'll be back in your inboxes next Monday with a fresh newsletter though and in the meantime you can always give me a follow over on Twitter under @Pscribe801. Happy reading and stay hydrated.