Another day, another book ban. Did you hear the one about the author who was told not to read the book It's Okay To Be a Unicorn! because a parent complained there was a rainbow on it? I'll admit, after years of covering this, my eyes are starting to glaze over when I see a new, more ridiculous book ban or educational gag order. After all the work queer people and people of color have done over the years to move the needle just an inch forward, it's depressing to see this massive backslide. But apathy is just what they want for us, so it's time to dig deep and keep fighting for inclusive education and access to diverse books. We can't let these right-wing "parent rights" groups take away all the progress that's been made.
And while I'm on the topic, might I recommend donating to EveryLibrary? They've been fighting for libraries and against censorship throughout this tidal wave of book bans, and they're building networks of support across the country to keep the fight going and prevent future censorship. For more information, check out the post for the matching campaign we did for them in 2021.
Libraries are for everyone!
This pin is wearable art but has a practical purpose too: multiple librarians have said that their patrons saw them wearing the pin and started good, big conversations because they felt welcome and safe.
New Releases
After graduating college and having no job prospects, Jasmine returns home to work in her family's donut shop. When a rent increase threatens the future of her family business, she turns to Alex, her old college crush, for help. Sparks fly and there seems to be hope of a future romance until a disastrous dinner date shatters preconceptions and puts both sets of parents against the match. Will Julie be able to pull it all together to save her family business and the hope of a future with Alex?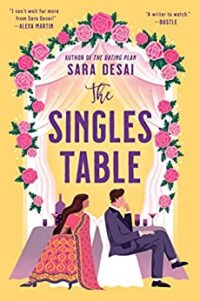 After a terrible break-up, Zara makes a new rule to only be the matchmaker and not the matched. One wedding, she is sat at the same table as Jay, and they strike up a bargain; if he introduces her to his celebrity clients, she will find him his perfect match. However, as the spend the wedding season together, they begin to wonder if they're avoiding the happily ever after staring them in the face.