Hey readers,
Happy May! As we head into graduation season, here's to hoping everyone finds something to be inspired by. I'm a personal fan of picture books as gifts for adults, both young and old, and I've included some options for you this time around.
Every season is baby shower season, and this cute blanket is perfect for bookish loved ones looking to share their love of the written word with little ones who don't know what that is just yet. $32
New Releases
After graduating college and having no job prospects, Jasmine returns home to work in her family's donut shop. When a rent increase threatens the future of her family business, she turns to Alex, her old college crush, for help. Sparks fly and there seems to be hope of a future romance until a disastrous dinner date shatters preconceptions and puts both sets of parents against the match. Will Julie be able to pull it all together to save her family business and the hope of a future with Alex?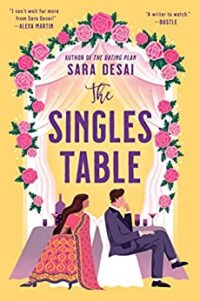 After a terrible break-up, Zara makes a new rule to only be the matchmaker and not the matched. One wedding, she is sat at the same table as Jay, and they strike up a bargain; if he introduces her to his celebrity clients, she will find him his perfect match. However, as the spend the wedding season together, they begin to wonder if they're avoiding the happily ever after staring them in the face.