Greetings and salutations, Tuesday friends! I hope you were able to enjoy your weekend and get some reading done. I don't know what switch has flipped in my brain, maybe it's the warmer weather, but I am extra-excited to read these days. I spent almost the whole weekend with my nose in a book, and I was able to read a couple wonderful things that you'll be hearing me talk about a whole bunch in the future!
Now, today's books: I do these first Tuesday megalists because the first Tuesday of each month has so many new releases, and it's fun to round some of them up. Below, you'll find titles (loosely) broken up into several categories, to make it easier for your browsing convenience. I hope you have fun with it! And as with each first Tuesday newsletter, I am putting a ❤️ next to the books that I have had the chance to read and loved.
And speaking of today's great books, for this week's episode of All the Books! Danika and I discussed some of the wonderful books that we've read, such as Book of Night, I Kissed Shara Wheeler, Trust, and more. And thank you to everyone who has sent us all the adorable pet pictures. 😘
Show them how a Librarian rolls with this Librarian coffee mug! The perfect gift for any librarian.
New Releases
After graduating college and having no job prospects, Jasmine returns home to work in her family's donut shop. When a rent increase threatens the future of her family business, she turns to Alex, her old college crush, for help. Sparks fly and there seems to be hope of a future romance until a disastrous dinner date shatters preconceptions and puts both sets of parents against the match. Will Julie be able to pull it all together to save her family business and the hope of a future with Alex?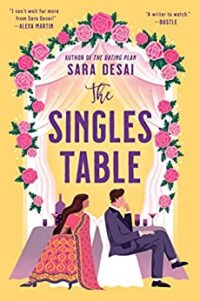 After a terrible break-up, Zara makes a new rule to only be the matchmaker and not the matched. One wedding, she is sat at the same table as Jay, and they strike up a bargain; if he introduces her to his celebrity clients, she will find him his perfect match. However, as the spend the wedding season together, they begin to wonder if they're avoiding the happily ever after staring them in the face.
Thank you, as always, for joining me each week as I rave about books! I am wishing the best for all of you in whatever situation you find yourself in now. And yay, books! – XO, Liberty ❤️