Hi mystery fans! I usually end the month with a roundup of new releases for you buuuuuuut I kind of already did that in a post: April New Releases: Mystery/Thriller/True Crime. So what I'm going to do here is add to that. For various reasons I can only get so many books into each roundup and then I wish I'd been able to add more after the fact. So here's my chance to do that. One is an Audible exclusive, that should hopefully have print copies release in a year. The second released in print last year but just got an audiobook release–In case you hadn't noticed audiobooks are saving my reading in the pandemic. And, last but not least, the final book is from the University of California Press, which highlights activists fighting to abolish the prison industrial complex.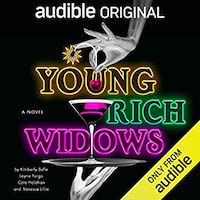 Young Rich Widows by Kimberly Belle, Layne Fargo, Cate Holahan, Vanessa Lillie
This is a fun audiobook with heart and a great full cast of narrators. It's set in the '80s in Rhode Island when four partners at a law firm die in a jet crash. Now three widows and a girlfriend are not only grieving but about to find out that a lot of money is missing and the mob is here to collect.
This does have a mystery component—where is the money, why is it missing, and what is going on with this project the firm was working on? But I'd move this more to the crime side of the genre since we're mostly following the women trying to survive and scheming to find the money and get it to the mob. We get to know four very different women and watch as their own grievances come out, they learn of secrets, and are forced to find a way to work together in order to stay alive.
Camille is the second wife with a stepdaughter that no one takes seriously, Justine has a young son and her husband was having an affair. Krystle is the funny smart-mouth who knows how to talk to the mob and will do anything for her grown son who she wants to take over the firm. Meredith is a stripper that no one knew had paperwork leaving her everything.
The book strikes a really good balance between heartfelt and real life struggles and witty banter and running from the mob. And the narrators—Dina Pearlman, Karissa Vacker, Helen Laser, Ariel Blake–knock it out of the park.
(TW a young child with cancer, not terminal / sexual harassment, groping / diet culture)
This is a middle grade whodunnit following Eleven-year-old Amelia (Millie) Ashford focused on solving the crime of the missing goggles. Not just any googles, these are Amelia Earhart's goggles and Millie was the last to see them in the display case in Earhart's childhood home where Millie and five other girls, who she doesn't know, are spending the night. I'm currently listening to the audiobook and enjoying it: Millie is a sweet kid in therapy, with anxiety ever since her mom left the family. All the kids love Amelia Earhart so you get a bunch of facts on her and also learn about fellow ground breaking aviators like Bessie Coleman and Nellie Zabel Willhite.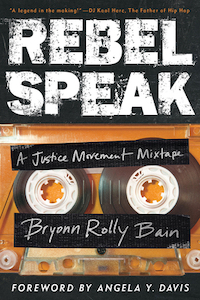 Rooted in the tradition of call-and-response, prison activist, artist, and scholar Bryonn Rolly Bain speaks with those working to expose the systematic injustice and fighting to abolish the prison industrial complex. You'll hear from the founder of Los Angeles's A New Way of Life Reentry Project, Susan Burton, a Sing Sing Correctional Facility warden, and the author's brother upon being released from prison in an intimate conversation, to name a few. "Reimagining the role of the writer and scholar as a DJ and MC, Bryonn moves the crowd with this unforgettable mix of those working within the belly of the beast to change the world."
Don't forget you can get three free audiobooks at Audiobooks.com with a free trial!
---
Browse all the books recommended in Unusual Suspects previous newsletters on this shelf. See upcoming 2022 releases. Check out this Unusual Suspects Pinterest board and get Tailored Book Recommendations!
Until next time, keep investigating! In the meantime, come talk books with me on Twitter, Instagram, Goodreads, and Litsy–you can find me under Jamie Canavés.
If a mystery fan forwarded this newsletter to you and you'd like your very own, you can sign up here.