While much of the U.S. saw snow appear across their lawns, we just had a few chilly days down here in South Carolina. This is perfect Corgi training weather. Corgis, with their thick coats, can overheat in warm weather, but chilly weather is perfect for the endless games of fetch and working on their obedience training. With Gwen, I've been working on her "emergency down," which is great if your dog gets off leash and you need to stop them from running into the road.
When Gwen first came home, I listened to Zak George's Dog Training Revolution, which gives you a step-by-step method for getting your puppy off to the right start. It's also great if you've adopted an older dog with little training and are starting from zero. Zak George narrates the audio, and the book sounds as if I'm watching one of his YouTube videos: so friendly and approachable.
I still remember when Gwen wasn't crate trained, she'd cry for seemingly endless amounts of time. It wasn't until we discovered she loved talk radio that we realized she was soothed by the sound. Immediately, I started playing all of my podcasts and audiobooks out loud. She still cried a little bit, but the narrator's soothing voices helped me get some much needed sleep. Audiobooks save the day, once again.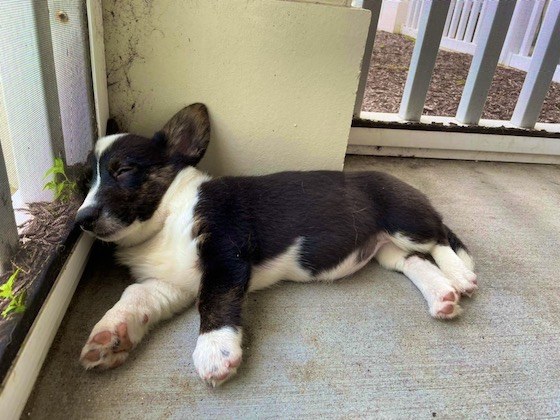 Why choose one format when you can choose both?
Recently, I started a regular practice of annotating a physical copy of the book I'm listening to, helping me pay close attention to the text. Now I don't do this with all of my audiobooks, just the ones I'm studying closely. I'm always looking to keep my writing skills sharp, so I recently listened to The Art of Memoir by Mary Karr. She reads the audiobook, creating this listening experience that felt like I was in the classroom with her. I took notes, underlined, and just generally enjoyed studying like I was in college again.
Sometimes I'll see comments like, "Who wants textbooks on audiobook? Wouldn't that be so boring?" In addition to issues around accessibility, listening to a book while I have the physical copy in front of me helps me retain the material and engage with the book's content. While it does take more brain power than casually listening to a book on audio, I still find the practice well worth it.
My most recent selection for this text/audio combo is Care Work written and narrated by Leah Lakshmi Piepzna-Samarasinha, which I have in print before, but I wanted to revisit it. Piepzna-Samarasinha focuses around the social justice work of queer, disabled, women and femmes of color, pointing out time and time again how integral their work has been to the disability justice movement. Each essay asks its readers to look at issues around disability in new ways. Besides being a cornerstone to the contemporary disability rights movement, Care Work is a vital read for anyone looking to better support disabled people.
Do you have any unique takes on audio listening? Do you use the text and audio combo too? Let me know at kendra.d.winchester@gmail.com!
Recent Favorite Listen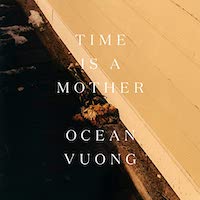 Every time I start a new poetry collection on audio narrated by the author, I find myself holding my breath. I know I'm about to start something truly special. And Ocean Vuong is one of the best. I often see folks on the corners of the internet bemoaning the fact that you can't see the use of form and white space on audio editions of poetry. While this can be an issue, you can use the text along with the audio, if that's something you have access to. But to me, the greater tragedy is missing out on listening to poets read their poetry.
Ocean Vuong's narration is full of emotional depth, using pauses, adjustment in volume, and rhythm to communicate his work to the listener. He portrays angst, longing, and grief, sometimes all in a single sentence. His poems are tight: not a word out of place. Time after time, he gives listeners concrete images to go with his ideas, making each poem feel fully rounded, complete.
Time Is a Mother was written after the passing of Vuong's mother, a woman his readers will recognize from his previous work. This loss informs these poems, as each piece is rife with emotional loss. Conversely, this collection is full of hopefulness, particularly when Vuong writes about his longtime partner, Peter. Full of bittersweet stanzas and impeccable use of language, Time Is a Mother is an audiobook you won't want to miss.
Don't forget you can get three free audiobooks at Audiobooks.com with a free trial!
Over on Book Riot
"Fulfill Your Bookish Dream Job: How to Become an Audiobook Narrator" by Megan Mabee – Have you ever wanted to know how you can become an audiobook narrator? Or perhaps you just want to know more about how it works? Then this article is for you!
"8 of The Best Audiobook Adaptations of Graphic Novels" by Mara Franzen – Yes! Audiobook editions of graphic novels exist! As someone who can't read text, I use these kinds of audiobooks all the time alongside the text. This article has some excellent recommendations to get you started.
Around the Web
"14 Enthralling Audiobooks By Trans Authors That You Should Check Out Immediately" (Buzzfeed) – Who doesn't love a well-timed audiobook list? #ListenToBannedBooks
"22 Captivating Audiobooks to Listen to with Kids on Your Next Road Trip" (Country Living) – Summer road trips are just around the corner. Here are some great recommendations to help you maintain peace in the car as you spend hours in an enclosed space with the kids in your life.
---
That's it for this week! You can find me over on my substack Winchester Ave or over on Instagram @kdwinchester. As always, feel free to drop me a line at kendra.d.winchester@gmail.com. For even MORE audiobook content, you can find my articles over on Book Riot.
Happy listening, bookish friends!
~ Kendra