Welcome to Check Your Shelf. I've once again caught the travel bug, and am trying to convince my husband that we should take not one, but two, vacations this year. (I told him he gets to pick our next vacation spot, but now I've been bitten by a desperate need to visit Colorado again, so…two vacations.) We'll see how this goes.
---
Collection Development Corner
Publishing News
This story is paywalled, but worth mentioning that a COVID outbreak has hit the UK publishing world immediately following the London Book Fair's first in-person event since 2019.
Bitch Media is closing up shop.
How Barnes & Noble went from threatening to helping the indie bookstore business.
What's happening with the literary community in Ukraine?
New & Upcoming Titles
Publishers Weekly unveils its 2022 Summer Reading preview!
Former Secretary of State Mike Pompeo has a book coming out this fall.
Alessandro Michele, creative director at Gucci, has sold an untitled book of "fashion philosophy."
Jennifer M. Buck's book Bad and Boujee: Toward a Trap Feminist Theology has been pulled from publication after critics and readers questioned why a white woman was writing about a feminist perspective based on Black women's experiences. ​​
Taylor Jenkins Reid revealed the cover for Carrie Soto is Back.
Here's the cover reveal for Malinda Lo's upcoming novel, A Scatter of Light, which is also a companion novel to Last Night at the Telegraph Club.
Christopher Golden once again has a killer cover reveal! Can't wait!!
And here's a first look at the cover of N.K. Jemisin's upcoming novel, The World We Make.
14 new historical fiction books.
13 gothic horror books that will unsettle you in 2022.
Weekly book picks from Crime Reads, The Millions, and USA Today.
April picks from CBC and Tor.com (horror/genre-bending titles).
The best books of 2022 (so far).
What Your Patrons Are Hearing About
Left on Tenth: A Second Chance at Life – Delia Ephron (New York Times, Washington Post)
Sea of Tranquility – Emily St. John Mandel (Washington Post)
Memphis – Tara M. Stringfellow (Washington Post)
The Cartographers – Peng Shepherd (Locus)
On the Riot
The best weekly new releases to TBR.
The art of the book recommendation.
The state of polyamory in YA fiction.
What books belong in the queer YA canon?
Afrofuturism, its origins, present, and future.
In defense of a single point of view in romance books.
Neither saints nor monsters: the depiction of women in contemporary crime fiction.
All Things Comics
Charlamagne tha God is launching a new line of graphic novels and comic books.
9 new original comic book series by IDW.
On the Riot
What's the deal with Marvel movies?
10 nonfiction books this reader would love to see adapted as comics.
12 of the best grumpy/sunshine manhwa.
Audiophilia
Barnes & Noble is offering an audiobook service similar to Audible.
Celebrate National Poetry Month with these 6 audiobooks.
4 audiobooks to help unlearn ableist attitudes and stigmas.
Don't forget you can get three free audiobooks at Audiobooks.com with a free trial!
On the Riot
10 audiobook narrators to follow on TikTok.
Book Lists, Book Lists, Book Lists
Children/Teens
10 of the best Easter picture books for kids.
13 YA books to read for Arab American Heritage Month.
Adults
15 suggestions for fans of Pachinko.
32 best-selling authors pick the best mysteries and thrillers of all time.
14 books about refugees trying to reach Europe.
20 TikTok-recommended erotic and steamy novels.
11 enemies-to-lovers romance novels for your post-Bridgerton malaise.
Reader recommendations for historical mysteries.
8 stories about scammers when you're through with watching Inventing Anna.
On the Riot
10 great Chinese children's books for kids learning Chinese culture.
20 of the best middle grade fantasy books.
11 LGBTQ books every high school library should have.
8 sports romances that are sure to score points.
8 thrillers set in eerie apartment buildings.
10 fiery F/F enemies-to-lovers fantasy novels.
Fantasy romance novels to fall in love with.
If this headline interests you, read this book.
10 books like The Anthropocene Reviewed.
The best books under 200 pages.
10 books for fans of Our Flag Means Death.
Indigenous poets you should definitely know.
10 books like Severance to make you want to avoid the office forever.
Queer book characters who will have you obsessed.
10 books on caring for elderly parents.
20 must-read queer poetry collections.
Level Up (Library Reads)
Do you take part in Library Reads, the monthly list of best books selected by librarians only? We've made it easy for you to find eligible diverse titles to nominate. Kelly Jensen has a guide to discovering upcoming diverse books, and Nora Rawlins of Early Word has created a database of upcoming diverse titles to nominate, as well as including information about series, vendors, and publisher buzz.
---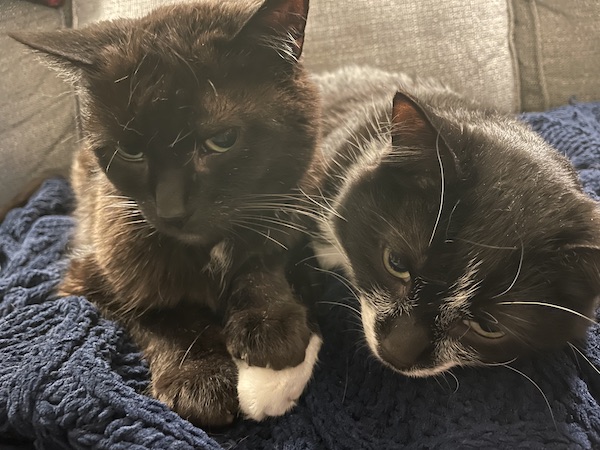 I present Exhibit #465 that Gilbert and Houdini really do love each other. Dini was laying on his blanket and Gilbert came over, sat right next to him, and within minutes had his paw on top of Dini's. So of course I had to squeal and take a photo. THEY'RE JUST SO DAGGUM CUTE!!
That's all I've got for this week. Stay cool, friends.
—Katie McLain Horner, @kt_librarylady on Twitter. Currently reading Razorblade Tears by S.A. Cosby.