Hey‌ ‌there‌ horror fans, ‌I'm‌ ‌Jessica‌ ‌Avery‌ ‌and‌ ‌I'll‌ ‌be‌ ‌delivering‌ ‌your‌ ‌weekly‌ ‌brief‌ ‌of‌ ‌all‌ ‌that's‌ ‌ghastly‌ ‌and‌ ‌grim‌ ‌in‌ ‌the‌ ‌world‌ ‌of‌ ‌Horror.‌ ‌Whether‌ ‌you're‌ ‌looking‌ ‌for‌ ‌a‌ ‌backlist‌ ‌book‌ ‌that‌ ‌will‌ ‌give‌‌ you‌ ‌the‌ ‌willies,‌ ‌a‌ ‌terrifying‌ ‌new‌ ‌release,‌ ‌or‌ ‌the‌ ‌latest‌ ‌in‌ ‌horror‌ ‌community‌ ‌news,‌ ‌you'll‌ ‌find‌ ‌it‌ ‌here‌ in‌ ‌The‌ ‌Fright‌ ‌Stuff.
You all know I love ocean horror. I have made no secret of my obsession with all things scary and saltwater. Be it salty Gothic, toothy creature terror, or watery witchcraft, I want to put it in my eyeballs. I also – and I promise that I'll explain how this is relevant, so stick with me – really, really love seaweed. I like to look at it. I like to touch it. I like to eat it! It's a fascinating organism, that I find both beautiful and tasty. Lucky for me, next week is Seaweed Week here in Maine! Seaweed Week is not paying me for the free advertisement, by the way. I just really adore this niche little festival. Especially since it involves eating a lot of tasty seaweed snacks.
So since I have salty salty seaweed on the brain, I thought we turn sea-ward (SEA what I did there?) for this week's horror recommendations. Get your reading lists ready! In the meantime I'll be over here ordering a shameful amount of Dulse and Lemon bonbons.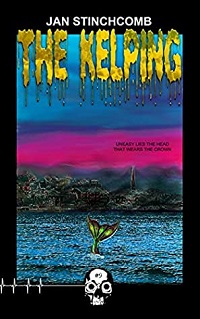 The Kelping is one of the many titles that make up Unnerving Books' retro-inspired Rewind or Die horror series. And the only book I've found so far that has really Significant Seaweed! One of the characters is actually piled with it as part of a weird small town folk ritual. Wickerman but make it cold and slimy? Doctor Craig Bo lives a charmed life in a charming coastal town, with his wife, kids, and thriving dermatology practice. But as we know, that sort of perfection is usually only, wait for it… skin deep. (You're welcome). After being crowned Sea King of Beachside at a local festival, Craig's life takes a strange turn. Something unknown is growing on his skin, his son is telling horrible tales about mermaids in museum attics, and his wife Penelope has been keeping dark secrets about her own connection to the sea.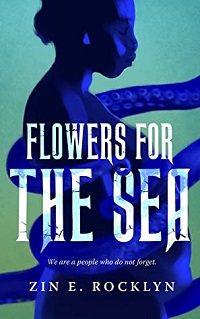 If you haven't read Flowers for the Sea yet, I absolutely recommend making it a part of your summer TBR. It's not a particularly long read, if you're someone who prefers novellas or likes to alternate between short and longer books. It's such a good piece of weird, cosmic, salt-soaked fiction. Part fantasy, all horror, full of rich worldbuilding and writing so descriptive that readers can almost feel the hot, sticky, stifling interior of the survivor's ship, Flowers for the Sea is about a world underwater, at the mercy of monsters.Though the survivors of this fallen world, adrift on the floating remains of their world, can be fairly monstrous themselves. Iraxi, isolated, despised, and heavily pregnant, knows all too well the crimes that her fellow passengers fear their souls will be measured against when they die. The story that she spins for readers, as her fated pregnancy nears its end, lays out a history of prejudice and cruelty, setting the stage for her own revenge.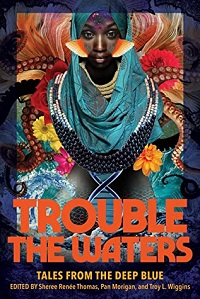 My love of anthologies is right up there with my love of seaweed. Though I really enjoy reading longer works by authors whose work I admire, anthologies offer the chance to experience a whole host of authors, both new and familiar, often working along the same theme but interpreting it in a variety of different and interesting ways. Plus, an anthology is also the perfect way to find new authors, and Trouble the Waters' TOC is loaded with talent! This ocean-themed SFF/Spec Fic anthology features work by several authors that horror readers will recognize, including Nalo Hopkinson, Linda D. Addison, and Maurice Broaddaus, and though some of the stories may be more sci-fi or fantasy than horror, I'm sure there will be plenty to keep dark fiction readers entertained.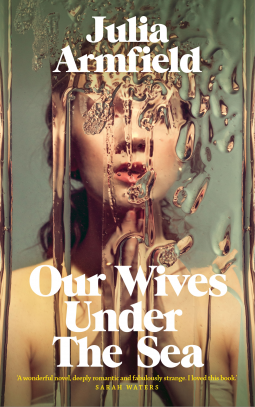 I'm really excited about this forthcoming book by Julia Armfield. I mean, I love pretty much every work of sapphic spec fic ever, but I particularly love the concept of Our Wives Under the Sea. It's about Miri, who's wife Leah was part of a disastrous deep-sea mission that Leah was lucky enough to survive. But the longer Leah is home, the more Miri doubts that Leah really ever returned at all. It soon becomes clear the person Miri thought was her wife is not the same Leah that went off to sea. Only Leah really knows what happened during the mission on the ocean floor, and only Leah knows what she might have brought back with her. Their life together before the accident is gone, and if Miri is right about her "wife", then the real Leah may be lost as well.
Blackwater by Jeannette Arroyo and Ren Graham (July 19)
Blackwater isn't actually sea horror, it's more sea-adjacent horror. SeaSIDE horror. It's set in a coastal town, and it gets bonus points because that town is in… wait for it… Maine! Yes, as always, Jessica is a sucker for a little hometown horror, so I absolutely can't wait to get my hands on this forthcoming graphic novel from Arroyo and Graham. It's about two boys —Tony Price, a popular athlete desperate for his father's approval, and Eli Hirsch, whose quiet nature along with the strain placed on his health and social life by his autoimmune disorder have left him isolated. They unexpectedly become first friends and then something more as they navigate life in their spooky little town, from the supernatural to the super mundane (high school, right?).
Don't forget you can get three free audiobooks at Audiobooks.com with a free trial!
Fresh From the Skeleton's Mouth
Looking for more book recommendations?
Be sure to check out this Book Riot list by Emily Martin for some of the most anticipated horror books of Spring 2022!
Or get unsettled with this list of 2022 Gothic fiction from Taiwo Balogun over at Tor.
---
As always, you can catch me on twitter at @JtheBookworm, where I try to keep up on all that's new and frightening.