Welcome to Read This Book, a newsletter where I recommend one book that you should add to your TBR pile or nightstand or hidden stack under the bed, right away!
The weather is changing, at least it was the last time I checked. Here in San Francisco and its suburbias, we are mostly moving from 55 F to 80 F and that is enough heat for everyone to sweat through their tank tops. In such instances, when I am trapped in a particularly hot moment—a car parked out in the sun, a blast of heat as you exit an air-conditioned room—I think about this week's pick often.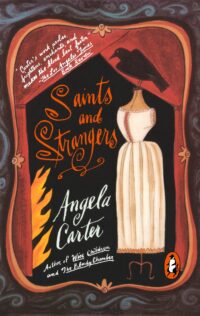 If you are unaware of Angela Carter's short stories, I recommend you remedy that immediately. Carter takes macabre fairy tales and makes them even darker than you could have thought possible. But, none of it is ever gratuitous. Nope. The way she does it is through the spinning of her sentences. You read a particularly dark passage and you think, Why, why did I love that so? And it is the writing. Oh, the writing.
In this slim collection, Carter returns by opening with the story of Lizzie Borden, just hours before she took an ax and murdered her father and stepmother. Heat and the claustrophobia of it plays a huge part in propelling the story forward and is one of the reasons I find myself associating heat with this story. Carter takes you there, in the story where you feel as if you were standing on a sidewalk, peering into the house as the murders took place.
But, that is not the only brilliant story in this collection. She even takes on Edgar Allan Poe's The Raven and a new take on the story of Tamburlaine's wife all in a mere three pages. All her stories though are about repression in one form or the other, whether the shackles of the world or the binds we put ourselves in. Body horror, explicit language, and sex scenes frequent her stories, which is why I always say Carter is an acquired taste, a taste I feel everyone should acquire already.
An enchanting, if perplexing story collection not to be missed.
Don't forget you can get three free audiobooks at Audiobooks.com with a free trial!
---
Come tell me what you thought of the pick on Instagram @wellreadbrowngirl or Twitter @JavedNusrah.
Happy Reading!
Nusrah