Welcome to Check Your Shelf. I seem to have two operating modes in life: mostly engaged (usually at work) and completely switched off (usually at home, sometimes at work). There's no in-between where I can come home and take care of basic household stuff without feeling like the weight of the world is going to crush me. Sometimes I'll have a couple good days, and then I'm right back to staring at the garbage, wondering how long I can let it sit before I absolutely have to take it out. It's maddening! I need to figure out a better way to divvy up my mental spoons, I think…
---
Collection Development Corner
Publishing News
"Unlivable and untenable:" the punishing life of junior publishing employees.
New & Upcoming Titles
Britney Spears confirmed she is working on a memoir.
Karin Smirnoff will be taking over Stieg Larsson's Millennium series from David Lagercrantz.
Robert Downey Jr. is teaming up with environmentalist author Thomas Kostigen to write a new book about making climate-friendly food choices.
Gisele Bündchen just sold her still-untitled cookbook to Clarkson Potter.
Celeste Ng revealed the cover of her upcoming book, Our Missing Hearts!
And Wanda M. Morris revealed the cover of her upcoming thriller, Anywhere You Run! Super excited about this one — I loved All Her Little Secrets!
Colin Kaepernick shared a first look at his upcoming children's book I Color Myself Different.
Alexis Henderson revealed the cover of her upcoming gothic horror novel, House of Hunger.
And here's the cover reveal for Clay McLeod Chapman's upcoming horror novel, Ghost Eaters.
Former Nickelodeon child star Jennette McCurdy is writing a memoir.
Here's a first look at Trixie Mattel and Katya's latest book, Working Girls: Trixie & Katya's Guide to Professional Womanhood.
A look at some of the latest, buzziest thrillers written by women.
Publishers Weekly highlighted some of the upcoming horror and gothic fiction for the year.
Top Spring/Summer debut novels.
76 thrillers and mysteries for 2022.
150+ new releases to watch in 2022.
Weekly book picks from Crime Reads, LitHub, The Millions, New York Times, and USA Today.
April picks from Bustle, Tor.com (fantasy, science fiction), Town & Country, and USA Today (rom-coms)
22 of 2022's top new books (so far).
What Your Patrons Are Hearing About
The Candy House – Jennifer Egan (Entertainment Weekly, LA Times, New York Times, NPR, Slate, USA Today)
Sea of Tranquility – Emily St. John Mandel (LA Times, The Millions, NPR)
Young Mungo – Douglas Stuart (The Guardian, New York Times, Washington Post)
Bittersweet: How Sorrow and Longing Make Us Whole – Susan Cain (New York Times, Washington Post)
Let's Not Do That Again – Grant Ginder (USA Today, Washington Post)
Portrait of a Thief – Grace D. Li (LA Times, USA Today)
RA/Genre Resources
What to read when you feel uprooted.
Hollywood's influence on great fantasy fiction
Confessions of an occasional science fiction fan.
On the Riot
8 of the best new YA vampire books to sink your teeth into.
The best weekly releases to TBR.
12 must-read children's book releases this April.
12 of the most anticipated SFF books for April.
10 of the best romance novels out in April.
April mystery/thriller/true crime releases.
Queer titles to TBR this spring.
This season's most anticipated horror books.
Your guide to Spring 2022 YA books: April – June.
New nonfiction for Spring 2022.
There's room for both dark and fluffy queer media.
All Things Comics
DC and Webtoon announce new Vixen, Red Hood, and Zatanna titles.
The banning of Persepolis is being turned into its own graphic novel.
Wesley Snipes is writing a sci fi murder mystery graphic novel.
11 of the best new graphic novels and comics.
The first comic book featuring Captain America sold for over $3 million at auction.
On the Riot
11 comics to add to your April pull list.
YA comics and graphic novels hitting shelves April – June 2022.
8 paranormal comics for teens.
Why is whitewashing still happening in comics?
Book Lists, Book Lists, Book Lists
Children/Teens
Cozy teen mysteries to curl up with any day of the year.
Adults
8 books to read during Autism Acceptance Month.
15 must-read poetry collections by Latinas in honor of National Poetry Month.
100 mystery and thriller recommendations by setting.
Recommended queer crime series.
15 enemies-to-lovers romance novels.
10 must-read books by Maya Angelou.
7 books that show a different side of Appalachia.
Top 10 difficult marriages in fiction.
9 historical fiction novels featuring real people as main characters.
7 books about the Chinese Exclusion Act.
The 15 most essential music biographies and autobiographies so far this century.
Coming-of-age mysteries and thrillers.
On the Riot
17 stunning picture books by debut illustrators.
The most popular fantasy books on TikTok.
15 books about lesser-known women who made history.
15 of the best books for seniors.
20 must-read memoirs of the last decade.
Books to read about the National Parks.
18 of the best Asian American books to read this year.
The best short stories of all time.
Don't forget you can get three free audiobooks at Audiobooks.com with a free trial!
Level Up (Library Reads)
Do you take part in Library Reads, the monthly list of best books selected by librarians only? We've made it easy for you to find eligible diverse titles to nominate. Kelly Jensen has a guide to discovering upcoming diverse books, and Nora Rawlins of Early Word has created a database of upcoming diverse titles to nominate, as well as including information about series, vendors, and publisher buzz.
---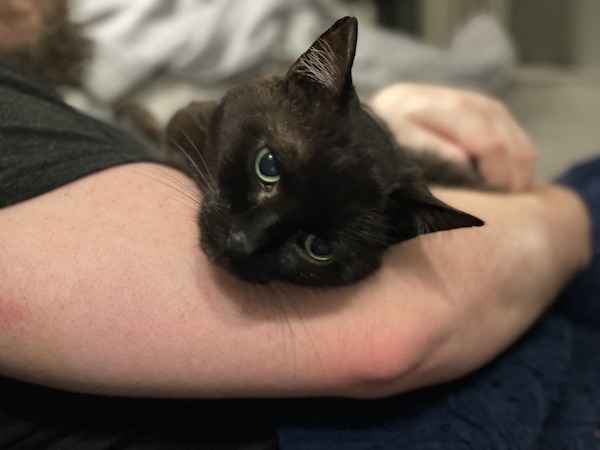 This issue's cat photo was a no-brainer! My husband was holding Gilbert the other night, and I wanted to play around with the Portrait setting on my iPhone. The result was this angelic and slightly dramatic photo of Gilbert looking at me for extra snuggles, even though Blaine was already holding him like a baby. But how can you say no to those eyes?! I'm a complete sucker for Gilbert's wide-eyed over-the-shoulder look, and he knows it.
That's all I've got for this issue. I'm going to try and muster up the motivation to unload the dishwasher. It may take all week.
—Katie McLain Horner, @kt_librarylady on Twitter.