Welcome to Read This Book, a newsletter where I recommend one book that I think you absolutely must read. The books will vary across genre and age category to include new releases, backlist titles, and classics. If you're ready to explode your TBR, buckle up!
This week's pick is a mystery read that is perfect if you're a fan of classic mystery novels and the work of Agatha Christie, plus it gets a bit meta at times! Content warning for murder death, violence, torture, allusions to sexual assault, fire.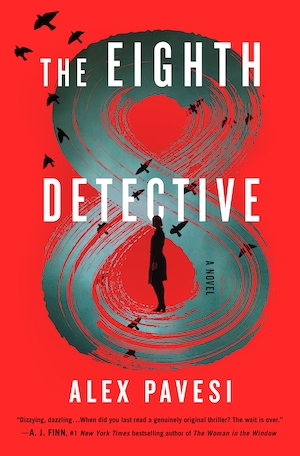 Julia is an editor who works for a small mystery and crime publisher. Her boss wants to reissue an edition of The White Murders by Grant McAllister, a mathematician turned mystery writer who only ever published the one book. It's a curious collection of seven short mystery stories accompanied by an academic paper that uses the principles of math to map out all possible mystery plots. But Grant has become famously reclusive since its publication, so Julia tracks him down on a distant island and spends a few days working with him to revisit the original text. As they work their way through each story, she begins to suspect that this book is hiding a larger, real-life mystery. What is Grant hiding?
I have to admit this book surprised me—I think I expected something a bit more contemporary thanks to the cover (which looks like something you'd see on a Blake Crouch book!) but this is a historical mystery within mysteries, set roughly in the 1960's. Grant wrote his academic paper and the mystery short stories roughly twenty years earlier, near the end of the Golden Age of mystery writing, and each one feels like it could fit right in with the work of Christie or Sayers. The novel alternates back and forth between Grant's stories and his conversations with Julia about each work, and along the way readers are treated to an analysis of the mystery genre that is always entertaining and never dull, while also receiving tiny hints and clues about Grant's life and the mystery he must be concealing. Each of the stories are intriguing and vary in not only plot but also characters and motivation, and Julia's dissection of them is equally fascinating. As a reader, you know a reveal is coming once the characters have finished Grant's seven stories, but even I was surprised by some of the twists that Pavesi threw at readers. If you're a big fan of classic murder mysteries and a nerd of the genre, this is a must-read book!
Happy reading!
Tirzah
Don't forget you can get three free audiobooks at Audiobooks.com with a free trial!
---
Find me on Book Riot, Hey YA, All the Books, and Twitter. If someone forwarded this newsletter to you, click here to subscribe.