Dear Book Friends,
The weather continues to be horrible here. Lots of rain, heavy winds, flash floods, and potential tornados. We hate that for me. But luckily for you, come rain or shine, I'm still able to deliver you all of the book-related info you're craving. The only thing that would keep me away would be if a tornado comes for my house and spirals me up. Which, scarily enough, is not totally out of the question. But hey! Until that happens, book buddies, I'm here for you. So let's talk books.
💙 Emily
Book Deals and Reveals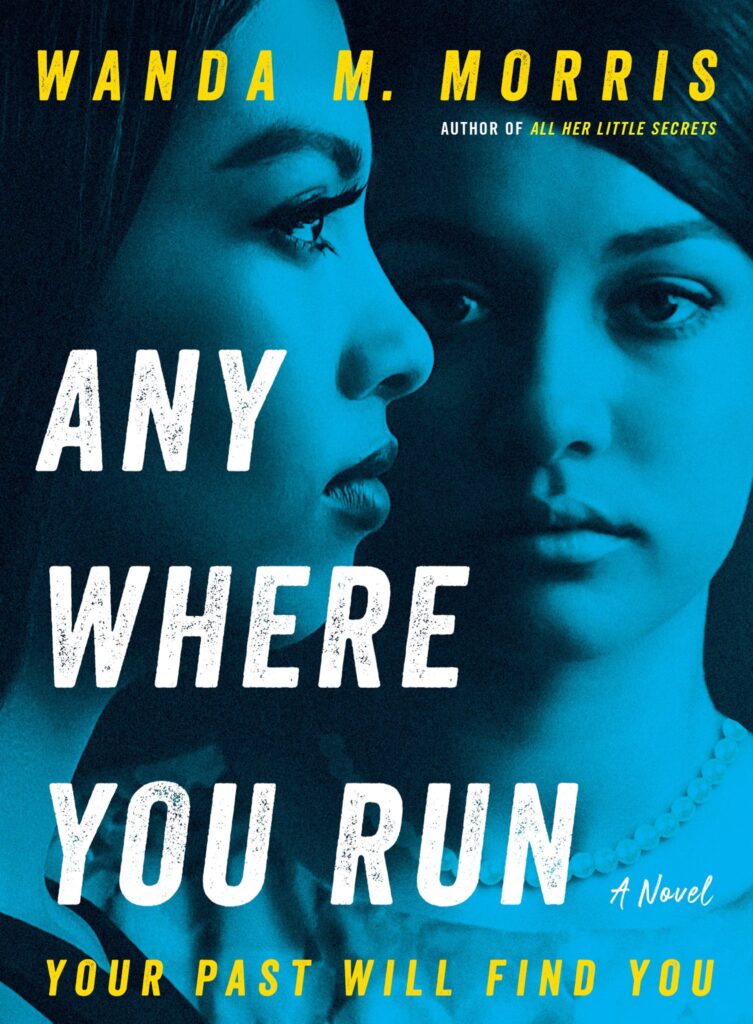 If you loved All Her Little Secrets, Wanda M. Morris has another exciting thriller coming out later this year, and here's the cover reveal! Anywhere You Run will be out from William Morrow on October 25th.
iCarly alum Jennette McCurdy has written a memoir about her time as a child star. The Nickelodeon star's book, entitled I'm Glad My Mom Died, will be out from Simon & Schuster this August.
Gin Phillips' Family Law will be out in paperback in May, and here's a look at the paperback cover.
Here's the cover reveal for Avery Flynn's witchy romance novel Witcha Gonna Do. This one's out in December.
Loan Le at Atria Books, along with Sarah St. Pierre at S&S Canada, preempted world rights to National Magazine Award–nominated journalist Mai Nguyen's debut novel Sunshine Nails.
The hit thriller series You has begun filming its fourth season in London.
Colin Kaepernick has shared a first look at his children's book I Color Myself Different.
Weeks after reports that Britney Spears had signed a multimillion-dollar deal to write a tell-all memoir, the pop star confirmed Monday that she is currently writing a book.
The Unofficial Bridgerton Musical made history on Sunday night when the show creators Abigail Barlow and Emily Bear won the Grammy for best musical theater album.
Join Stella Parton and a slate of authors whose books have been challenged for a National Read-In event today, Thursday, April 7th.
These are the 10 books the American Library Association reports as being the most banned or challenged titles of 2021.
Book Riot Recommends
I'm a Contributing Editor at Book Riot, I write the Today in Books newsletter, and I'm a Bibliologist for Book Riot's Tailored Book Recommendations subscription service. I also have a PhD in English, so I'm basically a doctor of books. Books are my life, in other words, so in this section of the newsletter, let me share with you some upcoming books I'm super excited about. And I think you will be too!
Don't forget you can get three free audiobooks at Audiobooks.com with a free trial!
Can't Wait for This One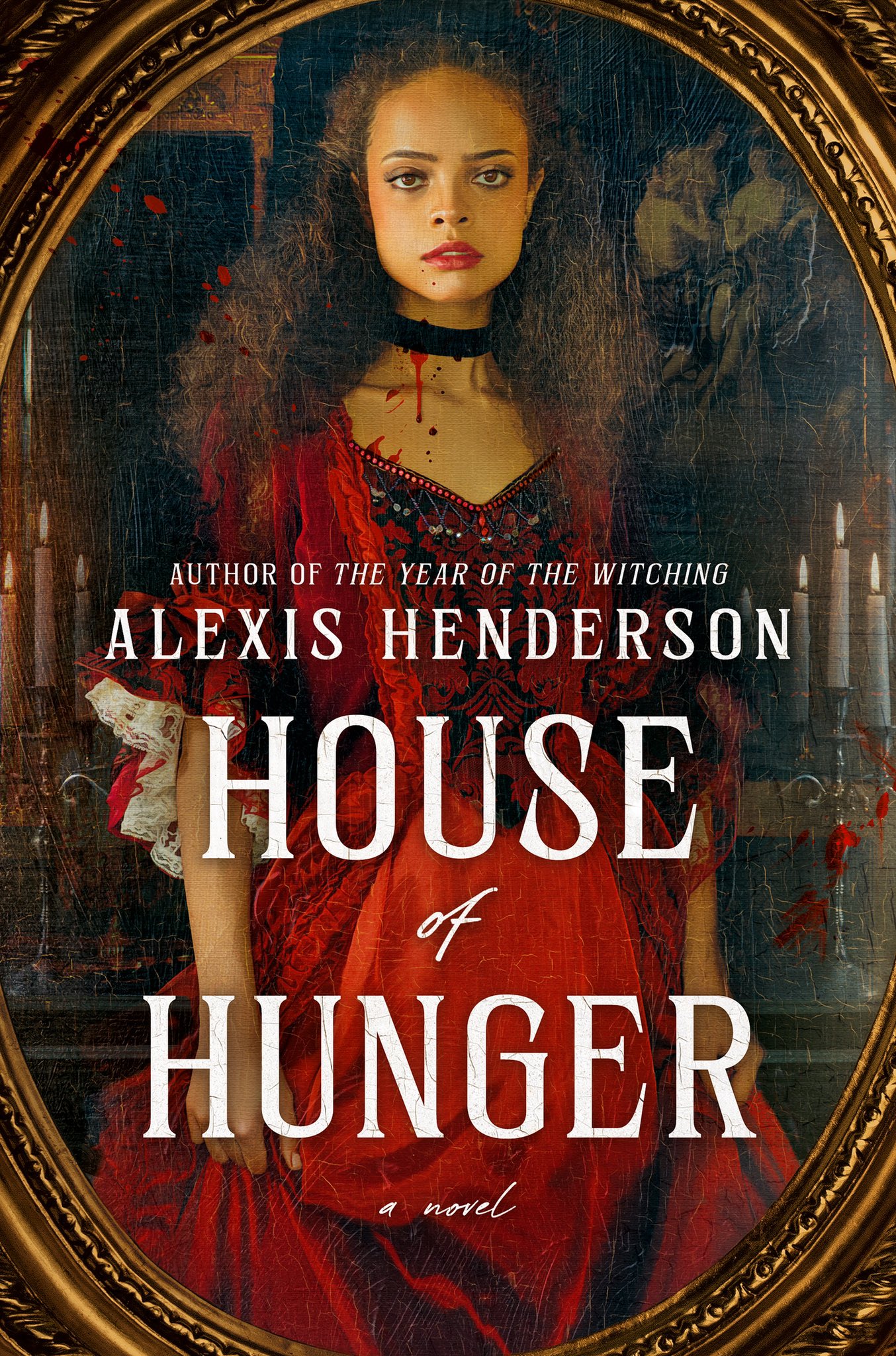 House of Hunger by Alexis Henderson (Penguin Random House, October 4th)
Alexis Henderson's House of Hunger is another book that I've been waiting patiently to tell you about just as soon as an official cover reveal dropped. Well, the cover was revealed earlier this week, and now I'm all fired up to tell you about this one. If you've read Henderson's The Year of the Witching, you're probably already excited about this one too!
Marion Shaw was raised in poverty and longs to escape the difficulties of city life. But she sees no way out. That is, until she comes across a strange newspaper ad: "WANTED – Bloodmaid of exceptional taste. Must have a keen proclivity for life's finer pleasures. Girls of weak will need not apply."
Although she knows little about the position or the far north where she will have to travel, the applies, hoping this could be the opportunity for change she's been hoping for. Soon, Marion becomes the newest bloodmaid at the notorious House of Hunger, where Countess Lisavet who presides over a court of hedonism. Marion is eager to please her mistress, who is both charismatic and terrifying. But when her fellow bloodmaids begin to go missing, Marion realizes she must learn the rules of House of Hunger or her own life will soon be at risk.
Words of Literary Wisdom
"I watch and work up my rage at men, who can be villainous to all, but virtuous to some. Watching them be kind to children should make me think of them as better men, but it make them worse, for no other wicked is more wicked than choosing with who you dole out kindness."
— Moon Witch, Spider King by Marlon James
What's Up in the Book Community?
My iPhone is constantly telling me I spend too much time staring at my screen, which is honestly so rude. But this means I spend a lot of time scrolling around the online book community: BookTube, Bookstagram, BookTok, BookLinkedIn (JK. That's not a thing… I don't think). You get the idea. Don't have the time, energy, or the will to do all of that yourself? No problem. I got you. In this weekly section of Book Radar, we'll take a look at something cool, interesting, and/or newsy that's going on in the book community.
So I don't know that I've ever thought about this before, but it was brought to my attention that April 30th marks the point in the year where we are halfway to Halloween. With that in mind, seems like a good time for a horror/thriller-themed Read-A-Thon, yes? Over on YouTube, gabbyreads and oliviareadsalatte are hosting Spring Fling-O-Ween. What does that mean? It means reading a bunch of books and getting into the half-Halloween spirit from April 27th-30th. Check out gabbyreads' video for all of the details.
This Read-A-Thon falls between my trip to New York and my trip to DC, so I feel like this is the perfect time for me to settle in and get some reading done. Will you play along with me?
What I'm Watching This Weekend
Remember how I was watching Bridgerton last weekend? Yeah, well, obviously I finished that already. If you're like me and everyone else in the world who already watched every episode of Bridgerton Season 2, you might be looking for more Regency-era content. And if you're complete trash for reality tv like I am, then you'll want to check out The Courtship. Is it good? Well, it's Bridgerton meets The Bachelorette, so… you'll just have to decide for yourself.
And Here's A Cat Picture!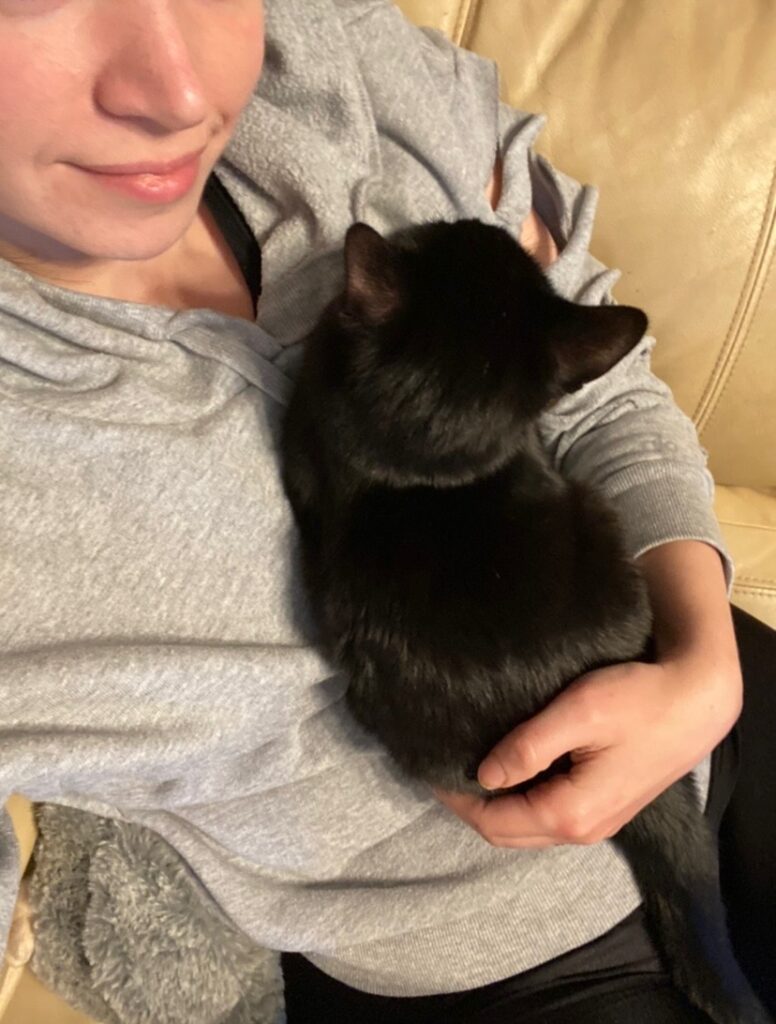 I keep coming across more Phantom pictures I want to share with you all, so here's another one.
I'm still missing this tiny little black bean so much. He was such a good cuddle buddy and he would be the perfect reading companion on a rainy day like today.
Also my face is in this one, so apologies if you were not prepared. I promise to keep this to cat content only from here on out.
Anyway, if it's raining where you are, stay dry. Read a book. And until next time, have a safe, fun, and restful weekend.
💙 Emily