Welcome to Read This Book, a newsletter where I recommend one book that you should add to your TBR pile or nightstand or hidden stack under the bed, right away!
I find myself in the world of books. I am working on them, around them, arranging them, rearranging them, the verbs go on. So, when it comes time to recommend that book, one book you all should pick up this week, I find myself stumped. Me. Imagine. Until I remember there is one book that I read in one sitting on a Wednesday (at a job I no longer work at) and loved it to bits.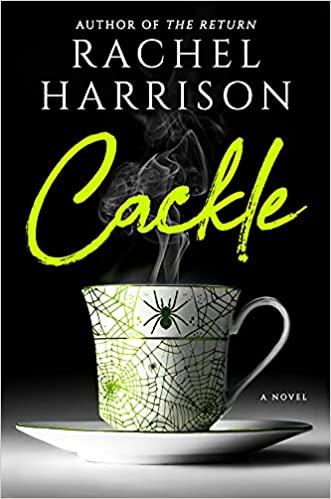 Cackle by Rachel Harrison
This book is for all you year-long witchy story, small town, wish-you-lived-in-Gilmore-Girls readers out there. And by you, I really mean me.
Our very own velocireader, Liberty rec'd this book in a guest episode of Read or Dead, and I immediately put it on hold in the library.
The story begins with Annie, who is tired of playing it safe all her life. Especially when that has led her nowhere, but with an unceremoniously broken heart. Presented with a teaching opportunity in a small town, Annie decides to take it as the fresh start she needs.
As she moves in, she finds herself oddly liking the town, her apartment, even if her home does have a bit of a bug problem. Then Annie meets Sophie, who takes an interest in Annie and her well-being. They both develop an odd, but close friendship and Annie feels herself thrive. But, something about Sophie scares the entire town, making them act warily whenever she is around. Not to mention the huge house in the woods that Sophie lives in. Or the ghosts that act as her house guests.
I do not want to spoil much about this book, but I will say that it was an odd mixture of lightness and witchiness, which I have always thought hard to achieve. Some of the events become so on the nose that they become just what you need.
It is also a book that is surprising in its themes of what it means to truly live a life that suits you regardless of whether it works for others or not. After mulling it over, I have the perfect comp for you. This book is Gilmore Girls meets Practical Magic, and if that does not make you want to pick it up, I apologize, nothing can be done.
Don't forget you can get three free audiobooks at Audiobooks.com with a free trial!
---
Come tell me what you thought of the pick on Instagram @wellreadbrowngirl or Twitter @JavedNusrah.
Happy Reading!
Nusrah