Welcome to Read This Book, a newsletter where I recommend one book that should absolutely be put at the top of your TBR pile. Recommended books will vary across genre and age category and include shiny new books, older books you may have missed, and some classics I suggest finally getting around to. Make space for another pile of books on your floor because here we go!
Today's pick is a graphic novel trilogy that taught me more about the 1960s Civil Rights Movement than I had ever known before.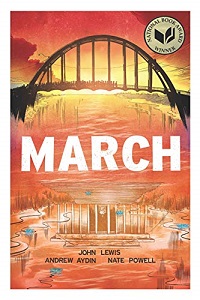 March Trilogy by Congressman John Lewis, Andrew Aydin, and Nate Powell
Congressman John Lewis was one of the key figures of the U.S. civil rights movement. This trilogy of graphic novels is a first-hand account of his lifelong struggle for civil and human rights. This was a particularly difficult read because we're still fighting some of the same fights. It's enraging. It's heartbreaking. And it's also motivating.
The books time hop, juxtaposing President Barack Obama's inauguration with John Lewis's childhood memories and civil rights movement memories. Of everyone who spoke at the March on Washington in August 1963, the one where Dr. Martin Luther King Jr gave his "I have a dream" speech, John Lewis was the one still living at the time of writing these graphic novels.
Book One introduces nonviolent protest tactics. I think that when people think of nonviolence, they imagine no violence at all, which is wildly wrong. The protestors themselves were nonviolent and nonreactive, but the people they were against spit on them, tear gassed them, turned fire hoses on them, set dogs on them, set dogs on children. There is a lot of violence and violent imagery and violent language in these books and you should definitely know that going into it.
Book Two continues where Book One left off with the lunch counter sit-ins before diving into the freedom rides and ending with the march on Washington.
Book Three is a doozy. It's a bit longer than the first two books and like the others it contains a lot of violence because nothing makes white supremacists and their organizations more violent than peaceful protestors. It begins with the bombing of the 16th street Baptist church in Birmingham, Alabama then immediately to a couple different shootings of teenagers. This is all in the first 10 pages or so of the book. The focus of the rest of the book is on the civil rights protests and marches with the goal of forcing Alabama's governor out of office and making it so that everyone had the right to vote.
As you can imagine, these graphic novels are an intense read and I highly recommend them.
Don't forget you can get three free audiobooks at Audiobooks.com with a free trial!
---
That's it for now, book-lovers!
Patricia
Find me on Book Riot, the All the Books podcast, and Twitter.
Find more books by subscribing to Book Riot Newsletters.