Welcome to Read This Book, a newsletter where I recommend one book that you should add to your TBR pile or nightstand or hidden stack under the bed, right away!
I love a good epistolary novel. There is so much room to play around with the structure, the story, the character arcs. I think it is so because when it comes down to it, surely no one can completely monitor how people use structure and narrative in their personal letters to someone beyond what is subjective. Some of my favorites include Dracula, 84 Charing Cross Road, and the beloved Guernsey Literary and Potato Peel Society.
I have spent a good portion of my past few years being asked to recommend a good epistolary and almost run out of them after a few picks. In my very subjective opinion, we are reading through them faster than they are being written. So, when I stumbled upon one that combines the epistolary form of writing with food, I knew I had to do shout about it at the top of my lungs.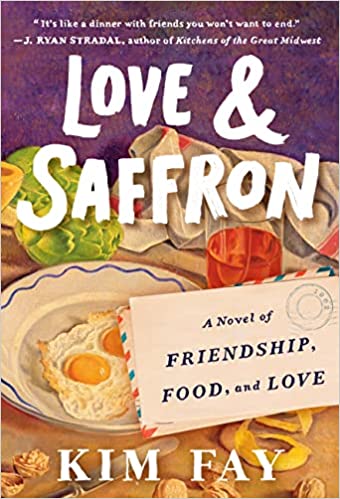 This is the story of a friendship between two fictional characters; Joan Bergstrom and columnist Imogene Fortier in the early 1960s.
One day Joan Bergstrom writes a letter to columnist Imogene Fortier. Imogene Fortier writes a column known to readers in the Pacific Northwest so is surprised when she gets a gift from a young woman in L.A. It's a small packet of saffron with a recipe for mussels.
The fragrant saffron triggers a memory for Imogene's husband, Francis, and awakens in him a zest for the culinary Imogene had never seen. Touched and surprised, Imogene answers Joan's fan letter, leading to a beginning of a new friendship. As the years pass, we live their lives vicariously through their letters as they share ups and downs, highs and lows, and seek out the advice and support of one another.
What remains at the center of the letters is the friends' interest in food: eating it, cooking it, and writing about it. Joan is a whiz at spices and the various delights of California-style cooking, while Imogene takes the recipes and adds the taste of her own region, while marveling at the new avenues Joan's influence has opened for her, Francis, and their marriage.
The power of intentional, mindful correspondence that requires one to sit, gather thoughts, and pour a piece of oneself on paper is beautifully rendered here.
If like me, epistolary novels hold a fond place in your heart, or you love books like Dear Mrs. Bird, then this is for you.
Don't forget you can get three free audiobooks at Audiobooks.com with a free trial!
---
Come tell me what you thought of the pick on Instagram @wellreadbrowngirl or Twitter @JavedNusrah.
Happy Reading!
Nusrah