Welcome to Read This Book, a newsletter where I recommend one book that should absolutely be put at the top of your TBR pile. Recommended books will vary across genre and age category and include shiny new books, older books you may have missed, and some classics I suggest finally getting around to. Make space for another pile of books on your floor because here we go!
Today's pick is an anthology of queer comics that are insightful, intelligent, thoughtful, funny, information-dense, heartfelt, and sometimes heartbreaking.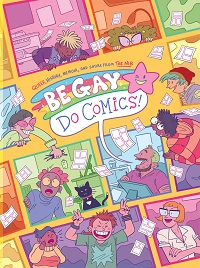 This comics collection is from The Nib, "a daily publication devoted to publishing and promoting political and non-fiction comics. We run journalism, essays, memoir and satire about what is going down in the world, all in comics form, the best medium. It was founded in 2013." I love the variety and range of the contributors and the subjects of the comics contained in this collection. There are comics by creators I've mentioned on Book Riot's All the Backlist! podcast, like Maia Kobabe, Archie Bongiovanni, Mady G, and Melanie Gillman. There are also comics by creators that I think you should know about, like Bianca Xunise, Scout Tran, Trinidad Escobar, and more.
There are comics about coming out and comics about creators just realizing that they are queer. There are hilarious comics about gender reveals and pronouns. This book has many comics on queer history, such as one about Gad Beck, who was gay, Jewish, and fought the nazis (the original 1930s nazis, not the ones we have right now). There are multiple pieces on the ways in which hairstyles reflect and confirm queerness. There are comics on birth control and comics on how some people define non-binary for themselves.
One of the comics I deeply appreciate is titled Decolonizing Queerness in the Philippines by Trinidad Escobar. It is such an important reminder that homophobic and transphobic beliefs in many non-Western countries are results of colonization. It's so easy for some Westerners to harshly judge these countries' views on queerness or women's rights or contraception without acknowledging their own role and the roles of their ancestors in bringing these views to these countries in the first place.
Another piece I appreciated is I Came Out Late in Life and That's Okay by Alison Wilgus because hey, not all of us knew we were queer since we were 3-years' old. It's such an important comic for those of us who may feel left out of the narrative of being and knowing we're queer since the day we were born.
This is a thoughtfully curated collection that I highly recommend.
Don't forget you can get three free audiobooks at Audiobooks.com with a free trial!
---
That's it for now, book-lovers!
Patricia
Find me on Book Riot, the All the Books podcast, and Twitter.
Find more books by subscribing to Book Riot Newsletters.