Welcome to Check Your Shelf. I'm starting to get into the groove of using the Instant Pot we got for Christmas, which also means I'm adding a TON of new recipes to try. But at what point do you end up with too many recipes? Hypothetically speaking? My husband is going to be out of town for a couple evenings this week, and honestly, my first thought was "Ooooh, I can try some new recipes that I know he won't like!" (Instant Pot chili, here I come!)
But now, on to books.
---
Collection Development Corner
Publishing News
We Need Diverse Books launches a virtual community for mid-level diverse publishing professionals.
Why some novelists are all about Substack. ​​
New & Upcoming Titles
Cormac McCarthy is publishing two interlinked novels this fall.
Colson Whitehead announces his next book, Crook Manifesto, set to publish Summer 2023.
Dhonielle Clayton, Tiffany D. Jackson, Nic Stone, Angie Thomas, Ashley Woodfolk, and Nicola Yoon announce their upcoming novel, Whiteout, a followup to the same team's 2021 novel, Blackout.
Rainbow Rowell announces a new book!
Pantheon picks up rights to Laila Lalami's sixth novel, The Dream Hotel.
Beto O'Rourke's upcoming book on voting rights, We've Got to Try, has been picked up by Flatiron Books and is set for an August 2022 release.
Bob Dylan announces a new book: The Philosophy of Modern Song.
Here's a cover reveal for an upcoming collection of brand new Jane Marple stories.
We're getting a cookbook inspired by The Princess Bride, coming out in December.
23 new and upcoming novels with disabled main characters.
Most anticipated mysteries for Spring 2022.
Weekly book picks from Bustle, Crime Reads, LitHub, The Millions, New York Times, and USA Today.
March picks from Goodreads (romance), Tor.com (horror/genre-bending fiction), and Washington Post (mysteries).
What Your Patrons Are Hearing About
Glory – NoViolet Bulawayo (LA Times, New York Times, NPR, Washington Post)
Booth – Karen Joy Fowler (Guardian, New York Times, Washington Post)
Read Dangerously: The Subversive Power of Literature in Troubled Times – Azir Nafisi (Electric Lit, LA Times, USA Today)
Sandy Hook: An American Tragedy and the Battle For Truth – Elizabeth Williamson (NPR, Slate, Washington Post)
In Love: A Memoir of Love and Loss – Amy Bloom (USA Today, Washington Post)
On the Riot
You CAN handle the truth: exciting nonfiction books being published in 2022.
New psychological horror to read right now.
The best weekly new releases to TBR.
The birth and evolution of gaslamp fantasy.
A primer on "women's fiction."
Getting rid of "clean" romances.
What is "quiet" YA?
The value of mental health memoirs from the sidelines.
How this reader conquered their fear of poetry.
All Things Comics
Kevin Smith is launching a comic imprint with Dark Horse.
Actress Emily Hamshire (Schitt's Creek) plans to release her first graphic novel, Amelia Aierwood: Basic Witch this fall.
Here's a trailer for HBO's upcoming limited series, DMZ, based on the graphic novel.
Umbrella Academy Season 3 will premiere on Netflix in June.
On the Riot
8 comics and graphic novels with fantastic fat representation.
A review of Filthy Figments, an erotic comics website.
Audiophilia
The 2022 Audie Awards have been announced!
Duvall Hecht, the founder of Books on Tape, has died at 91.
Audiobooks explain things to me.
Don't forget you can get three free audiobooks at Audiobooks.com with a free trial!
On the Riot
One Rioter's picks their favorites from the crop of 2022 Audie Award winners.
Book Lists, Book Lists, Book Lists
Children/Teens
8 empowering books for girls to inspire the young women in your life.
15 YA books you need to read if Schitt's Creek is your comfort show.
23 YA fantasy books with female protagonists.
14 inspiring YA novels starring women and girls in STEM.
YA books to read if you loved The Invisible Life of Addie LaRue.
Adults
Ukraine/Russia reading lists from The Guardian and Library Journal.
Books with an Eastern European perspective.
Recent Ukrainian writing in English.
19 books for Women's History Month.
10 essential authors to celebrate during Women's History Month.
8 emotionally charged mystery novels.
7 heart-wrenching books for fans of Colleen Hoover's It Ends With Us.
Recommendations for fans of Outlander.
9 books that illuminate current events.
13 classic works of isolation horror.
8 utopian books for dystopian times.
10 groundbreaking true crime books.
On the Riot
8 fantastic middle grade books for fans of Dungeons & Dragons.
8 inspiring middle grade books about activism.
15 delicious cookbooks for teens.
15 books about lesser-known women who made history.
9 of the best Jewish fantasy books.
Mysteries with endings you won't see coming.
15 of the best angsty romances.
10 sports romances to bring out your competitive side.
20 must-read genre-bending scifi books.
Horror novels where the supernatural takes a back seat.
Inspiring interior design books.
10 books for beginning and advanced crocheting. ​​
Books to read if you love Euphoria.
10 of the best satirical novels about race, gender, and society.
Level Up (Library Reads)
Do you take part in Library Reads, the monthly list of best books selected by librarians only? We've made it easy for you to find eligible diverse titles to nominate. Kelly Jensen has a guide to discovering upcoming diverse books, and Nora Rawlins of Early Word has created a database of upcoming diverse titles to nominate, as well as including information about series, vendors, and publisher buzz.
---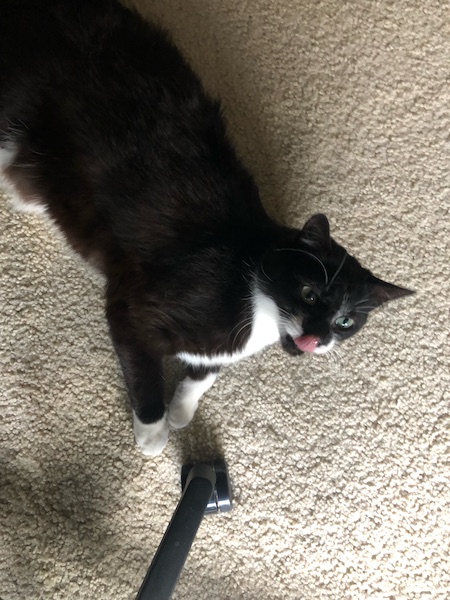 Blaine sent me these photos while I was at work, and all I could think was "WHY IS DINI ALWAYS AT HIS CUTEST WHEN I'M NOT AT HOME???" This is very vexing for me. If you look really closely, you'll see that Dini has his tongue sticking out in the second photo too. I have no idea what was going on inside that little doodle brain of his.
All right, friends, I'll catch you on Friday. Be nice to yourselves.
—Katie McLain Horner, @kt_librarylady on Twitter.