Welcome to Check Your Shelf. All anyone's been able to talk about for the last week is The Batman. My husband and I went to see it last week, and though the runtime was long, the movie was excellent. Everyone I've talked to has also flipped out over how impossibly gorgeous Zoe Kravitz is as Catwoman, and yeah, she really nails it. I'm guessing many of your patrons are talking about the movie right now too.
Libraries & Librarians
News Updates
The Hanover (PA) YWCA hosted a Drag Queen Story Time, which drew a crowd of protestors.
Zoombombers disrupt the Brookings Public Library's (SD) Black History Month program.
Michigan libraries are being targeted by First Amendment auditors and book challenges.
The Parkland (FL) Public Library will name its children's wing after Gina Montalto, a 14-year-old freshman who was killed in the 2018 shooting at Marjory Stoneman Douglas High School.
Ukraine's libraries are offering bomb shelters and camouflage classes for patrons.
Cool Library Updates
The Toledo Lucas County Public Library in Ohio is partnering with the nonprofit organization So All May Eat to offer a library cafe that will serve anyone, regardless of their ability to pay.
Worth Reading
Librarians are feeling the burnout.
Regulating the public square when it's at the library's front door.
Critical race theory and the banning of Black authors in schools, libraries, and prisons.
How to avoid sharing bad information about Russia's invasion of Ukraine.
Book Adaptations in the News
Weetzie Bat by Francesca Lia Block is in development at Peacock.
Netflix orders a White House murder mystery drama based on the book The Residence: Inside the Private World of the White House by Kate Andersen Brower.
There's going to be a third Poirot movie, but it will be significantly different from Death on the Nile.
The BBC is developing the upcoming adaptation of Shuggie Bain.
Sony picks up the film rights to Lucy Foley's latest novel, The Paris Apartment.
Claire Foy has been cast as Facebook COO Sheryl Sandberg in the HBO adaptation of An Ugly Truth: Inside Facebook's Battle for Domination.
Sandra Oh and Jodie Comer break down the Killing Eve final season premiere.
Margaret Atwood and Ken Steacy's graphic novel War Bears is becoming an animated TV series.
Under the Banner of Heaven will premiere on Hulu on April 28th.

Walking Dead gets another spinoff series.
The first trailer for Bullet Train has been released.
Banned & Challenged Books
How much does a book challenge cost?
The Texas Library Association has formed a coalition to battle ongoing book bans.
Texas Republicans ask schools to pledge not to buy from vendors that sell Gender Queer, which is…most of them.
Katy ISD (TX) students raise concerns about censorship and intellectual freedom.
Granbury ISD (TX) has given an update on their review of 131 challenged books: 103 have been returned to library shelves, 1 book has been designated for removal due to "sexually explicit content" (the book is not named in the article), 2 books are confirmed lost and not on library shelves in the first place, and 25 are waiting to be reviewed.
Conservative websites are fueling book bans in Texas and across the country.
Texas students push back against book bans for censoring LGBTQ content and racial justice issues.
The Lafayette (LA) library board grants itself the power to ban books.
Bless Me, Ultima is under review in Oklahoma due to "obscene" content.
An Oklahoma legislative committee advances a school library book ban bill.
Campbell County Public Library (WY) rejects two more book challenges: Be Amazing and Sex Plus: Learning, Loving, and Enjoying Your Body.
These Pennsylvania students helped overturn a book ban. Now they're pushing for a more inclusive education.
The Central Bucks (PA) school board reviews its book removal policy.
The Elizabethtown Area (PA) school board continues its discussion of book bans.
Country star John Rich (of Big & Rich fame) compares teachers to pedophiles in a speech supporting the book bans happening in Tennessee.
Tennessee Republicans back a bill to criminally charge educators and ban books with alleged "obscene" materials.
GOP leaders in Tennessee shy from librarian attacks in book scrutiny push.
Arizona Senate Republicans advance bills to increase the scrutiny of school library books and access to classrooms.
Students sued the Wentzville School District (MO) when they voted to restrict several books. The school board reinstated one: The Bluest Eye.
Dolly Parton fans slam Kentucky State Senator Stephen Meredith for questioning whether or not Dolly Parton's Imagination Library program is "appropriate." SIR. You have made a grievous mistake.

The Marlboro School Board (NY) has banned two YA books: Dear Martin and The Poet X, and the statement issued by the Board president prompts more questions than answers.
The process to file book complaints is changing at Wake County (NC) Public Libraries.
A group of North Carolina moms staged a "read-in" before a recent Union County school board meeting in protest of proposed changes to the school's book review policy. The proposed changes would make it easier for the district to censor materials.
Salina (KS) Public Schools decides not to ban All Boys Aren't Blue from the school library.
Amid an outcry over "pornographic" material, Canyons School District (UT) revamps its book review policy.
A bill banning "pornographic" or "indecent" books at Utah schools passes committee.
An Iowa Senate panel increases proposed criminal penalties for "obscene" school books.
Proposed Iowa legislation defames the work of school librarians.
Sexually explicit books offend Northwest Arkansas parents.
Idaho librarians could face jail time for lending "harmful" books.
The Coeur d'Alene Public Library (ID) denied a request to remove or relocate two books from the children's department: Prince and Knight and The Hips on the Drag Queen Go Swish, Swish, Swish. One trustee gave a great, succinct statement as to why: "Our function is to provide everybody with access to these books, and it's the parents' responsibility to limit their children, not our responsibility." SAY IT LOUDER FOR THE PEOPLE IN THE BACK!
Indian River County (FL) refuses to ban most of the 156 challenged books, although 5 will be removed: Blankets, Triangles, Girl 2 Girl, Deogratias: A Tale of Rwanda, and Gone Girl.
16 "inappropriate" books are set to be reviewed by Polk County (FL) school officials.
Virginia governor releases a report on "inherently divisive" school policies. Meanwhile, the Virginia Education Department rescinds diversity and equity programs in response to the governor's order.
Virginia students are passing out books that they fear will be banned if a proposed "sexually explicit content" bill is passed.
Ridgeland (MS) residents voice concerns with library issues, and the mayor had the audacity to say that he's not trying to ban books. To refresh everyone's memories, this is the mayor who withheld $110,000 in funding for the library if they didn't remove all LGBTQ books from their collection. Sure sounds like book banning to me.
Ohio County schools will be making changes to the books used in their curriculum, but say that their choices don't amount to censorship. In one instance, they have elected not to use the book Seahorse: The Shyest Fish in the Sea, saying that it doesn't do a good job of teaching the word "shy," so they will be using a different title. Which, fine, okay, but this is also the "sexy seahorse book" that parents protested in a different district last year, and I just can't understand why this book has garnered so much negative attention.
A parent group in Elmhurst, IL claimed victory for getting the book It's Perfectly Normal moved from the children's section to the adult section, but library officials said, "Um…actually…we didn't move it anywhere." (I am paraphrasing.)
Lake Forest High School (IL) has elected to place an age restriction on Gender Queer in the school library, meaning that students younger than 18 have to get a parent's permission to check out the book.
Floyd County (GA) schools are going to start marking books as "mature" and letting parents sign an "opt out" form if they don't want their children checking out those books.
Savannah-Chatham County (GA) school board discusses the library book selection process.
Georgia high school students speak out against "classroom censorship" bills.
Over 300 people attended the Hunterdon Central Regional High School (NJ) board meeting on February 28th in support of keeping LGBTQ materials on library shelves.
California school districts are caught in the middle of the culture wars as the right tries to gain control.
Amid the push to ban books, library commissioners brush up on the basics.
Some Barnes & Noble stores have added "Banned Book" displays amid recent controversy.
History professors discuss the effects of book banning in schools.
First the book banners came for Critical Race Theory and LGBTQ people. Now they're censoring women's history.
Sex in young adult books is age appropriate.
Books & Authors in the News
Brandon Sanderson raised $15 million on Kickstarter in a single day to independently release a series of four books that he wrote during the pandemic.
More than 1,000 authors have publicly condemned Russia's invasion in an open letter.
A middle school in Pasadena, California has been renamed after Octavia E. Butler.
USPS is releasing a Shel Silverstein stamp.
Numbers & Trends
Books that are popular in other countries, but not necessarily in the United States.
Award News
The 2022 Women's Prize longlist has been announced.
The final 2021 Nebula Awards ballot and 2021 Bram Stoker ballot have been released.
The 2022 Ezra Jack Keats Award winners have been announced.
The 2022 Joyce Carol Oates Prize finalists have been announced.
On the Riot
Why librarians should read at their desks.
Who are the librarians of Jeopardy!?
This reader talks about their latest reading obsession: books nominated for major awards.
Is Goodreads actually a good thing?
The sadness of disliking books that everyone else seems to love.
In praise of in-person bookish events.
The philosophies of Eloise. ("You have to eat oatmeal or you'll dry up. Anybody knows that.")
Don't forget you can get three free audiobooks at Audiobooks.com with a free trial!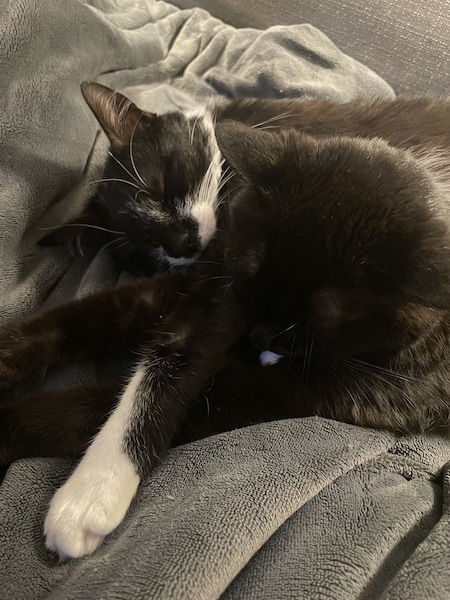 Today's cat photo is of Gilbert and Dini snuggling, but it's also a representation of a photo I WISH I had been able to take earlier this week…I walked into our home office to find Gilbert and Dini in the same basket, facing each other, and Gilbert had his front paw squarely planted on Dini's forehead. Unfortunately, Gilbert moved before I was able to get a picture, but it was exactly as adorable as it sounds.
Okay, all you cool cats and kittens, that's it for me for this week. I'll catch you on Tuesday.
—Katie McLain Horner, @kt_librarylady on Twitter.