Welcome to Check Your Shelf. I'm taking a four day weekend from my day job, and to celebrate, I'm taking myself out for some good quality second-hand shopping! My wardrobe needed a refresh pre-pandemic, and over the last couple years, I haven't done much in-person shopping aside from groceries, so I think it's time. Here's hoping for some fun patterned shirts and some new cardigans!
Now, let's talk books.
Collection Development Corner
Publishing News
The Central European Press is providing free access to ten of its titles on Ukraine.
Russia's war of words with Ukraine.
Several hundred Russian publishing professionals have issued their own public condemnation of the war, and trade publisher Eksmo issued an open letter saying that publishers could have done more in the leadup to the Ukrainian invasion.
The Bologna Children's Book Fair has blocked Russia from participating. Other trade shows have also issued statements.
ESPN's Andscape is launching a book imprint with Disney that will focus on narrative nonfiction and memoir, along with YA and children's titles.
Seuss Studios will shed new light on vintage art and new voices.
Shawanda Williams launches Black Odyssey Media.
Sarah Jessica Parker launches SJP Lit with Zando.
Chip & Joanna Gaines launch Magnolia Imprint with HarperCollins.
Amazon is closing all of its physical bookstores, and a lot of people are saying "Good riddance!"
New & Upcoming Titles
Eric Holder and Sam Koppelman, a former staffer on the Biden/Harris campaign, are publishing a book about the state of voting rights in the US, coming out on May 10th.
Deborah Birx, the White House Coronavirus Task Force coordinator under trump, is publishing a book in April called Silent Invasion: The Untold Story of the Trump Administration, Covid-19, and Preventing the Next Pandemic Before It's Too Late.
Stephen King's next novel, Holly, focuses exclusively on his recurring character, Holly Gibney. (You may remember Holly Gibney from The Outsider and the Bill Hodges trilogy.)
Victor LaValle's The Ballad of Black Tom is getting a special hardcover edition in September. ​​
And speaking of special hardcover editions, check out this new edition of The Haunting of Hill House!
Jennifer Lopez and Jimmy Fallon are teaming up for a bilingual children's book, coming out in October.
Weekly book picks from Crime Reads, The Millions, New York Times, and USA Today.
Indie speculative fiction picks for February.
March picks from Barnes & Noble, Bustle, CBC, Crime Reads, Entertainment Weekly, Good Morning America, Goodreads, LA Times, The Millions, New York Times, Shondaland, Time, Tor.com (fantasy, science fiction, indie speculative fiction), USA Today (rom-coms), Vanity Fair, and Washington Post.
The best nonfiction of 2022, so far.
130 of the best new releases, so far.
What Your Patrons Are Hearing About
Burning Questions – Margaret Atwood (The Guardian, Shondaland, Washington Post)
Checkout 19 – Claire-Louise Bennett (LA Times, New York Times, NPR)
One Damn Thing After Another: Memoirs of an Attorney General – William P. Barr (New York Times, Washington Post)
In Love: A Memoir of Love and Loss – Amy Bloom (New York Times, People)
The Beauty of Dusk: On Vision Lost and Found – Frank Bruni (New York Times, Washington Post)
Aurelia, Aurélia – Kathryn Davis (LA Times, New York Times)
I Was Better Last Night – Harvey Fierstein (LA Times, New York Times)
Invisible Kingdom: Reimagining Chronic Illness – Meghan O'Rourke (Esquire, New York Times)
RA/Genre Resources
The continuing appeal of Sylvia Plath.
The coming of age of Black social horror.
A primer on the Jack Reacher series for new readers.
On the Riot
Publishing predictions that never came true.
15 of the most anticipated cookbooks of 2022.
12 exciting memoirs coming in 2022.
12+ 2022 short story collections by Asian authors.
Weekly new releases to TBR.
12 must-read March children's book releases.
24 must-read LGBTQ books out in March.
Reading pathways for Taylor Jenkins Reid.
What makes a YA book "the best of all time?"
Mystery authors with deep genre backlists.
On reading pandemic fiction during a pandemic.
What is historical fiction, really?
The different types of unreliable narrators.
All Things Comics
AMC Networks Publishing launches with graphic novels, a partnership with Stephen King, and more.
Here's a closer look at Oscar Isaac's upcoming graphic novel, Head Wounds: Sparrow.
And here's a first look at Jamie Lee Curtis' eco-horror graphic novel, Mother Nature.
On the Riot
Training my brain to read comics and graphic novels.
8 talented multi-genre comics writers.
Celebrate Women's History Month with these comics and graphic novels.
10 stories of heroes breaking bad.
Audiophilia
In praise of running to audiobooks.
Audible has recommendations for Women's History Month.
If you like Euphoria, you'll love these audiobooks!
15 audiobooks to listen to right now.
Don't forget you can get three free audiobooks at Audiobooks.com with a free trial!
On the Riot
How audiobooks helped this reader get over their fear of long books.
8 nonfiction audiobooks to listen to for Women's History Month.
Book Lists, Book Lists, Book Lists
Children/Teens
16 Gothic YA books to creep you out in the best way.
Adults
Ukrainian/Russian reading lists from Barnes & Noble, Electric Lit, New York Times, NYPL, and Oprah Daily.
The 75 best psychological thrillers of all time, from Gone Girl to The Lost Daughter.
Romances about roommates who accidentally fall in love. ​​
Horror novels and novellas written by Black women.
Contemporary fantasy romances.
11 must-read books by Latinas in honor of Women's History Month.
6 crime novels set in public school classrooms. ​​
6 thrillers that will make even the steeliest readers a little squeamish.
Multi-generational family mysteries.
6 wintery SFF romances to melt your heart.
8 Jamaican women writers you should be reading.
On the Riot
8 picture books about dog sledding.
12 of the best spring books for preschoolers.
8 books for kids featuring entrepreneurs.
8 of the best mental health nonfiction books for teens.
Books for understanding Russia's invasion of Ukraine.
Historical fiction books with a hint of magic.
Monstrous alien stories to invade your shelves.
Books written by the authors of your favorite TV shows.
Books to read if you love Studio Ghibli.
15 of the best angsty romance novels.
10 queer dark academia novels to obsess over.
20 must-read nonfiction books by women.
11 Ukrainian books available in English translation.
Level Up (Library Reads)
Do you take part in Library Reads, the monthly list of best books selected by librarians only? We've made it easy for you to find eligible diverse titles to nominate. Kelly Jensen created a database of upcoming diverse books that anyone can edit, and Nora Rawlins of Early Word is doing the same, as well as including information about series, vendors, and publisher buzz.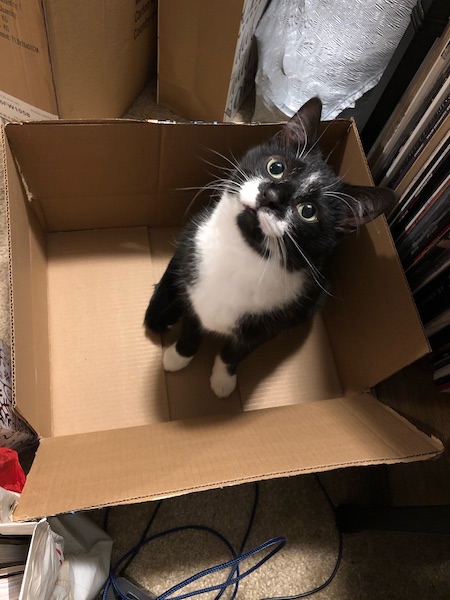 This may be the cutest picture of Houdini we've ever taken. Look at those eyes! Those little toofs! That deceptive innocence! He sure knows how to turn the charm on when the camera's around.
Welp, that's all I have for right now. I'll catch you on Friday.
—Katie McLain Horner, @kt_librarylady on Twitter. Currently listening to Red Widow by Alma Katsu.