Hey y'all, welcome to the Kissing Books newsletter. I hope your spirit is doing well. I'm PN Hinton, your guide through the roller coaster of a ride that the world of romance can be. If it is your first time here, welcome and if you're a regular reader, welcome back.
Between Love & Leashes being both a Netflix show and a Webtoons comic, I am trying to start actively getting more into K-dramas. I've become determined to finish watching Romance is a Bonus Book before I move onto that one, and I just finished the eight episode and y'all…I was NOT prepared for the level of crying I did. I know 'drama' is part of the genre title but damn…I was sincerely worried about getting hydrated because I felt my personal water supply got depleted that much. It was a beautiful moment don't get me wrong, but still I sobbed like I was sitting there drinking with the ladies. 
That said, that is also what's bringing me joy nowadays since I'm really enjoying the series and can't wait to start others when it's over. There have been no changes to what I'm currently reading so it's still I'm (So) Not Over You and One True Loves, since I do enjoy a good YA romance as well.
Romance Reflection:
As you may already know, the Swoon awards recently recanted two awards from the winners for Novella/Short Story and Holiday Romance. It was the same author and I initially thought it was due to reports of plagiarism and appreciated that they were being accountable for that. Showing appreciation of that type of accountability was originally going to be the focus of this reflection.
Then I saw (TW: s*ex abuse) this tweet and it shed a whole new and ugly light on the situation. 
As per the norm, I won't list the author here since that information can be found in the links but I was literally disgusted by it. And the fact that there was this type of scene in a 'romance' novel that garnered such praise. Honestly, most people should have DNFed the hell out of that when they got to that part and that is any book. I stopped reading a specific vampire hunter series because there was an assault against a child in a book and it wasn't even that graphic. But still that was the line for me.
The fact that this scene exists in a romance novel that is so highly praised is sickening. Seriously, I felt like I was going to throw up reading that screenshot. There is no excuse for that level of graphicness in a book, especially a romance. And especially since it is taken from someone's very real traumatic experience.
I've often heard it stated that a lot of women don't like thriller, mysteries, or horrors because of the violence against women and their bodies. Which is completely fair and understandable, given that is a very prevalent theme in those novels and it has been for quite a long time. However, we need to show this same consideration for people, which includes men, in romance novels. The assault, degradation, and dehumanization of a person is NEVER okay.
I can already hear the cries about "What about old school romance?" to which I say there's a reason it's old school. There's a reason no one writes like that anymore. It's called evolution and there are some authors who used to write like that who have changed their style and grown. That ish shouldn't be accepted in romance novels nowadays, even in a historical setting. Keep that mess out of published works because seeing that anywhere will automatically put an author on a do not buy/read/promote list for me. 
And now onto some lighter topics; a mini-romance reflection.
Netflix has released more posters from the upcoming season of Bridgerton. No lie I was beyond stoked to see Newton the Corgi. But I sincerely hope that they don't fabricate a sisterly rivalry between Kate and Edwina because their close bond was one of the many endearing things about the book.
Some people pushed back saying a love triangle was part of the plot but it wasn't really. To me, a love triangle is where one person is actively pursuing or being pursued by two different people. In the book, Anthony is pursuing Edwina, who is willing to consider him for marriage to help her family. When he begins having feelings for Kate, especially after they kiss, his inner thoughts show that he is going to move from Edwina as a wife since he admitted he was lusting after Kate. So, it's not one at all.
We have to wait and see but if they do, well we all know I'll have opinions on it that I will happily share.
Around the Web in Romance:
Frolic has their new book crush pick and it's Tessa Bailey's Hook, Line, and Sinker.
Here are now of the most anticipated romance reads coming in March, according to Goodreads.
And here are of March's M/M romance releases.
New Releases:
Here are some of the releases scheduled for release this week. Please remember that the dates showing were the ones that were reflected as of the writing of this newsletter.
I Wanna Be Your Lover by Marlon McCaulsky (3/7/22)
Cosplay Worthy by Quiana Glide (3/7/22)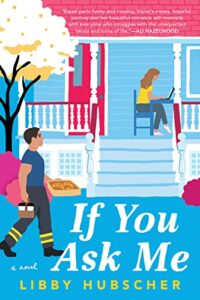 The Ones I Left Behind by Shaii Wright (3/8/22)
A Match Made in Lipa by Carla de Guzman (3/8/22)
Broken King by Bella Matthews (3/8/22)
Taste by Melanie Harlow (3/8/22)
The Suite Spot by Trish Doller (3/8/22)
If You Ask Me by Libby Hubscher (3/8/22)
Wine, Whiskey, & Lipstick by LaShawn Vasser (3/10/22)
Champagne Problems by Addison Clarke (3/10/22)
Bonds of Love by Mickie Sherwood (3/11/22)
Mall Out of Luck by Sarah Robinson (3/11/22)
---
That's all she wrote for today, friends. I hope that you have a relaxing weekend with plenty of reading. If you're not already following me on Twitter I can be found posting under @PScribe801. Until Monday!