Welcome to Check Your Shelf. In the world of tiny yet meaningful improvements, my coworker introduced me to the benefits of Aquaphor for my embarrassingly dry hands, and it was like the moisturizing gods shined down on me. I immediately went out and bought some for work and home, and I'm going to keep this stuff on me at all times.
---
Libraries & Librarians
News Updates
Connecticut introduces its own library eBook bill.
Steven Potter, director of the Mid-Continent Public Library in Independence, Missouri, has resigned, partially due to the majority-conservative library board, which has focused on blocking programs for LGBTQ youth and pushing back against diversity initiatives.
The Pikes Peak Library (CO) CEO resigns after the City Council appoints conservative board members.
Protestors carrying a Nazi flag disrupted a group reading of The Communist Manifesto at the Red Ink Community Library in Rhode Island.
The American Association of School Librarians has signed a letter calling for a halt on the anti-LGBTQ+ legislation progressing in multiple states.
ALA released a statement in support of the Ukrainian library community.
Cool Library Updates
Relief for renters: libraries assist patrons facing eviction.
Worth Reading
How to avoid sharing bad information about Russia's invasion of Ukraine.
The battle for the soul of the library.
10 ideas for building a library of things.
Book Adaptations in the News
An Outlander prequel series is coming to Starz.
Danya Kukafka's Notes on an Execution will be adapted into a TV series.
Paramount+ has snagged the rights to Flatshare by Beth O'Leary.
Ravi Patel joins the live-action adaptation of Harold and the Purple Crayon.
Here's the first trailer for Pachinko.
Banned & Challenged Books
A large majority of people reject book bans, according to a recent CBS News poll.
At least seven state legislatures are proposing "book ban" legislation.
Take one step this week towards combating censorship.
Here is an inside look at the discourse, strategy, and organization happening within a private Moms for Liberty Facebook group.
Parents complained at the Marshall County Board of Education (KY) that the book Chasing Lincoln's Killer is too graphic for middle school students.
North Kansas City students are standing up against a proposed book ban.
The Bluest Eye has been reinstated in St. Louis-area schools.
No determination has been made on challenged books in the Yorktown School District (NY).
The Berkeley County (WV) superintendent has suspended use of The Bluest Eye for the rest of the school year.
Two Hastings (MN) school board members are being accused of censorship for pulling books from the shelves of a recent Scholastic Book Fair. The books were labeled as having "mature content," and the board members say that they were acting as parents, not as representatives of the school in pulling the books.
The Williamson County Board of Education (TN) voted to endorse a committee's decision on how to handle recently challenged books, which included removing Walk Two Moons from the English curriculum, and leaving several books in the curriculum with the allowance of instructional adjustments. (I would like to point out that one of the books flagged for potential instructional adjustments is the "sexy seahorse" book a parent complained about last year, and I just have…no words.)
A Nebraska school board member says that books are hyper-sexualizing kids.
The Jackson County (NC) branch of the NAACP has pledged support to the Haywood County chapter in regards to recent book challenges.
Education advocates rally after North Carolina's Lt. Governor calls for banning certain books.
The Oklahoma Attorney General has dropped their obscenity investigation of 51 titles flagged for review.
A book-banning flare-up in Bentonville (AR) raises a question: was it a stand, or a stunt?
The Conway School District (AR) responds to social media backlash that certain books would be removed from the curriculum, including To Kill a Mockingbird.
A proposal to move All Boys Aren't Blue to the adult section at the Jonesboro Public Library is sparking censorship concerns.
A Silver Lake (MA) parent has requested that the school pull the book So Far From the Bamboo Grove from the seventh grade curriculum.
In a recent poll of registered Texas voters, 47% of respondents indicated that they had little to no confidence in the ability of local librarians and school officials to properly evaluate which books belong in public school libraries.
Denton ISD (TX) students petition the district to keep diverse book titles.
A McKinney ISD (TX) couple has challenged 282 books for removal within the district.
The Granbury ISD (TX) removes 130 books while rewriting the district's book review process. Although most of the book have been returned by this point, the ACLU has called on the district to apologize.
The Texas statewide debate over books in school libraries has reached Westlake.
The Gunnison County Library District (CO) will not remove or reclassify Gender Queer.
Waltham Public Schools (MA) elect to keep Gender Queer and This Book is Gay on school library shelves.
Parents in North Smithfield (RI) question the presence of "inappropriate" books in public school libraries, including Beloved, Two Boys Kissing, Drama, and This One Summer.
Here is a list of all of the books that have been removed by the Duval County School District (FL) since 1978, along with the reasons for their removal.
The Jeffersonville Library adds an LGBTQ+ section. Here is a case where I understand that the intentions are good, and that the change was requested by a local member of the LGBTQ community, but libraries need to come up with ways for patrons to easily access these books without physically separating or distinguishing them from the rest of the collection.
Some US school systems pause diversity programs amid pushback.
Activism grows nationwide in response to book bans.
From book bans to "Don't Say Gay" bills, LGBTQ students feel "erased" in the classroom.
The GOP is using "parental rights" to end public education as we know it.
What students are saying about banning books from school libraries.
To those who want to ban books: why are you so afraid of ideas?
Books & Authors in the News
Leonard Kessler, children's author and illustrator, has died at 101.
Children's author Shirley Hughes has died at 94.
Willow Smith is being criticized for racist and Islamophobic content in her upcoming book.
Colleen Hoover isn't sure how she became TikTok's favorite writer, but she's enjoying the ride.
Numbers & Trends
Which children's books have been in print the longest?
And which children's books are the most popular in each state?
Major book statistics about readers: the pandemic edition.
Award News
Will Smith's and Cicely Tyson's memoirs both won NAACP Awards.
Here are the winners of the PEN Literary Awards.
The Ray Bradbury Prize finalists have been announced.
On the Riot
Clara Stanton Jones: Librarian and advocate.
The reading statistic that may change your life.
6 tips to help you find your groove if you're trying to get back into reading.
Additions to a high school English class reading list that this reader would like to see.
The science and recent history of bookstore design.
Don't forget you can get three free audiobooks at Audiobooks.com with a free trial!
---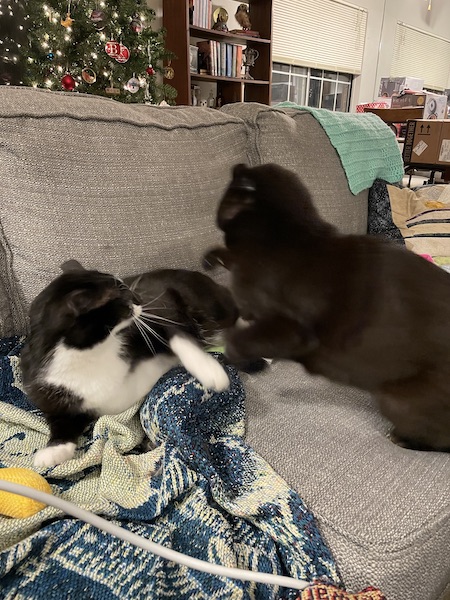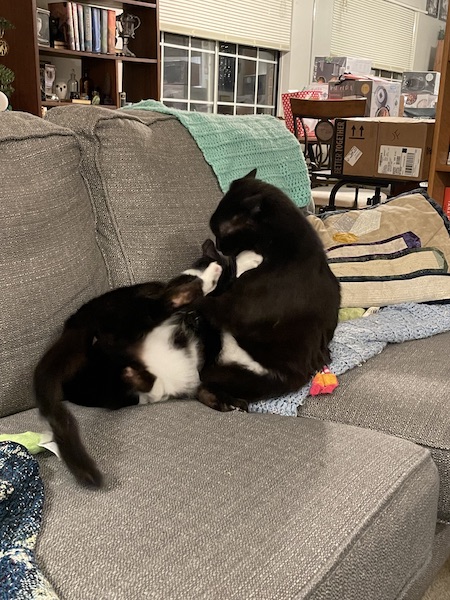 Gilbert and Dini have their snuggly, friendly moments, but don't let that fool you. They wrestle more frequently than they snuggle, or rather, Dini jumps on Gilbert and Gilbert has to kick Dini in the head in order to free himself. (However, the first picture shows Gilbert in full-on "ATTACK!" mode, so it's not always Dini starting the fights.) These tussles usually happens about an hour before mealtime, and the two of them just morph into something resembling a silent, black tumbleweed. But considering Gilbert's just a couple months shy of his 16th birthday, he holds his own pretty well.
That's all I've got for this week, folks. I have no idea what the world will look like by the time the next newsletter rolls around, so I guess we'll just take stock when we get to that point. Catch you on Tuesday!
—Katie McLain Horner, @kt_librarylady on Twitter.