Sponsored by Amazon Original Stories.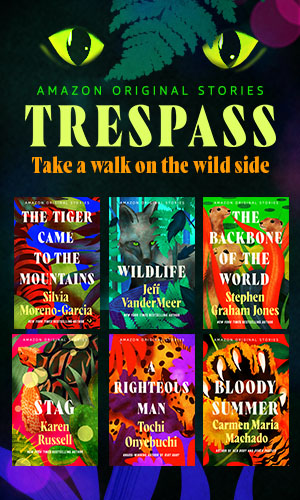 When nature gets up close and personal, it isn't always pretty. A fallen tree sparks a poisonous feud between neighbors. A child searches the darkness for the gleam of a tiger's teeth. A woman holds off a colony of oddly relentless prairie dogs. In six unsettling short stories that range from horror to magical realism, six award-winning authors lay bare the secrets hidden in the land. Prime members read and listen to the Trespass collection for free.
Hello, Tuesday friends! I hope you were able to enjoy your weekend, and have been able to find some time to read. I know that I have been throwing myself into books harder than ever these days. I am so grateful to have them. And I am grateful for you, too!
Now, for today: it's time for a first Tuesday megalist! I do these because the first Tuesday of each month has so many new releases, it's fun to round some of them up. Below, you'll find titles (loosely) broken up into several categories, to make it easier for your browsing convenience. I hope you have fun with it! And as with each first Tuesday newsletter, I am putting a ❤️ next to the books that I have had the chance to read and loved.
And speaking of today's great books, for this week's episode of All the Books! Danika and I discussed some of the wonderful books that we've read, such as Gallant, A Thousand Steps Into Night, Loveless, and more.
Make sure to get your own Read Harder Book Journal from Book Riot to track your reading for the year!
And now, it's time for everyone's favorite gameshow: AHHHHHH MY TBR! Here are today's contestants:
Biography and Memoir
Another Appalachia: Coming Up Queer and Indian in a Mountain Place by Neema Avashia ❤️
Aurelia, Aurélia: A Memoir by Kathryn Davis ❤️
Let Me Count the Ways: A Memoir by Tomás Q. Morín
Run Towards the Danger: Confrontations with a Body of Memory by Sarah Polley
I Was Better Last Night: A Memoir by Harvey Fierstein
Never Simple: A Memoir by Liz Scheier
Easy Beauty by Chloé Cooper Jones ❤️
Fiction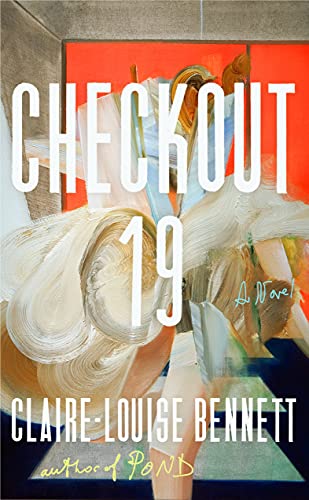 Checkout 19 by Claire-Louise Bennett
Jane of Hearts and Other Stories by Katharine Weber ❤️
The Tobacco Wives by Adele Myers
Run and Hide by Pankaj Mishra
The Doloriad by Missouri Williams
Sisters of Night and Fog by Erika Robuck ❤️
Chorus by Rebecca Kauffman ❤️
Middle Grade
Squad Goals (Hearts & Crafts #1) by Lisa Papademetriou
New from Here by Kelly Yang ❤️
Wingbearer by Marjorie Liu, Teny Issakhanian
Mystery and Thriller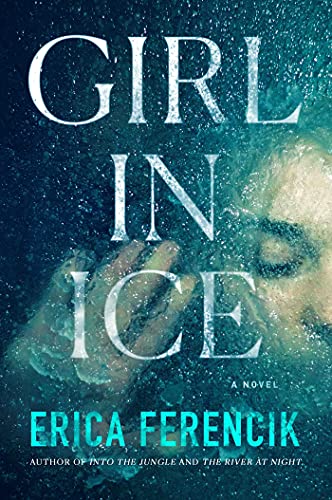 Girl In Ice by Erica Ferencik
The Night Shift by Alex Finlay
The Heights by Louise Candlish
Nonfiction
Black Market: An Insider's Journey into the High-Stakes World of College Basketball by Merl Code
The Republic of Violence: The Tormented Rise of Abolition in Andrew Jackson's America by J.D. Dickey
The Believer: Encounters with the Beginning, the End, and our Place in the Middle by Sarah Krasnostein ❤️
Hell's Half-Acre: The Untold Story of the Benders, a Serial Killer Family on the American Frontier by Susan Jonusas ❤️
The Greatest Invention: A History of the World in Nine Mysterious Scripts by Silvia Ferrara, Todd Portnowitz (translator)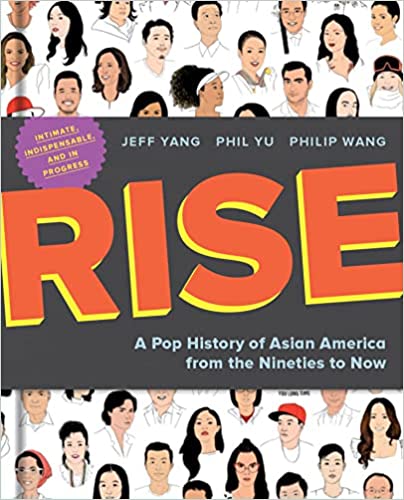 Rise: A Pop History of Asian America from the Nineties to Now by Jeff Yang, Phil Yu, Philip Wang
Burning Questions: Essays and Occasional Pieces, 2004 to 2021 by Margaret Atwood
Poetry
Bless the Daughter Raised by a Voice in Her Head: Poems by Warsan Shire
Customs: Poems by Solmaz Sharif
Romance
Chef's Kiss by Jarrett Melendez, Danica Brine (Illustrator), Hank Jones (Colorist), Hassan Otsmane-Elhaou (Letterer) ❤️
A Brush with Love by Mazey Eddings
Hook, Line, and Sinker by Tessa Bailey
Sci-fi, Fantasy, and Horror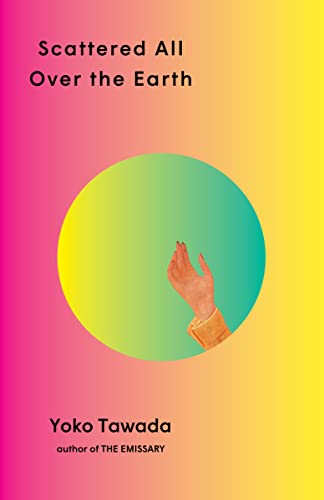 Scattered All Over the Earth by Yoko Tawada, Margaret Mitsutani (translator)
Tell Me an Ending by Jo Harkin
All the Horses of Iceland by Sarah Tolmie
Sundial by Catriona Ward
The Atlas Six by Olivie Blake
Young Adult
Gallant by V.E. Schwab ❤️
A Thousand Steps into Night by Traci Chee ❤️
Ready When You Are by Gary Lonesborough
Loveless by Alice Oseman
This Golden State by Marit Weisenberg ❤️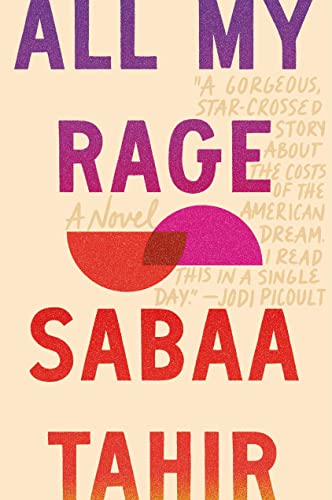 All My Rage by Sabaa Tahir ❤️
The Lost Dreamer by Lizz Huerta
Travelers Along the Way: A Robin Hood Remix by Aminah Mae Safi
The Rumor Game by Dhonielle Clayton and Sona Charaipotra
The One True Me and You by Remi K. England
Girl on Fire by Alicia Keys, Brittney Williams, Andrew Weiner
Don't forget you can get three free audiobooks at Audiobooks.com with a free trial!
---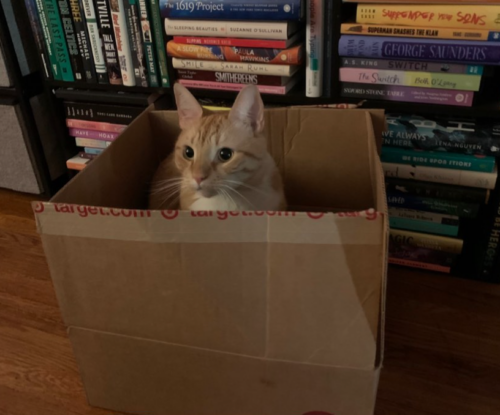 This week: I'm currently reading Don't Cry for Me by Daniel Black and The Last Suspicious Holdout: Stories by Ladee Hubbard. Outside of books, I'm halfway through watching The Big Bang Theory. (Very few things have made me laugh as much as the ball pit scene.) And the song stuck in my head is Mr. Rabbit by Paul Westerberg. And here's a cat picture: My Uber driver could barely see over the dashboard, but he was really cute.
---
Thank you, as always, for joining me each week as I rave about books! I am wishing the best for all of you in whatever situation you find yourself in now. And yay, books! – XO, Liberty ❤️