Sponsored by Flatiron Books publisher of OLGA DIES DREAMING by Xochitl Gonzalez.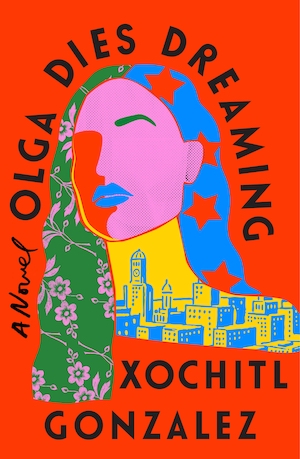 A blazing talent debuts with the tale of a status-driven wedding planner grappling with her social ambitions, absent mother, and Puerto Rican roots—all in the wake of Hurricane Maria.
Welcome to Read This Book, a newsletter where I recommend one book that I think you absolutely must read. The books will vary across genre and age category to include new releases, backlist titles, and classics. If you're ready to explode your TBR, buckle up!
Make sure to get your own Read Harder Book Journal from Book Riot to track your reading for the year!
This week's pick is a great fantasy fairy tale retelling with such a unique, foodie slant—and a truly gorgeous cover! Fair warning, it is the first in a duology but the second book will be out later this year!
Shiori is the princess of Kiata, the youngest daughter of the emperor. She's been betrothed to a young man from the north for as long as she can remember and she's not happy about it: She'd rather stay close to her beloved brothers, and find her own future. So on the day of her betrothal ceremony, she runs away and falls into a lake, where she happens to meet a dragon. Dragons are rare and magic is taboo in Kiata, but Shiori can't help her excitement at befriending a dragon, or the secret magic inside her. And it's just as well, because not long after she discovers that her stepmother is hiding her own magic, and she and her brothers are cursed. While her brothers transform into cranes each day, Shiori is left with a bowl over her head and the loss of her voice, and she's banished from her home. If she wants to break her stepmother's curse, she'll have to complete a series of impossible tasks, all while trying to stay alive.
I loved this retelling of "The Wild Swans," with details mixed in from Japanese fairy tales and other Asian culture. Shiori is a headstrong and stubborn protagonist who is maybe a little silly and naive at first, but when she finds herself banished, alone, and cursed, she draws upon previously unknown strength and resilience within to find her brothers and figure out a way to break the curse. Along the way, she finds herself entangled with a political plot to overthrow her father and wreak havoc on Kiata, which is complicated by the fact that she must remain silent or risk her brothers' lives, and she learns that her perception of court politics and the other nobility might not be entirely accurate. She also finds herself in the very last place she expects: Her betrothed's stronghold, where she learns that there is more to him than she initially believed. The magical details and the political intrigue were quite fun, and new reveals and twists sent me racing to the end, which provided a few surprises and have left me really eager for the sequel, The Dragon's Promise, out later this year.
As a bonus, I loved how much Shiori loves food, and all of the fun foodie descriptions in this book. Shiori learned to cook from her mother and enjoys it because it makes her feel close to her mother's memory, and finds herself working in kitchens and connecting with other characters through food. This book made me hungry while reading, and I would love nothing more than to order a feast of the food mentioned in this book! Consider yourself warned!
Don't forget you can get three free audiobooks at Audiobooks.com with a free trial!
Happy reading!
Tirzah
---
Find me on Book Riot, Hey YA, All the Books, and Twitter. If someone forwarded this newsletter to you, click here to subscribe.