Sponsored by HarperCollins Children's Books.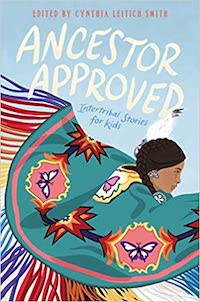 Now in paperback! Sixteen storytellers. One intertribal powwow. In Ancestor Approved, Native kids are the heroes of their own stories. This collection of intersecting stories by both new and veteran Native writers bursts with hope, joy, resilience, the strength of community, and Native pride.
Welcome to Check Your Shelf. I'm starting this issue with a couple of important links that I don't want to get lost in the general newsletter chaos. First off, the Craighead County Jonesboro Public Library in Arkansas needs your public support in opposition to the hateful comments they've received since refusing to remove certain books from their shelves.
Also, for any libraries who are currently facing active book challenges and wondering how on earth to address the community, you may want to take a look at the statement that the director of the Cozby Library and Community Commons in Coppell, Texas made. It's clear, direct, and cites library policy as well as state and federal law. It's an excellent example to reference if you're trying to draft your own response.
And now, on to the newsletter.
---
Libraries & Librarians
News Updates
The Saint Charles (IL) library has reopened for in-person visits after receiving threats towards its staff over the library's mask policy.
Maryland lawyers say that the state's eBook law is a defense of public libraries. Meanwhile, here's an update on the nearly three hour hearing that took place on February 7th.
A former High Plains Library District (CO) employee says that she was fired after blowing the whistle on library policy changes that were used to cancel or modify diversity-focused programming. The district denies the claims.
Multiple books in the Bethlehem Public Library (NY) have been defaced with political stickers.
Cool Library Updates
Tulsa City-County Library (OK) has hired its first diversity officer.
Worth Reading
Libraries are more popular than ever, but library workers don't earn livable wages. (Ain't that the truth…)
How are libraries recognizing Black History Month?
Avoid library information overload for students with video tutorials.
How to set up a green screen on a budget.
Book Adaptations in the News
The film Drive My Car, which is based on a short story by Haruki Murakami, is officially the first Japanese film to ever score an Oscar nomination for Best Picture.
Fantasia Barrino is reprising her role as Celie in the upcoming film musical adaptation of The Color Purple.
Tracy Deonn's Legendborn is being adapted for TV.
Sarah Vaughan's book Reputation will be adapted for TV.
Scott Turow's best-selling legal thriller Presumed Innocent is being reimagined as a TV series from J.J. Abrams.
J.J. Abrams is also adapting Stephen King's Billy Summers as a limited series.
All the Secrets of the World by Steve Almond is being adapted for TV.
Raymond E. Feist's Riftwar Cycle is being adapted for TV.
The trailer for Season 4 of Killing Eve is here!!
The first teaser trailer for Lord of the Rings: The Rings of Power will air during the Super Bowl.
Buzzfeed and Vulture have lists of book-to-screen adaptations coming in 2022.
8 SFF books that deserve a screen adaptation.
Make sure to get your own Read Harder Book Journal from Book Riot to track your reading for the year!
Banned & Challenged Books
The network of suburban moms trying to stop book bans.
Meet the moms of color from Texas fighting book bans at their kids' schools.
Why the fight against book bans needs more than book donations.
How to use FOIA to uncover book challenges.
We Need Diverse Books has started a grant for educators teaching diverse stories.
The Texas book ban has prompted school librarians to launch the #FReadom Fighters social media campaign.
A push to remove LGBTQ books in one Texas county could signal rising partisanship on school boards.
The Carroll ISD (TX) has officially reversed their reprimand of a fourth grade teacher for carrying the book This Book is Anti-Racist in her classroom library.
How the Granbury ISD (TX) became a focal point in the battle over Texas book censorship.
A Texas parent demanded that the Katy ISD (TX) remove a biography of Michelle Obama, saying that it unfairly depicted Donald Trump as a bully and would make white girls feel "ashamed." The school district, however, does not plan to remove the biography.
Texas State representative Jared Patterson is single handedly targeting Prosper ISD, demanding that over 80 books be removed from the district.
"If they can ban Maus, no work is safe:" The Comic Book Legal Defense Fund blasts the recent censorship in Tennessee.
Meanwhile, the McMinn County Board of Education defended the ban, saying the work was unsuitable due to profanity and "depictions of nude mice."
Advocates say that a new Tennessee House bill designed to remove certain "obscene" books from schools unfairly targets LGBTQ+ books.
A right-wing pastor in Tennessee held a literal book burning last week.
The Kent School District (WA) issued a statement about two challenged library books that are currently under review: Jack of Hearts (and Other Parts) and If I Was Your Girl.
Books under fire in Walla Walla, Washington: how to support the school board's decision.
Several Ridgeland (MS) citizens filed complaints about a display of new books at the public library, including The Queer Bible by Jack Guinness and As a Woman: What I Learned About Power, Sex, and the Patriarchy After I Transitioned by Paula Stone Williams. The complaints said that the display amounted to a political statement from the library.
Furries are leading the war against a book-banning Mississippi mayor.
That same Mississippi library raised nearly $80,000 just 8 days after the mayor denied funding.
St. Louis groups launch a "banned book program" to distribute challenged books.
The Indiana State Senate passed a controversial bill regarding "harmful material for minors."
Carmel Clay Schools (IN) have moved or removed multiple titles from their elementary and middle school libraries.
A Virginia bill mandating parental notice before sexually explicit lessons advanced out of committee.
The move to ban the 1619 Project from South Carolina classrooms will only harm future generations.
Wake County (NC) school librarians defend the LGBTQ books that some parents want removed.
Forsyth (GA) County Schools remove 8 books that they say are inappropriate for children, including The Bluest Eye, All Boys Aren't Blue, Out of Darkness, and Juliet Takes a Breath.
16 books were removed from Polk County (FL) school libraries after facing objections from a conservative group. The books include Beloved, Two Boys Kissing, The Kite Runner, Nineteen Minutes, and Drama.
Pinellas County (FL) students are petitioning to have Gender Queer returned to two school libraries.
Florida may pass a bill that would ban discussions of all sexual orientation and gender identity in schools.
The Manheim Central (PA) school board hears concerns over book bans.
The Kutztown (PA) school board votes to keep Gender Queer in the high school library.
Some Stamford (CT) parents are protesting the book The Pants Project by Cat Clarke, saying that the book about a transgender child is inappropriate for 3rd graders.
The Auburn (NY) school district will review the book All Boys Aren't Blue after receiving formal complaints.
Baldwinsville (NY) parents are calling for the removal of books such as The Handmaid's Tale, All Boys Aren't Blue, and All American Boys.
All American Boys sparked a debate at a Tiverton School Committee meeting in Rhode Island.
The York (ME) School Board voted unanimously to keep the book It's Perfectly Normal in the middle school library.
Campbell County (WY) is still working through their list of nearly 50 challenged books, although they recently voted to keep three books in the teen section.
A former member of the Anchorage (AK) Youth Advisory Commission says that the commission is conducting a behind-the-scenes crusade to censor LGBTQ authors from the Anchorage Public Library, under the direction of the extremely conservative administration.
LGBTQ books are being banned, but their authors are fighting back.
"Dangerous and cruel:" YA authors say unprecedented book bans hurt kids the most.
What's it like to be the target of a book banning effort?
As the right censors public libraries, families are forming banned book clubs.
Students, your school can't stop you from knowing Black history.
Read the books that schools want to ban.
Which books belong in a school library? All of them, of course.
Efforts to ban critical race theory could restrict teaching for a third of America's kids.
What book censorship looks like outside of the US.
Books & Authors in the News
Celebrated children's illustrator and author Ashley Bryan has died.
HarperCollins Children's Books will publish a newly discovered Paddington story.
Why a sudden interest in Black authors doesn't feel like a victory.
Numbers & Trends
The most popular in-demand books in US libraries, October – December 2021.
Are diet books becoming less popular in America?
Award News
The inaugural winners of the Science + Literature awards have been announced.
The 2022 Dylan Thomas Prize longlist has been announced.
On the Riot
So you want to work in a library: back of house edition.
The world of YA book covers.
Assigned books in high school didn't discourage this student from reading.
Why you should rearrange your bookshelves.
How to make a junk journal. (I LOVE, LOVE, LOVE junk journals!)
Don't forget to check out our new line of bookish, Wordle-inspired merch! There are mugs, t-shirts, hoodies, and more. The campaign is temporary, so order yours now!
Don't forget you can get three free audiobooks at Audiobooks.com with a free trial!
---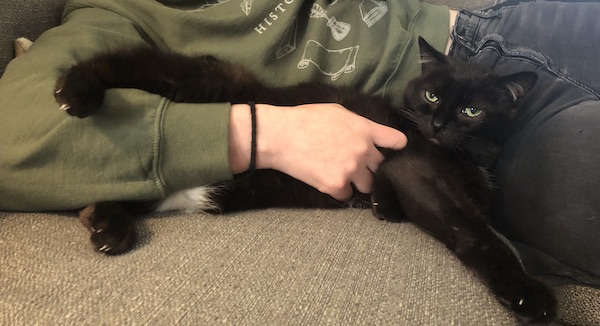 Gilbert has 0 shame. If he's snuggling next to you, he will wrap his back legs around your arm so that you're forced to give him tummy rubs. "Behold my lack of shame," he says as he settles in for a long winter's snuggle.
That's all I've got for this week. I'm going to go hide under something this weekend and hopefully emerge on Monday somewhat rejuvenated.
—Katie McLain Horner, @kt_librarylady on Twitter.