Sponsored by the audiobook of IN THE SHADOW OF THE MOUNTAIN.
In The Shadow of The Mountain, written and read by Silvia Vasquez-Lavado, traces her emotional journey to Mount Everest. Vasquez-Lavado was deep in the throes of alcoholism, hiding her sexuality, and repressing memories of childhood abuse. Then she started climbing. She took her pain to Everest. But Silvia didn't go alone. She gathered a group of young female survivors and led them to base camp alongside her. In the Shadow of the Mountain is a remarkable story of heroism, one which awakens in all of us a lust for adventure, an appetite for risk, and faith in our own resilience.
Hello, audiophiles!
This past week, I ended up at the dentist two days in a row. Before the hygienist started working on my teeth, I explained that I have anxiety around the dentist and could I PLEASE just listen to an audiobook while she worked? "Of course!" she said. Audiobooks save the day once again!
I still have to go back in a couple weeks, but until then, I'll keep managing my anxiety with plenty of listening time while taking the Corgis to the dog park. Gwen has fully recovered from her spay, so she's loving chasing her friends around the dog park. She especially loves it when the park is muddy. She comes home with her undercarriage matted with mud. But she's had the time of her life and I guess that's what is most important, right?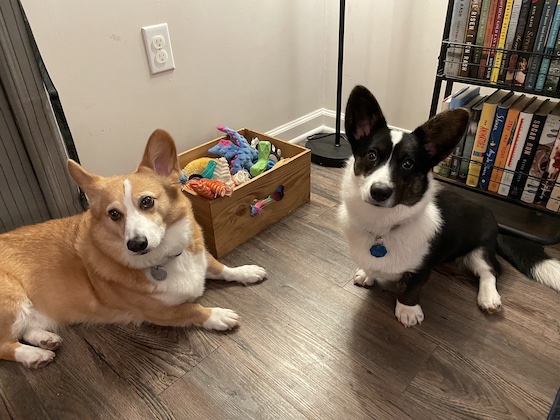 Recent Listens
I've been listening to a ridiculous number of audiobooks lately, so here are a few of my recent favorites.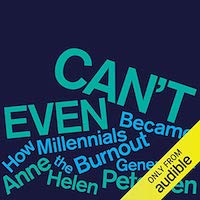 Can't Even by Anne Helen Petersen and Wintering by Katherine May
At the end of December, I started a medical leave after my podcast Reading Women ended our six year run. Almost immediately, my disabling chronic illness completely took over, and I've been trying to rest and recover ever since. Naturally, I began to read ALL of the things, including Can't Even: How Millennials Became the Burnout Generation by Anne Helen Petersen and Wintering: The Power of Rest and Retreat in Difficult Times by Katherine May.
Can't Even re-assured me that my experience was not unique. Even before the pandemic, millennials were beginning to burn out, our expectations of a star-studded future winking out in spectacular fashion. While Can't Even gave me stats and all the practical reasons why people burn out, Wintering reminded me that taking time to rest and recover has always been a natural part of life. I write a little more about these books over on Winchester Ave.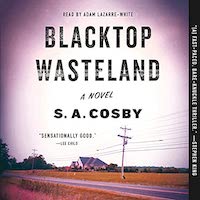 While I enjoy the occasional nonfiction book to give me a better perspective on my life, I found myself reaching for more genre fiction than I have in years. I might be VERY late to this party, but I LOVED Blacktop Wasteland by S.A. Cosby. The story grips you from the first few pages, and I found myself making up more chores for myself to do so I could keep listening. I ended up listening to the entire novel last Saturday and immediately picked up Cosby's second novel Razorblade Tears (which Roxane Gay said was her favorite book of the year!).
Adam Lazarre-White performs both Blacktop Wasteland and Razorblade Tears, and he's definitely become a new favorite. The South is such an important part of both stories, and Lazarre-White captures such a wide range of Southern dialects with his performance. I have already insisted that my spouse needs to listen to both of them ASAP. They are just THAT good.
Make sure to get your own Read Harder Book Journal from Book Riot to track your reading for the year!
Audiobook Apps I Can't Live Without
We've talked about library apps and audiobook subscriptions, but what if there was an app that was a little bit of both? Meet Scribd, a subscription service that gives you access to a library full of ebooks, articles, sheet music, documents, podcasts, and audiobooks. And at $9.99 a month, Scribd is an affordable option for folks without access to a public or school library to have access to a wide range of books.
I've subscribed to Scribd since 2017, and love that it gives me access to dozens of audiobooks. While I use the app just for its audiobook collection, many of my friends love reading Scribd's ebooks on their tablets. If I can't find the audiobooks I'm looking for on Overdrive or Hoopla, I always check Scribd next.
The app itself is full of great features. Scribd allows you to save your favorites, making it easy for you to come back and find them later.The player interface is easy to maneuver, and gives you percentage finished updates as you listen or read through your books.
But while Scribd has an incredible selection of audiobooks, there is a layer of mystery around what books are available when. Sometimes when I log in, I notice that some books aren't available until my subscription renews. I can only assume this has to do with rights issues, but no matter how much I experiment, I can't figure out exactly what is going on with that (I'm happy to listen to any little birdies that might have more info).
What do you think of Scribd? Does the frustration of a rotating selection of audiobooks outweigh the low cost for you? Please share your thoughts with me at kendra.d.winchester@gmail.com.
Over on Book Riot
"Listening Pathways: Richard Armitage's Audiobooks" – Rioter Carolina Ciucci shares some audiobooks performed by a legendary voice.
"9 Romance Audiobooks for Valentine's Day" – I share some of the most delightful listens if you are looking for romance.
"The American Library Association Names the Best YA Audiobooks of 2022" – The Young Adult Library Services Association (YALSA), a division of the American Library Association (ALA), announced its 2022 Amazing Audiobooks for Young Adult Readers list.
Don't forget to check out our new line of bookish, Wordle-inspired merch! There are mugs, t-shirts, hoodies, and more. The campaign is temporary, so order yours now!
Around the Web
"Quiz: Black History Month Audiobook Picks with Marcus Books" (Libro.fm)
"Editor's Select: February" (Audible) – Audible editors choose their favorite titles of the month. They even write little shelf talkers to go with each pick!
"AI Influence on Audiobooks Grows—As Does Controversy" (Publisher's Weekly) – Another update about potential AI narrators for audiobooks
Don't forget you can get three free audiobooks at Audiobooks.com with a free trial!
---
That's it for this week! You can find me over on my substack Winchester Ave or over on Instagram @kdwinchester. As always, feel free to drop me a line at kendra.d.winchester@gmail.com. For even MORE audiobook content, you can find my articles over on Book Riot.
Happy listening, bookish friends!
~ Kendra