Sponsored by Harper Perennial, publisher of BEAUTIFUL LITTLE FOOLS by Jillian Cantor.
"Jillian Cantor beautifully re-crafts an American classic, placing the women of The Great Gatsby center stage: more than merely beautiful, not so little as the men in their lives assume, and certainly far from foolish." —Kate Quinn. USA Today bestselling author Jillian Cantor reimagines and expands on the literary classic The Great Gatsby in this atmospheric historical novel with echoes of Big Little Lies, told in three women's alternating voices: Daisy Buchanan, Jordan Baker, and Catherine McCoy. Jillian Cantor revisits the glittering Jazz Age world of F. Scott Fitzgerald's The Great Gatsby, retelling this timeless American classic from the women's perspective.
Welcome to Read This Book, a newsletter where I recommend one book that I think you absolutely must read. The books will vary across genre and age category to include new releases, backlist titles, and classics. If you're ready to explode your TBR, buckle up!
This week's pick is a slick thriller that will leave you guessing and gasping, and had me on the edge of my seat because no one—and I do mean no one—was safe from this author! Content warning for murder/violence, poisoning, stalking, and gaslighting.
Make sure to get your own Read Harder Book Journal from Book Riot to track your reading for the year!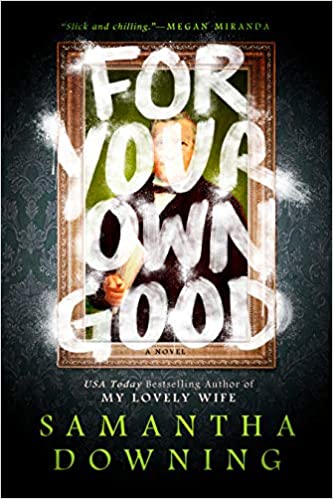 Teddy Crutcher is Teacher of the Year at Belmont Academy, and if you ask he'd say he's motivated by his students. He wants to teach them about more than just English. He wants to see them succeed. What very, very few people realize is that Teddy's tactic for teaching his students a lesson can be rather unconventional at times. But Teddy sees it as part of his job, going above and beyond to prepare his students for the real world, and well, the real world isn't always fair or kind, so why should he be? The last thing Teddy expects is a series of mysterious deaths at Belmont to throw an uncomfortable spotlight on the school, which comes dangerously close to exposing his secrets.
This is a real rollercoaster ride of a book (and my first Downing book, as recommended to me by my All the Books co-hostess with the mostest book recs, Liberty Hardy!) and it kept you guessing. Teddy Crutcher is such a great villain because he totally and completely believes that he's within his rights to mess with people's lives and that he's doing what's best for the students, even if he's actively ruining futures and hurting people along the way. We also get to see the viewpoints of other characters—teachers, students, former students—and their differing perceptions of Teddy and the events unfolding at the school, which offers a wild take on how a few small actions by one person can snowball into an epic mess. This is a thriller where I genuinely didn't know where it would lead (and sometimes I didn't even know who to root for) but it was so cleverly put together that I couldn't stop reading. If you want to escape your life for a bit and read about some people behaving very badly (and sometimes getting what's due to them, but not how you expect) and you want to be surprised, pick up this book.
Bonus: I listened to the audio, narrated by David Pittu, and it was great!
Don't forget you can get three free audiobooks at Audiobooks.com with a free trial!
Happy reading!
Tirzah
---
Find me on Book Riot, Hey YA, All the Books, and Twitter. If someone forwarded this newsletter to you, click here to subscribe.