Sponsored by Marion Lane and the Deadly Rose by T.A.Willberg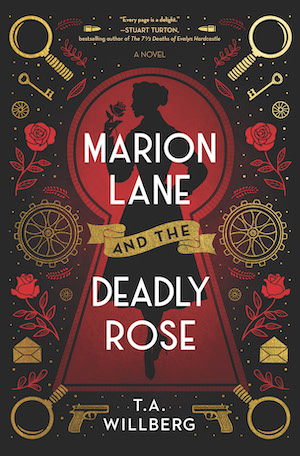 tk
Read an Excerpt From the First Novel of Phoebe Robinson's New Imprint
Comedian, producer, and author Phoebe Robinson launched her new imprint Tiny Reparations Books this past fall with her essay collection Please Don't Sit on My Bed in Your Outside Clothes. This week, the imprint has released its first novel, What the Fireflies Knew, a debut from Kai Harris. Curious? You can read an excerpt from the novel right now. Tiny Reparations Books is a part of Plume Books and Penguin RandomHouse.
Adaptation of The Temperature of Me and You in the Works for Disney+
Former studio executives Foster Driver and Zoe Kent are adapting LGBT-themed sci-fi YA novel The Temperature of Me and You for Disney+ via their newly launched Driver+Kent Media. Alden Derck will pen the adaptation, which is intended to be a series. Public health advocate and researcher Brian Zepka's debut novel The Temperature of Me and You tells the story of 16-year-old Dylan who works at a Dairy Queen in the suburbs of Philadelphia. His life changes forever when a cute boy named Jordan walks into his life. As Jordan and Dylan start spending more time together, Jordan forced to reveal his out-of-this-world secret. The novel will hit shelves on January 25th.
Stephen King's Billy Summers Gets Limited Series Adaptation from JJ Abrams
J.J. Abrams will produce an upcoming limited series adaptation of Steven King's Billy Summers. Billy Summers is a crime thriller that focuses on the title character, a retiring hitman who takes on one last job that requires him to reside in a quiet town under the presumption that he is a writer working on a new story. But his target is also a hitman, claiming to have information that could incriminate whoever hired Billy. Ed Zwick and Marshall Herskovitz will adapt the novel, with Zwick directing the episodes.
How Does the Harlem Renaissance Resonate 100 Years Later?
The Harlem Renaissance period was a full century ago. How, after all this time, do the writings of this period still resonate today?