Sponsored by Book Riot's Christmas romance prize pack giveaway!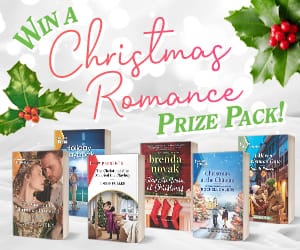 Book Riot is teaming up with Harlequin.com to give away the ultimate Christmas romance prize pack that includes the following titles: Holiday Playbook by Yahrah St. John, Christmas at the Chateau by Rochelle Alers, The Christmas She Married the Playboy by Louise Fuller, A Merry Christmas Date by Syndi Powell, Keep Me Warm at Christmas by Brenda Novak, The Viscount's Christmas Proposal by Carol Arens.
Welcome to the Kissing Books newsletter. I hope your spirit is doing well. I'm P.N. Hinton, your companion through the world of romance. Whether this is your first time or you're a regular, I'm glad to have y'all here.
So, last week, I decided to treat myself and get a week-long wine advent calendar. The reason it was only a week was because I didn't even know about them until eight days into December and, while the idea of playing catch up seemed fun, I also had trouble finding one that could be delivered. Next year, though I'm going to plan ahead for the bigger box.
I finished Hang the Moon this week and also saw Love Hard which, while mostly okay, I didn't enjoy as much as Single All the Way.
Romance Reflection
Since this is the last Kissing Books newsletter of the year, I'm switching things up with a quick non-romance reflection. Tomorrow is Christmas Eve which can be daunting for many reasons. It's interesting how the excitement of that day has changed as I've gotten older. As a kid, you're practically shaking with excitement knowing that Santa Claus will be headed your way later that night and that you get to open all the presents that have been teasing you from underneath the tree. You make sure to leave cookies for Santa (and apparently in some areas, carrots for his reindeer) and try to stay awake to hear him on the roof.
Now, as an adult and/or the parent who stays awake until well after midnight putting together gifts, the magic may not feel like it's there anymore. That can be a bitter pill to swallow, especially due to the events of the few years.
But the magic is still there. The difference is instead of being the magic receiver, you're the magic giver. You help to contribute to the squeals of joy Christmas morning. I remember the joy on my niece's face when she saw her Ariel kitchen when she was much younger, and my son a few years ago when he got his first bike. For me, those moments of pure unadulterated joy more than make up for the long nights and stress of holiday shopping.
Book Riot Romance
Here are some New Year's Eve romance recommendations, courtesy of Rioter Carolina. (Keep eye out for my own recs the first week of January).
I don't know about y'all, but Jessica's romance bookstore/coffee shop sure sounds tempting. (insert 'I want to go to the there' Tina Fey gif)
Around the Web in Romance
Here's Buzzfeed's list for the Best Romances of 2021.
Noted activist and feminist bell hooks, who sadly passed away last week, was a huge fan of romance and read two Harlequin novels a day.
Okay this is sweet. Like this is really, really sweet.
Here are 16 African romance novels that will surely spark joy.
Here we go again with this old chestnut. The thread on it is very groan-inducing so be forewarned. That said, the one thing that did give me pause was the OP going, "My friends who love romance read it and didn't say anything about it not being romance" to which I say either your friends aren't true romance readers or you have crappy friends because they didn't prepare you for this blowback.
Don't forget you can get three free audiobooks at Audiobooks.com with a free trial!
Recommendations
Sunday is the first day of Kwanzaa, which is a holiday that originated in America and is now observed in many different locations. I wrote this article on books about Kwanzaa earlier this month for Book Riot if you want to give it a read and there are a few recommendations as well.
That said, you'll notice that romances were not included, which is something I will make up for here. While Kwanzaa romances, like Hanukkah ones, may not be as well-known or widespread as Christmas ones, they are still out there to be had. And here are a few that may spark your interest to read over the course of next week.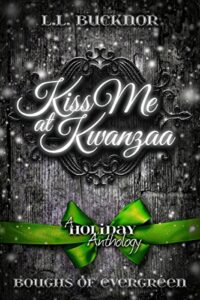 Ish and Adan aren't just cubicle neighbors; they're also both harboring a crush on each other. And this year both of them are single, which leads Adan to make his move and invite Ish over for Karamu. When Ish accepts, Adan hopes that he has the courage and follow-through to make the first move and make this a memorable holiday for both men.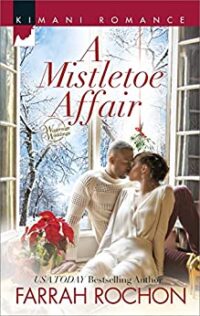 Shy floral designer Vicki finds herself in an unexpected situation when she falls for her best friend's divorced brother, Jordan. A successful political strategist, Jordan finds himself in a position he never expected to be in; a divorced single dad to Mason. When it turns out that Vicki has a way of connecting with Mason, the two adults find themselves around each other more often. Will they find love this Kwanzaa season or will a political scandal end it before it has even begun?
This short story is about Grant and Will, two men who have a run in courtesy of a broken down elevator. As the men sit and wait to be rescued, they begin talking which leads to discussion of Grant's Kwanzaa plans. As their attraction is noticeable, Will decides to take a chance and join Grant and his family for Karamu that night, opening the door to not only celebrating a new holiday but finding a new love.
---
And that's all I have for you. Whether you observe Christmas, Kwanzaa, both, or neither, I hope that this weeked is amazing for you. I will be back Monday with your latest romance news and, while I don't know how much I'll be tweeting over the holiday weekend, you can always give me a follow under @PScribe801. Until next week!