Sponsored by Amazon Original Stories.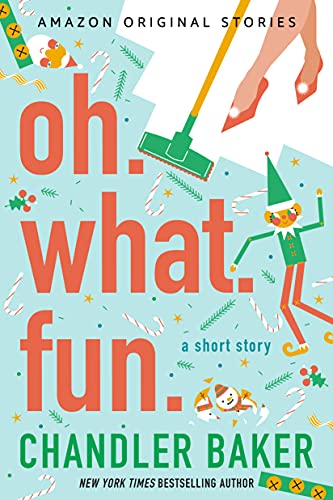 The kids are coming home for the holidays and they're in for a jingle bell shock. For Tyler, Channing, and Sammy, home has always been filled with holiday magic courtesy of their mom, Claire. But this year, when the three kids descend on their childhood home with significant others and kids in tow, something seems a little off-key—and it's not just the carols. From bestselling author Chandler Baker comes a laugh-out-loud new short story for any mom who'd rather wreck the halls than deck them. Prime members read and listen to Oh. What. Fun. for free.
Welcome to Check Your Shelf. Because of how the calendar falls, this will be my last newsletter for the year! (I know, I'm still in denial that 2021 is that close to the end.) I know better than to make predictions for what 2022 will look like, but I'm going to try and enjoy the last week and a half as much as I can. (And in order to do that, I'm going to try and keep my Twitter usage to a minimum.) I encourage everyone else to do the same!
And with that, let's make this last 2021 newsletter a good one.
---
Collection Development Corner
Publishing News
Penguin Random House fires back at the DoJ's effort to stop its Simon & Schuster purchase. Meanwhile, an August 1st trial date has been set for the DoJ case against PRH.
Politics and Prose bookstore employees move to unionize.
John Legend and his entertainment team will publish books at Zando.
The publishing world is finally embracing Black cookbooks.
New & Upcoming Titles
Elizabeth Olsen and her husband Robbie Arnett are writing a kids' book about self-care.
Lockdown inspired Patricia Cornwell to bring back Kay Scarpetta.
Alanis Morissette, Diablo Cody, and YA author Eric Smith help adapt the Jagged Little Pill musical into a YA novel.
Facebook whistleblower Frances Haugen has a book deal.
Sloane Crosley is set to release two new books.
Here's a first look at Karen M. McManus' latest dark campus thriller, Nothing More to Tell, which comes out in August.
First look at Alice Feeney's upcoming thriller, Daisy Darker, out in August.
Cover reveal for Norman Reedus's debut novel, The Ravaged.
Holly Black reveals the cover for her debut adult fantasy novel, Book of Night.
Here's a first look at Marlon James' upcoming novel, Moon Witch, Spider King.
Read the first excerpt from Jennifer Egan's The Candy House, a companion novel to A Visit From the Goon Squad.
And here's an excerpt from one of my most-anticipated novels of 2022: Manhunt by Gretchen Felker-Martin.
Barack Obama shares his favorite books, movies, and music from 2021.
Weekly book picks from USA Today.
Best books of 2021 from Autostraddle, Book Page (reader's choice), Booklist, Crime Reads (debuts, historical mysteries, espionage, international crime novels, noir fiction), Electric Lit (poetry, short story collections, nonfiction, novels), Entertainment Weekly (romance), The Guardian (nonfiction, cozy mysteries), LitHub (fiction, mystery/crime fiction, nonfiction), New York Times (critic's choice, cookbooks), New Yorker, People, Popsugar, Sun Sentinel (mysteries), Time (fiction), Tor.com, and Vulture.
Kirkus lists its 100 favorite YA books of 2021, along with a ton of other best-of YA lists, including best fiction, best mysteries/thrillers, best fantasy & science fiction, best romance, best nonfiction, best graphic novels, best historical fiction, and best biography & memoir.
Most anticipated 2022 titles from Bustle, Buzzfeed (mysteries/thrillers), Epic Reads (YA), Time, and Tor.com.
15 books by Latinx authors coming out in 2022 that you need to put on your radar.
What Your Patrons Are Hearing About
The Fortune Men – Nadifa Mohamed (New York Times, Oprah Daily, Washington Post)
Bright Burning Things – Lisa Harding (Shondaland, Washington Post)
All About Me! My Remarkable Life in Show Business – Mel Brooks (Washington Post)
RA/Genre Resources
5 reasons why the holidays are the perfect time to read some romance.
On the Riot
The best weekly releases to TBR.
20 must-read picture books from 2021.
Best children's books of 2021.
December is for comfort reading.
How to set the mood for reading every genre.
On tearjerkers and tragedies: the importance of a good story.
How does Asian historical fiction depict the pain of women?
Genres to read to expand your culinary horizons.
World War II stories and the proliferation of historical fiction.
All Things Comics
Leigh Bardugo announces the first-ever Grishaverse graphic novel: Demon in the Wood, a prequel to Darkling.
Brian K. Vaughan and Fiona Staples preview Saga's return.
The 10 best YA comics, ranked.
On the Riot
BTS releases a teaser trailer for their new webcomic/webnovel.
2022 comics and graphic novels to add to your TBR.
The best story arcs from manga's golden age.
9 manga like Attack on Titan for when you've finished the series.
Audiophilia
Mara Wilson will be narrating the audio version of One For All by Lillie Lainoff.
Best audiobooks of 2021 from Audiobooks.com and Slate.
An audio gift guide for every reader/listener.
Should celebrities narrate their audiobooks?
On the Riot
10 great audiobooks for families.
Don't forget you can get three free audiobooks at Audiobooks.com with a free trial!
Book Lists, Book Lists, Book Lists
Children/Teens
5 YA SFF novels where compassion is strength.
Feel-good YA novels for the holiday season.
Adults
7 books to read to honor bell hooks's legacy.
5 Indigenous authors to read right now.
7 daring epistolary novels that push literary boundaries.
10 romances to read after finishing The Hating Game.
Titles that are trending on BookTok right now.
32 spellbinding books about witches.
14 books set in the 1980's.
10 books to read while waiting for Station Eleven.
On the Riot
Count on us: 16 inspiring math books for kids.
12 romantic Korean YA novels you don't want to miss.
8 seriously creepy and unsettling book covers.
12 diverse holiday romance books to enjoy the winter season.
10 queer fantasy romances to warm your cold, cold heart.
Bundle up with these snowed-in romances.
8 queer readalikes for your favorite love stories.
10 absolutely gripping books to read in the new year.
10 thrillers set in space, where no one can hear you scream.
20 of the best award-winning horror novels.
Level Up (Library Reads)
Do you take part in Library Reads, the monthly list of best books selected by librarians only? We've made it easy for you to find eligible diverse titles to nominate. Kelly Jensen created a database of upcoming diverse books that anyone can edit, and Nora Rawlins of Early Word is doing the same, as well as including information about series, vendors, and publisher buzz.
---
Peace out, everyone. Catch you in '22!
—Katie McLain Horner, @kt_librarylady on Twitter.