Sponsored by Lerner Publishing Group.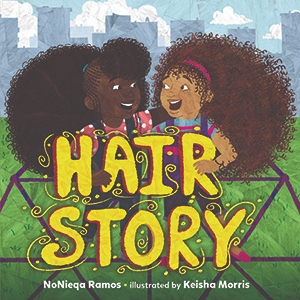 With rhythmic verse, this picture book follows two girls—one non-Black Puerto Rican, one Black—as they discover the stories their hair can tell. Preciosa has hair that won't stay straight, won't be confined. Rudine's hair resists rollers, flat irons, and rules. Together, the girls play hair salon! They take inspiration from their moms, their neighbors, their ancestors, and cultural icons. They discover that their hair holds roots of the past and threads of the future. With rhythmic, rhyming verse and vibrant collage art, author NoNieqa Ramos and illustrator Keisha Morris follow two girls as they discover the stories hair can tell.
Welcome to Check Your Shelf. I am happy to report that the big decision I alluded to in last Friday's newsletter has ended up being a positive one, and though I'm still unable to report on the specifics, I would just like to spread a general sense of relief and good cheer. I feel like good cheer has been hard to come by recently, so I'm leaning into this as much as I can!
So let's library!
---
Libraries & Librarians
News Updates
The Association of American Publishers sues to block the recent Maryland and New York library eBook laws.
Publishers Weekly's Top 10 library stories of 2021.
Cool Library Updates
The Charlotte Mecklenburg Library in North Carolina will begin distributing 20,000 free, refurbished laptops to Mecklenburg County adults who do not have their own home computers.
The Library of Congress announced its 2021 additions to the National Film Registry.
Worth Reading
The American prison system's war on reading.
Is my little library contributing to the gentrification of my Black neighborhood?
Book Adaptations in the News
Wattpad partners with ViacomCBS to adapt stories to streaming.
Henry Golding is starring in a series adaptation of Dean Koontz's Nameless series.
Sophie Kinsella's YA novel Finding Audrey is being developed into a film.
The team behind Gossip Girl is adapting the Sweet Valley High books.
Catherine Raven's Fox & I: An Uncommon Friendship has been optioned for film.
Michelle Zauner's memoir Crying in H Mart will be adapted for film as well.
A couple casting updates for Mike Flanagan's adaptation of The Fall of the House of Usher, including regular collaborators Kate Siegel, Henry Thomas, and Rahul Kohli, and new-to-the-Flanagan-crew actors Mark Hamill and Frank Langella.
Banned & Challenged Books
School Library Journal has started a library censorship tips hotline.
How your library can support comprehensive sex education and fight censorship.
Over 600 authors, publishers, and organizations came together to condemn the ongoing book ban attempts.
The School Library Systems Association of New York State issued a statement on the recent censorship attempts.
Kansas and Missouri lawmakers slam school boards as curricula fights head to statehouses.
Kirkwood, MO parents raise concerns about the books made available to students, including The Handmaid's Tale, The Perks of Being a Wallflower, Looking for Alaska, and Crank. However, one parent in opposition to removing the books had this fantastic quote: "I have watched with growing concern how the insidious combination of fear enmeshed with inaccurate information can be to a community, and how it motivates people to revert back to toddler-like behavior."
Georgia GOP leader backs "obscenity" legislation that echoes what she once opposed.
Hamilton County (TN) School Board chair proposes a committee to review students' books, which receives bipartisan support.
Manawa (WI) School District voted unanimously to keep Looking For Alaska in the school library.
Controversial Flagler (FL) school board member Jill Woolbright applauds the superintendent's decision to keep All Boys Aren't Blue off school shelves.
Keller ISD (TX) appeared to violate its own policies by removing several books from library shelves without a formal review process, including Panic, Jack of Hearts (and Other Parts), Infinity Reaper (Infinity Cycle 2), Flamer, L8r, g8r, and Gender Queer.
Katy ISD (TX) asks parents to report concerns on "pervasively vulgar" library books.
The division over LGBTQ+ books and websites continues at Katy ISD.
A look at the books that Leander ISD (TX) has banned from school libraries.
The fate of 21 contested books at the Victoria Public Library (TX) will be decided on December 15th.
"I am appalled:" Locals react to North East ISD (TX) removing over 400 books from library shelves for review. The school district also plans to remove or relocate 75 titles.
Finally, a victory! Gender Queer has been returned to Canutillo (TX) High School library shelves.
A commentary on what happened when Spring Branch ISD (TX) banned The Breakaways for the presence of a trans character, but elected to keep Drama by Raina Telgemeier on the shelves, despite the story containing LGBTQ content as well.
A new, more restrictive critical race theory law is now in effect for Texas schools.
This is a shakedown: Texas has a book banning problem.
A new ebook from Utah Library Advocates tackles the book censorship issue in schools.
Gender Queer has been pulled from Ankeny (IA) school libraries.
The Iowa Library Association shares concerns about efforts to remove books from libraries.
With the help of a school board member's husband, parents in Laramie County, Wyoming push back against mask mandates and school library books.
The Spotsylvania (VA) Sheriff's Office and fire department will maintain a presence at the December 13th School Board meeting in response to a local book burning event that was posted, and then removed from, Facebook.
A North Dakota school superintendent slams critical race theory and calls to teach "Christian heritage."
A score of local librarians and parents arrived in full force to the York (ME) town School Committee meeting to oppose an attempt to have It's Perfectly Normal removed from the middle school library.
The Paradise Valley School Governing Board (AZ) unanimously votes to end their contract with a high school principal following controversy over the book So You've Been Publicly Shamed being used for an AP English reading assignment.
Some parents and community activists are calling for criminal charges to be filed against the Wake County (NC) School System for distributing inappropriate books. The books in question are Gender Queer, All Boys Aren't Blue, Melissa, and Lawn Boy. Gender Queer has been pulled from the Wake County Public Libraries as well.
Meanwhile, a Black mother in North Carolina reported that her daughter checked out the book A Redneck Night Before Christmas from her school library, which included Santa carrying a toy sack with a Confederate flag on the side. Several of these Confederate flags were also covered up with Post-It notes.
What it's like to have your book banned by the school board.
Black parents say that the movement to ban critical race theory is ruining their children's educations.
What's one more deadly school shooting when the real danger to kids is a book?
An authoritarian push to ban books and punish teachers.
What do masks, library books, critical race theory, and transgender rights all have in common?
The hate we give: A plea for help and recognition is instead held down.
Censoring books is another form of minority erasure.
Don't forget you can get three free audiobooks at Audiobooks.com with a free trial!
Books & Authors in the News
Anne Rice, legendary author of Interview With the Vampire, has died at age 80.
Trailblazing Black feminist author bell hooks has died at age 69.
Andrew Cuomo has been forced to forfeit the earnings from his pandemic memoir, American Crisis. The total is an estimated $5.1 million.
"Alice Sebold's Lucky and the problem with memoirs with happy endings."
Award News
Meet the winners of the 2021 Goodreads Choice Awards!
Patrick Radden Keefe, author of Empire of Pain: The Secret History of the Sackler Dynasty, has chosen to donate the £10,000 he won as a shortlisted author for the McKinsey Book of the Year Award, since McKinsey advised the Sacklers and Purdue on how to "turbocharge" sales of Oxycontin, and paid $600 million to settle lawsuits over their role in the opioid crisis.
The 2022 PEN America longlists have been announced.
The Golden Globe nominees have been announced, although the awards will not be televised due to the ongoing controversies surrounding the Hollywood Foreign Press Association.
Pop Cultured
Kristen Bell is starring in a new Netflix psychological suspense parody series called The Woman in the House Across the Street from the Girl in the Window.
Everything you need to know about Season 2 of Only Murders in the Building.
Bookish Curiosities & Miscellaneous
A portion of the Gilgamesh tablet has been returned to Iraq.
On the Riot
How to evaluate news sites and spot fake news.
10 great middle grade books coming to the screen soon.
Being an author: expectations vs. reality.
An inconsistent grading of way too many Beanie Baby tag poems.
---
Did you like that last item? I wanted to end on a bit of a happy note, and as a former Beanie Baby collector, I very much appreciate the attention paid to these types of details. Have yourselves a good weekend, everyone, and I'll catch you on Tuesday!
—Katie McLain Horner, @kt_librarylady on Twitter.