Sponsored by The NOVL.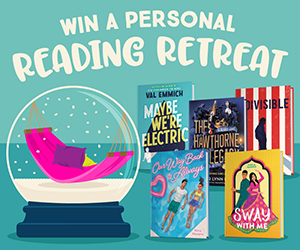 Book Riot is teaming up with The NOVL to give away a personal reading retreat prize pack! Join NOVL Nation for YA exclusive sneak peeks, monthly book box giveaways, the NOVLtea talk show, and access to FREE advance copies! Brought to you by @LittleBrownYR and home to Twilight, Kingdom of the Wicked, The Inheritance Games, Folk of the Air, and your other favorite book boyfriends, @thenovl is a community of YA fans who like their worlds fantastic, their points of view diverse, and their love triangles spicy.
Hello Audiophiles!
The holiday season is in full swing in the Winchester household, and, shockingly, we haven't lost any ornaments to tiny Corgi teeth yet. Every year, my parents would give my brother and I each an ornament to put on the tree. They've carried over this tradition to their grandcorgs, so at this point, Dylan has at least a dozen ornaments to his name.
A lot of people love to listen to holiday music around this time of year, but I go all in on audiobooks. I love all things wintery and magical, following every whim as I decide what to listen to next. Baking cookies, decorating the house, or wrapping a gazillion presents all provide perfect opportunities for more audiobook listening.
I needed something to sustain the first initial decorating and planning for the holidays. As I was browsing my audiobook apps, I came across a title that just might work.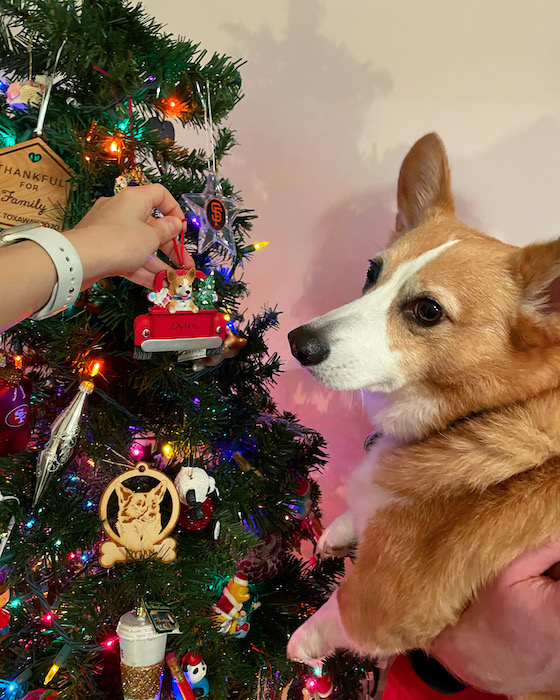 Recent Favorite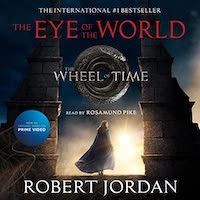 For as long as I can remember, my dad has talked about how much he loves The Wheel of Time series. As a fellow fantasy lover, I wanted to enjoy the story as much as he did. I even carried a mass market paperback of the book around with me an entire summer, but I just couldn't get into it.
Now, over ten years later, I still planned on watching the miniseries. But then I saw that Rosamund performed a new edition of the audiobook of The Eye of the World, and I knew now was the time!
At almost 33 hours, this audiobook is not for the faint of heart, and I didn't know if I would like it. But if anyone could make me like an epic story with dozens of characters and an intense back story, it's Rosamund Pike. From the first few minutes, I fell in love with her narration. She performs all the voices, making each character sound unique. As I got lost in the story, I'd sometimes even forget she was the one narrating.
And let's talk about the story itself for a moment. You have a set of five young people heading out from their rural village to go…break the world? The whole story is shrouded in mystery, and half the time, I only know what's going on because I have read a ridiculous number of fantasy titles. On occasion, I'd get lost in their travels and pull up the world map on my computer.
But overall, I've been sitting on the edge of my seat, doing extra chores and taking the Corgis out on long walks just to know what is going to happen next. I have no idea if Rosamund Pike plans on narrating the rest of the books in the series, but a girl can hope.
Narrated by Rosamund Pike
Audiobook Apps I Can't Live Without
When I first started listening to audiobooks, I'd have to check the cassettes out from the library and pray they weren't abridged. Sometimes, I'd carry away a giant plastic case of over a dozen cassettes just for one book. But now, my entire audiobook library sits on my phone, waiting for me to finally quit scrolling and just decide.
If you love audiobooks as much as I do (which I feel is safe to assume since you are reading this), then I imagine you have several audiobook apps on your phone. I have about ten apps that I use on a regular basis, and each possesses its own strengths and weaknesses. So I thought we could chat about them! For the next several weeks, I'll be sharing some of my favorite audiobook apps that I use the most.
Back in high school, I remember downloading the OverDrive program on my computer and finally being able to download audiobooks. But because the files were so big, it took FOREVER to download over dialup (remember that!?), and I had to sit at the computer the entire time to listen to them. That didn't stop me from playing hours of The Sims while I listened.
This new program gave me access to hundreds of titles I wouldn't have been able to listen to otherwise. Now, OverDrive and its younger sister Libby sit right at my fingertips. I still use it to find audiobooks through my library.
A few years ago, OverDrive released Libby, a new more user friendly version of their app. Many audiobook users love this app and several of my friends started listening to audiobooks because Libby is easier to use. Call me nostalgic, but I still use OverDrive. Perhaps I love it because I am always looking for specific books instead of browsing to discover new-to-me titles.
But when I recommend one of the two apps to new users, I always recommend Libby. Libby takes care of a lot of the issues that many audiobook lovers have had with the original OverDrive app. Libby is fast, less clunky, and more streamlined in its design. Audiobooks are fewer actions away from being ready for you to start listening. Overall, it makes listening to audiobooks through your library incredibly simple.
I've shared some of my memories with OverDrive—I'd love to hear yours! Do you prefer OverDrive or the new Libby app? I want to hear all of the things. You can reach me at the email in my sign off!
Over on Book Riot
"7 Audiobooks Narrated by Celebrities"
Around the Web
"Quiz: Your 2021 Audiobook Gift Guide" (Libro.fm) – Libro.fm does it again! I love their quizzes. Plus, audiobooks are an easy last-minute gift that I have given countless times.
"Best Audiobooks of the Year" (The Washington Post) – Per usual, I am a sucker for a good list!
Don't forget you can get three free audiobooks at Audiobooks.com with a free trial!
---
That's it for this week! Feel free to drop me a line at kendra.d.winchester@gmail.com or say hi over on Instagram @kdwinchester. For even MORE audiobook content, you can find my articles over on Book Riot.
Happy listening, bookish friends!
~ Kendra