Sponsored by Workman Publishing.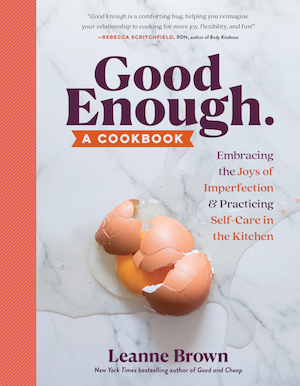 After the success of her bestselling cookbook, Good & Cheap, Leanne Brown was burnt out and depressed. It's from this place that the idea was formed to create a cookbook that acknowledges that feeding yourself is hard, and it is almost impossible to find the energy to work for yourself when you don't think you are worth it. Good Enough brings readers everyday recipes that remind you to embrace the joy of imperfection and find peace and happiness in and out of the kitchen.
Welcome to Check Your Shelf. Before I started putting this newsletter together, I started reflecting on my reading life over the last couple years, and realized that while my reading track record has been absolute crap, my TV watching has absolutely skyrocketed. I've watched The IT Crowd, The Great British Baking Show, The Good Place (more than once), Killing Eve, What We Do In the Shadows, about half of Gravity Falls, and a bunch of other shows that I've already seen a billion times. Maybe my reading resolution for 2022 is to replace some of that TV-watching time with book time?
---
Collection Development Corner
Publishing News
Trump allies launch the Winning Team Publishing house with an eye to upend the book industry.
What happened to Amazon's bookstore?
New & Upcoming Titles
Anchor unveils its inaugural hardcover list.
Serena Williams' first children's book is coming out in September 2022.
Little, Brown purchases the rights to Nathan Harris' sophomore novel, The Rose of Jericho.
Adam Silvera announces that he's expanding the universe first created in They Both Die At the End with two new books!
Here's a first look at Stephen Graham Jones' upcoming book Don't Fear the Reaper.
Sarah Gailey announces their next book, Just Like Home, and that cover is giving me life!
Indie speculative fiction picks for November 2021.
Weekly book picks from Bustle, Crime Reads, LitHub, New York Times, and USA Today.
December picks from Crime Reads, LA Times, LitHub (nonfiction), The Millions, New York Times, Shondaland, Tor.com (SF), and Washington Post.
23 must-read books for winter 2022.
Best books of 2021 from Book Page, Brightly (picture books, middle grade, YA), Chicago Tribune, Kirkus (picture books), New York Public Library, School Library Journal (audiobooks, graphic novels, nonfiction, YA), Time, and Vogue.
Kirkus also has a bunch of specific Best Picture Books of 2021 lists, including:
– Picture Book Biographies
– Books About Crossing Borders
– Funniest Picture Books
– Books About Celebrating Family
– Books For Starting Conversations
– Wordless Picture Books
– Board Books
50 notable African books of 2021.
Here are BookTok's most anticipated books of 2022.
What Your Patrons Are Hearing About
All About Me! My Remarkable Life in Show Business – Mel Brooks (The Guardian, New York Times, New Yorker)
Go Tell the Bees That I Am Gone – Diana Gabaldon (Parade, Washington Post)
Sex Cult Nun: Breaking Away From the Children of God, a Wild, Radical, Religious Cult – Faith Jones (Salon, USA Today)
Small Things Like These – Claire Keegan (LA Times, New York Times)
RA/Genre Resources
4 types of literary horror that hold up.
8 emerging horror authors who are changing the face of the genre.
An exploration of Tasmanian crime fiction.
On the Riot
Is YA leading diversity in publishing?
8 YA thrillers to enjoy this fall.
The best new weekly releases to TBR.
The best December YA releases to add to your TBR.
2022 book releases as Reddit posts.
Trouble in Romancelandia: online censorship of romance and erotica.
The main categories of magic systems.
All Things Comics
10 must-read Marvel comics for Christmas.
On the Riot
The best picture books for adults to comfort and delight in.
10 perfect holiday gifts for manga fans.
Audiophilia
AudioFile's Best Audiobooks of 2021.
Here are the December 2021 Earphones Award Winners.
Indigenous audiobook narrators you should definitely be listening to.
7 audiobooks for the youngest listeners.
On the Riot
8 audiobooks narrated by Natalie Naudus.
Don't forget you can get three free audiobooks at Audiobooks.com with a free trial!
Book Lists, Book Lists, Book Lists
Children/Teens
10 YA books with the academic rivals-to-lovers trope.
25 YA SFF books by Black authors.
20 YA feminist books to read while you're dismantling the patriarchy.
Adults
The best (old) books that LitHub contributors read in 2021.
51 most-read books of the 2021 Goodreads reading challenge.
25 of the best self-help books to help you get 2022 off on the right foot.
34 books to read before they become TV shows in 2022.
Books that show how Mexicans have fought for a better California for 171 years.
40 best dystopian novels of all time.
22 of the best mystery books you won't be able to put down.
Great ominous beach settings in fiction.
15 books recommended by TikTokers.
5 sapphic winter holiday romances.
On the Riot
15 helpful books for young environmentalists.
25 of the best winter books for kids.
9 middle grade modern adaptations to cozy up with.
9 chilling middle grade horror anthologies.
15 YA fantasy books featuring amazing love triangles.
12 books in translation from Central Africa.
15 must-read dystopian romance novels.
10 books about unsolved mysteries.
Level Up (Library Reads)
Do you take part in Library Reads, the monthly list of best books selected by librarians only? We've made it easy for you to find eligible diverse titles to nominate. Kelly Jensen created a database of upcoming diverse books that anyone can edit, and Nora Rawlins of Early Word is doing the same, as well as including information about series, vendors, and publisher buzz.
---
Catch you on Friday!
—Katie McLain Horner, @kt_librarylady on Twitter.